The Week In Style: 03.26.13
Each week our Mr. Style, Marty Hackel, weighs in on the fashion highs and lows from around the golf world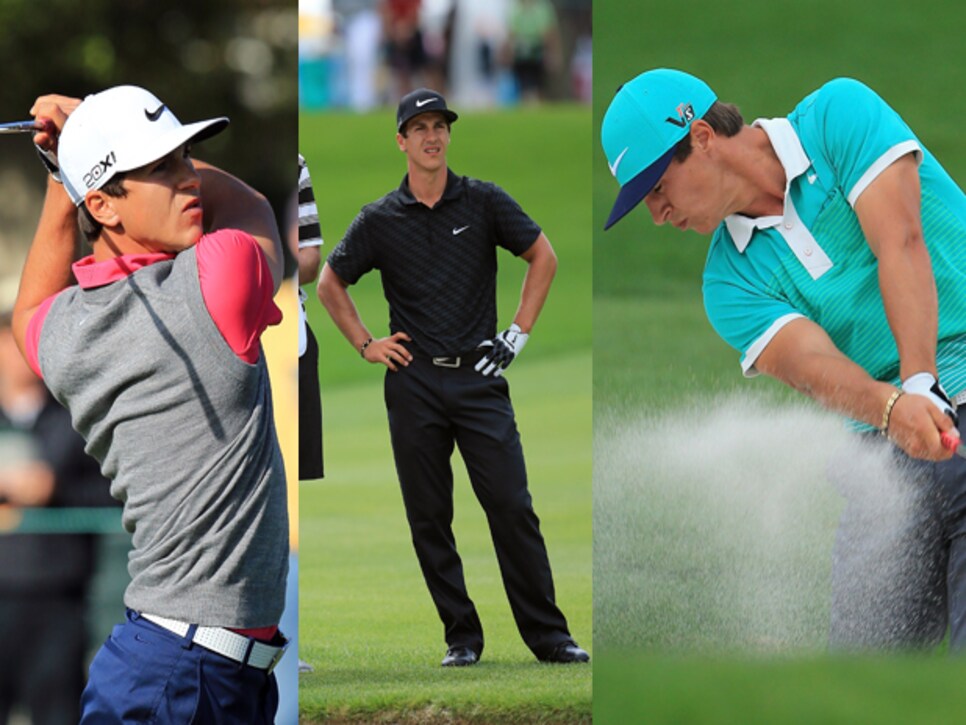 Thorbjorn Olesen
Ladies and gentleman, let us introduce you to one of the best dressed Tour players in 2013.
Ryo Ishikawa
I know we keep showing photos of Ishikawa, but he keeps looking this great and stylish every week.
Sandra Gal
Sandra doing her best Ai Mizazato impersonation and making it work wonderfully!
Seung-Yul Noh
Say "yes" to Noh. He's young, can hit it a mile, has no waist and the white belt with the white pants works!
Robert Gamez
Did Robert Gamez just sign a deal with Sherwin Williams?
Michelle Wie
This new trend of snug-fitting bottoms has to be handled with great care. Michelle Wie is tall, so it works, but . . .
Beatriz Recari
. . . it doesn't work for Recari. Because she's shorter in stature, the tight pants with a stripe down the side are much less flattering.
Aaron Baddeley
It's growing on me.
Tiger Woods
The No. 1 player in the world can wear whatever he wants, whenever he wants. His red shirt reminds me of my six-pack abs. Sort of . . .
Veronica Felibert
Do I think it works? I don't think that's the point. The point is she's pushing the envelope, and for that I think we have to give her a big thumbs up.
Ai Miyazato
Every week Ai Miyazato wears something interesting and different. Love the polka dot shorts. This gal's got style!
Charley Hoffman
For those of you who like to match your shoes with your glove, your hat and your belt, take note. Go on, Charley. Go on.
Erik Compton
Is Compton planning a move to Sweden?
Geoff Ogilvy
If I didn't know any better, I'd say this was the perfect Ivy League outfit. And by the way, I love the shoes!
Graeme McDowell
This is the reason you need the sleeveless cardigan in your golf wardrobe.
I.K. Kim
Looking like a Korean prepster. Really well done!
Ian Poulter
Interesting. All white other than a few great red details.
Keegan Bradley
Keegan, Hilfiger. Hilfiger, Keegan. Good, good. P.S: This is the correct length of trousers in 2013.
Luke Guthrie
There's something to be said about dressing to your attitude. This is the perfect fit for Boss.
Na Yeon Choi
Now we're sure the Cat In The Hat look can work. Although I'd probably shorten the pants a few inches.
Rickie Fowler
Presenting the 2013 Crayola Trophy winner, Rickie Fowler.