1 / 1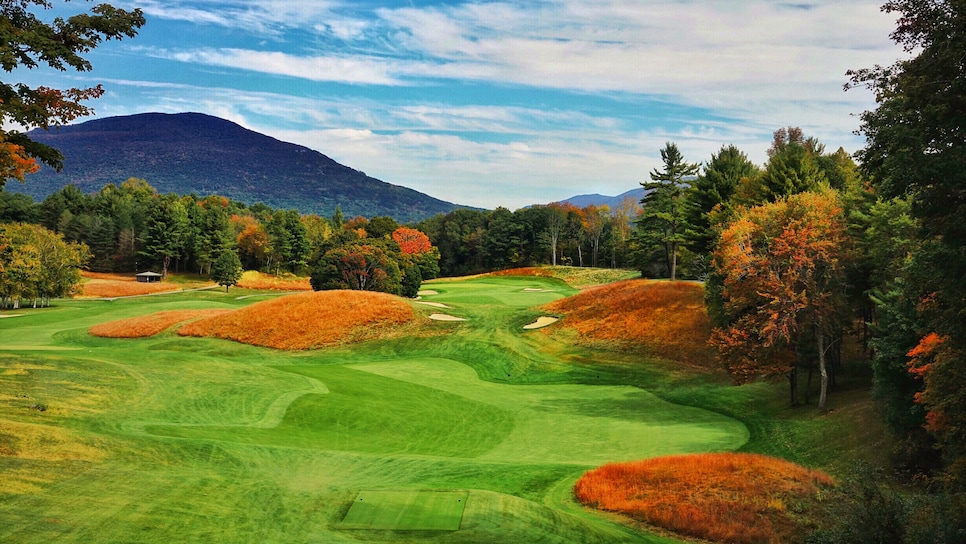 Overview
While a lot of golf in Vermont conjures tight, tree-lined holes snaking through mountainous terrain, Ekwanok Country Club is a more expansive setting in a gently rolling valley at the base of Mt. Equinox. The generous fairways framed by fescue encourage a lot of drivers, and the main defense against scoring are greens with ample interior movement. The conditioning is usually near impeccable, and when they're fast, they command full attention. The par 5 seventh hole, which requires a blind second shot over a hill, has never been reached in two and might be the most famous hole in Vermont. Designed by Walter J. Travis and John Duncan Dunn in 1899, Geoffrey Cornish made changes in the 1960s and the most recent work was by Bruce Hepner. Also noteworthy, the club supports the lone caddie program in the state, and this reverence for tradition combined with a tranquil setting (think white birches and panoramic green forest) make it the sort of place where your blood pressure drops the moment you arrive on property. --Max Adler
Awards
Best in State: Top 5 in state since 1977, ranked first from 1985-'87, 1991-current.
Current ranking: First.
Panelists
Ratings from our panel of 1,900 course-ranking panelists
100 GREATEST/BEST IN STATE SCORES
Reviews
1 / 3
Review
"Best golf course in Vermont, bar none! ECC is located in an unparalleled mountain-meadow setting, and may be the most scenic October play on the planet. Add in stout par fours, quirky old-world features, and one of golf's greatest histories, and you have a comprehensive golf experience that ranks in America's highest echelon."
Read More
2022
2 / 3
Review
"A charming club with a golf course you could play every day. The terrain is has good movement, particularly when you get away from the clubhouse to the eastern portion of the property. The parallel holes that gop up and down the hill from/to the clubhouse have a stream that comes into play on three of them and adds interest to holes that could have felt more repetitive. Fairway bunkering is very well thought out and adds strategic interest and shot values. The mountain backdrops made for very pleasing aesthetics, particular during the fall with bright colors from changing leaves. Only two par fives on the course and both play toward the north--a small knock on layout design. Greens had good contour and rolled true and fast."
Read More
2023
3 / 3
Review
"This is a golf course that is not lacking in any category. The 11th hole, a newer par three seems a little out of place compared to the other holes. Very strong opening holes. Fairway bunkers are very well placed, rewarding good drives but penalizing wayward ones. Greens allow for running ball up or keeping the ball below the hole which is important. Most of the greens slope back to front and are very quick. Quintessential New England golf with wonderful views and a beautiful but understated clubhouse."
Read More
2022
Readers
Collection of reviews from our readers
There are no reader ratings yet
Reviews
There are no readers reviews yet. Be the first to write a review.