1 / 1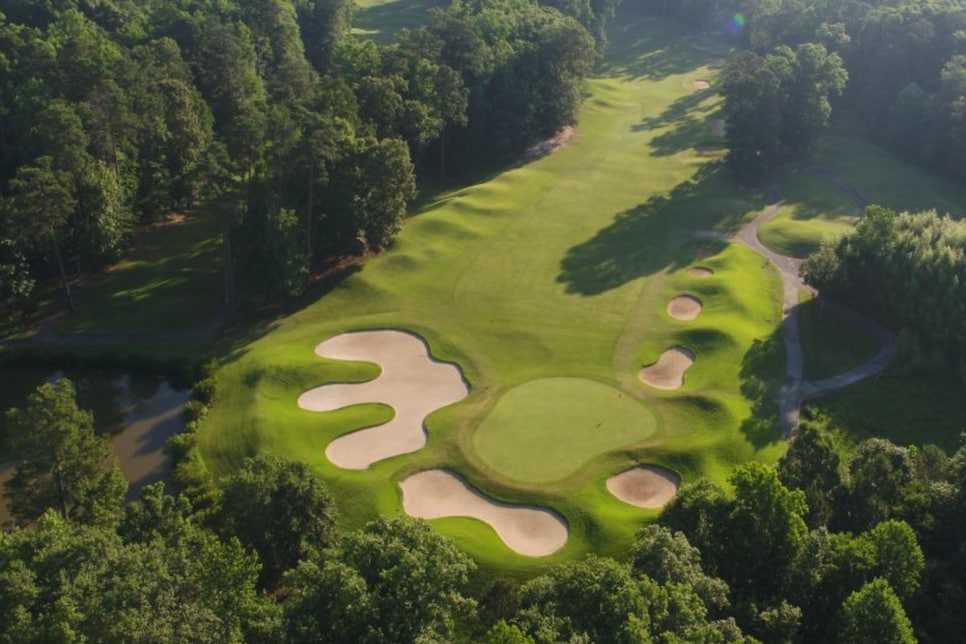 Overview
Though not ranked as high as the Gold course, the Rees Jones-designed Green course has hosted three USGA championships, including the 2004 U.S. Women's Amateur Public Links. Compared to the Gold, the Green course is longer but more forgiving, with generous landing areas.
About
Designer
Rees Jones, ASGCA
Panelists
Ratings from our panel of 1,900 course-ranking panelists
Reviews
1 / 5
Review
"Every hole is dense tree-lined but mound framed fairways and greens slightly ease the challenge. Entry points into greens are repetitive, even a bit bland, and while putting surfaces are pure they're presented with minimal undulation, or speed. The two main exceptions exist on holes #11 and #18 which happen to be the only two areas of elevation change on the golf course. Revolutionary War barrack fences at holes (3, 8-12, "
Read More
2020
2 / 5
Review
"Everything is tree-lined and tight off the tee; good variety of hole types, but a lot less than its "gold" sister--not as much fun to play and not in as good of condition; greens could use a facelift as well."
Read More
2019
3 / 5
Review
"True test of golf from back tees. Conditioning not as good as gold course, but design variety is excellent. They are planning a cours renovation in 1-2 years. Excellent price point for this fine of course"
Read More
2018
4 / 5
Review
"Pretty setting and a decent course. Pretty forgiving layout. Not nearly as good an experience as the Gold course."
Read More
2018
5 / 5
Review
"The Green Course is a 1991 design of the Gold's course's designer: Rees Jones. It does not attract as much attention as the Gold Course for good reason. It is only an average design with few standout holes. Play the Gold course twice and leave this for someone else to play."
Read More
2018
Readers
Collection of reviews from our readers
There are no reader ratings yet
Reviews
There are no readers reviews yet. Be the first to write a review.