1 / 5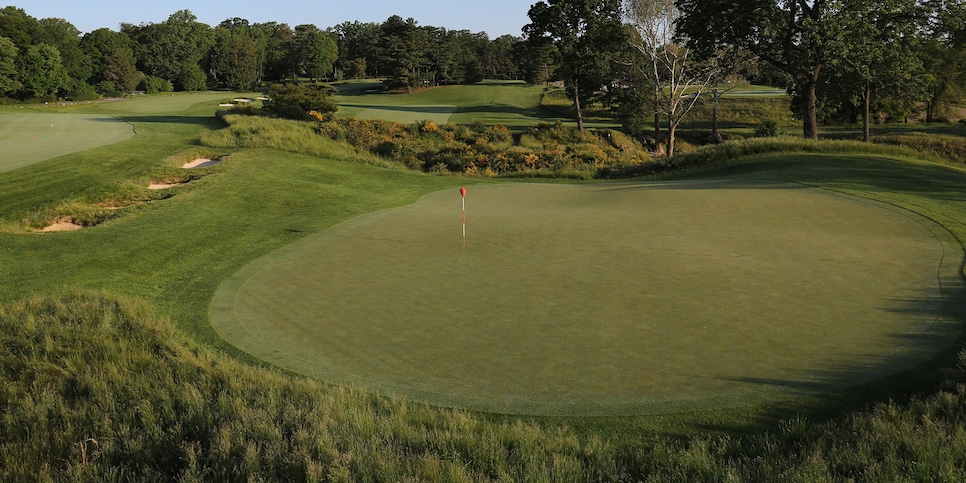 2 / 5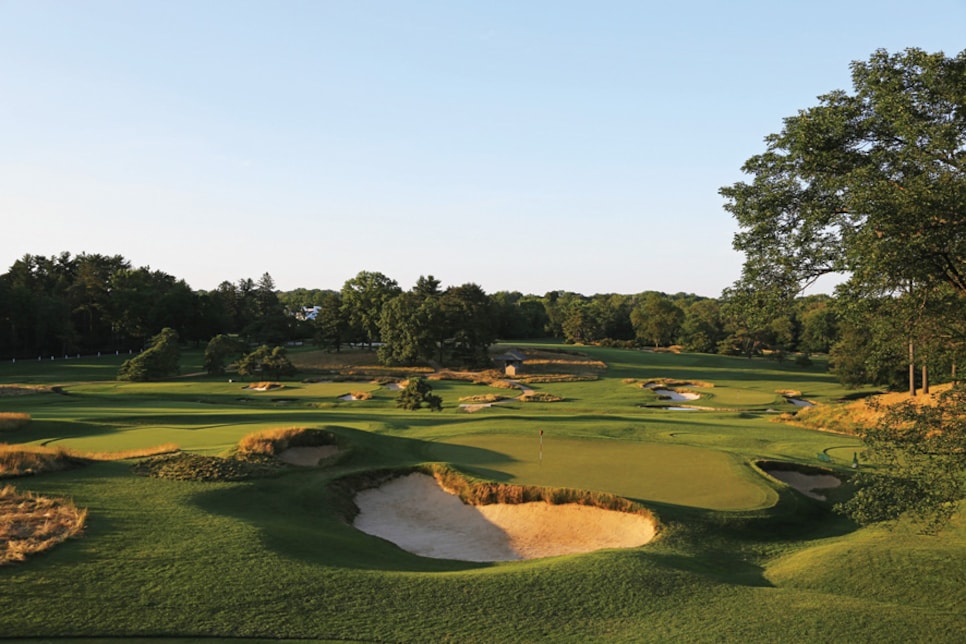 3 / 5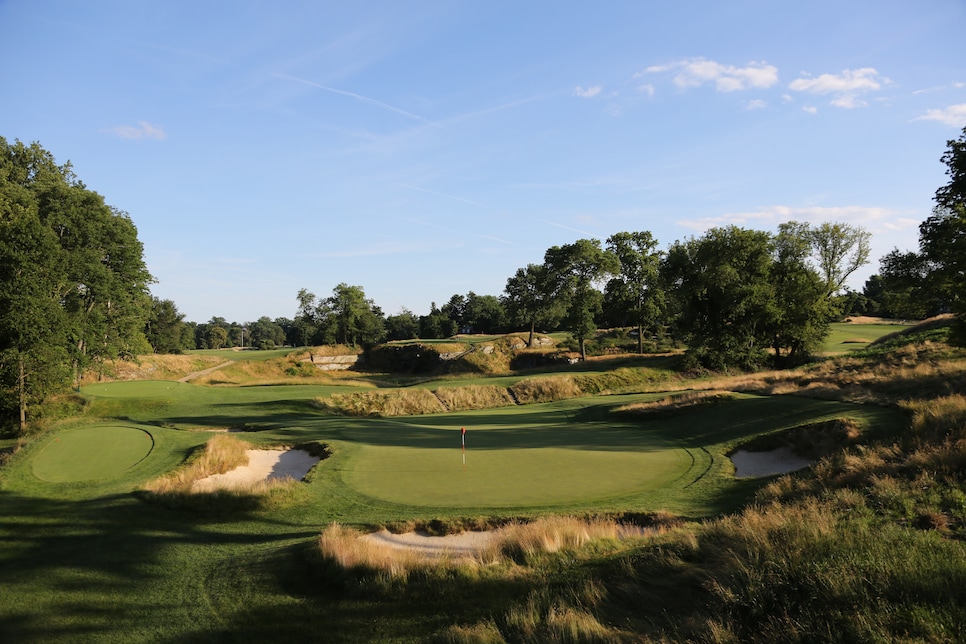 4 / 5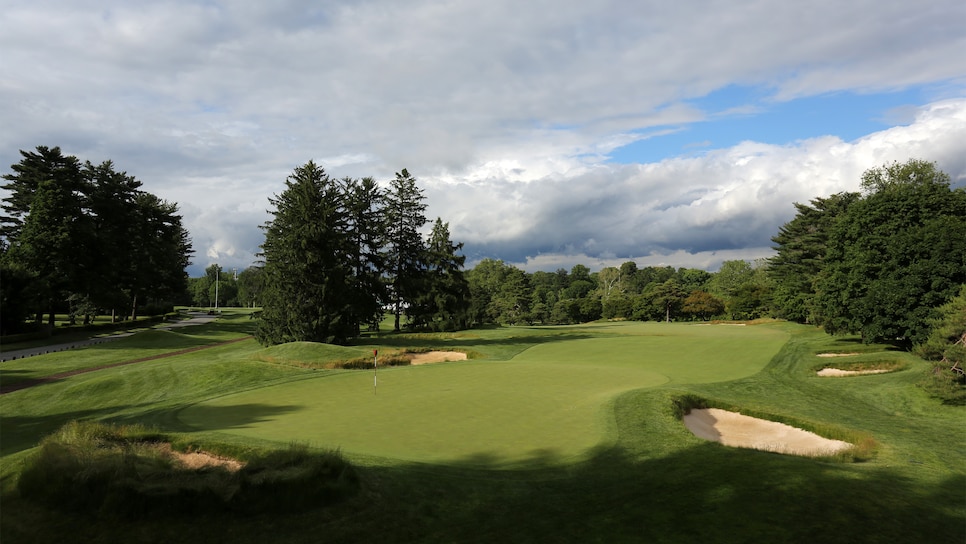 5 / 5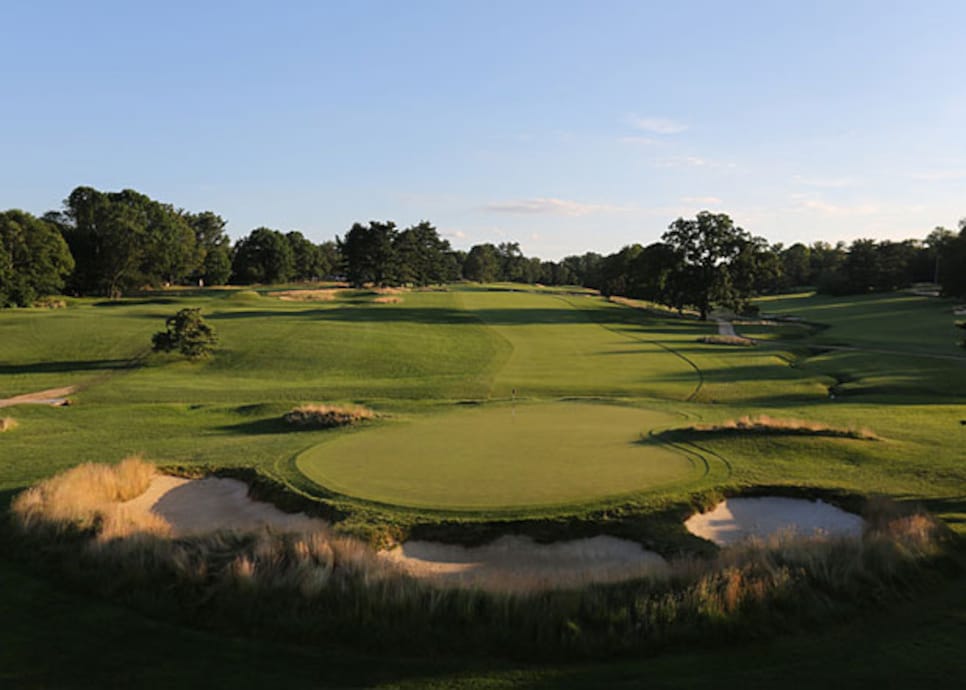 Overview
Merion East has long been considered the best course on the tightest acreage in America, and when it hosted the U.S. Open in 2013, its first since 1981, the present generation of big hitters couldn't conquer this clever little course. They couldn't consistently hit its twisting fairways, which are edged by creeks, hodge-podge rough and OB stakes and couldn't consistently hold its canted greens, edged by bunkers that stare back. Justin Rose won with a 72-hole total of one-over-par, two ahead of Jason Day and Phil Mickelson. With Gil Hanse's extensive two-year renovation making even more improvements at Merion's East Course, the design should be even more polished when the Open returns again in 2030.
About
Designer
Hugh Wilson/(R) William S. Flynn/(R) Gil Hanse
Awards
100 Greatest: Ranked every year since 1966.
2023-'24 ranking (and previous): 6th.
Highest ranking: 5th, 2015-2016.
Best in State: Ranked first in Pennsylvania four times (1989-1990, 1995-'96, '99-2000, 2015-'16). Ranked second in every other edition.
Panelists
Ratings from our panel of 1,900 course-ranking panelists
100 GREATEST/BEST IN STATE SCORES
Reviews
1 / 7
Review
"Such a test of your strategic thinking first, which then tests your ball-striking execution, while leaving plenty of room for you to recover if need be, and then the putting surfaces are a journey and puzzle all of their own. I was pleasantly surprised at the difficulty of the course given its length, which is created by all the challenges you face as mentioned previously. Such a well designed test of golf on the well chronicled small amount of acreage. Wonderful strategic mowing lines in place by Superintendent Paul Latshaw, Jr. "
Read More
2022
2 / 7
Review
"Merion is an exceptional experience with a worldclass golf course, both incredibly fun and challenging. The course continues to link world class holes one after another to create a cohesive course that has stood the test of time. Conditioning in impeccable and the character of the club only adds to the overall experience. Although it's not perfect, if we're going to nitpick some of the updates, such as the walkway and tee surrounds around 13 tee which are relatively new look and feel far different and lack the traditional look and feel of the rest of the club, aside from that, Merion East can easily stack up as one of the best courses in the world."
Read More
2022
3 / 7
Review
"This could be one of the longest courses under 7,000 yards I have played, as it seems the course just requires so many longer shots than you would expect for that length. Each hole is so unique, and that really makes this place special. There are long par 4s, short par 4s, long par 3s, and a very short par 3. While the last 5 holes are commonly thought of as the best on the course, there are many other good holes as well, such as the 10th, 11th, 13th, and 4th and 5th. There are dog legs left and right, uphill and downhill holes. It really does challenge every club in the bag and a really special place to play for that reason. The fact that we get it see if occasionally in US Opens makes it even better, and I will be interested to see how it plays for their upcoming events. If someone says they have a tee time at Merion, you take it (and only bring the cell phone with for pictures)."
Read More
2022
4 / 7
Review
"Merion is an absolute treat to experience. Days after playing, you will find yourself thinking about specific holes and specific shots. It is hard to imagine coming up with that routing on such a small plot of land (and still provide enough width to play the course in different ways). The course is not long, but the clever layout provides more than enough challenge. The conditioning is firm and fast, allowing the ground game to come into play. The greens and surrounding areas provide enjoyment in the variety of options that you have to play. Overall, Merion is one of the most incredible and unique courses in the country, and a course I could never imagine getting tired of."
Read More
2022
5 / 7
Review
"Perhaps the best routing in the game of golf. Just an absolutely wonderful course. The quarry holes are better than you can imagine. Outside of those, #4, #5, and #11 are all world class in their own right. The patio provides the perfect locale for an after round beverage."
Read More
2021
6 / 7
Review
"I don't give many fives, but this deserves it from the understated unairconditioned clubhouse to the course which is one of the best in the world. You breathe in history with every step and breath. Don't let the first tee intimidate you."
Read More
2018
7 / 7
Review
"One of America's best classic courses. It isn't a long course but can be very tough...tight fairways and tricky greens. There's a sense of history throughout the course and clubhouse. One of the best experiences in American golf."
Read More
2018
Readers
Collection of reviews from our readers
There are no reader ratings yet
Reviews
There are no readers reviews yet. Be the first to write a review.