Fishers Island, NY • Private
1 / 7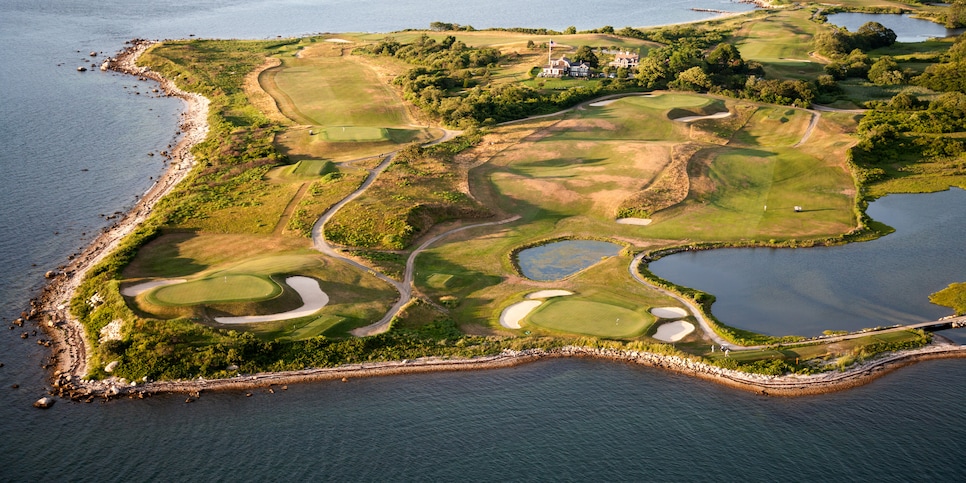 2 / 7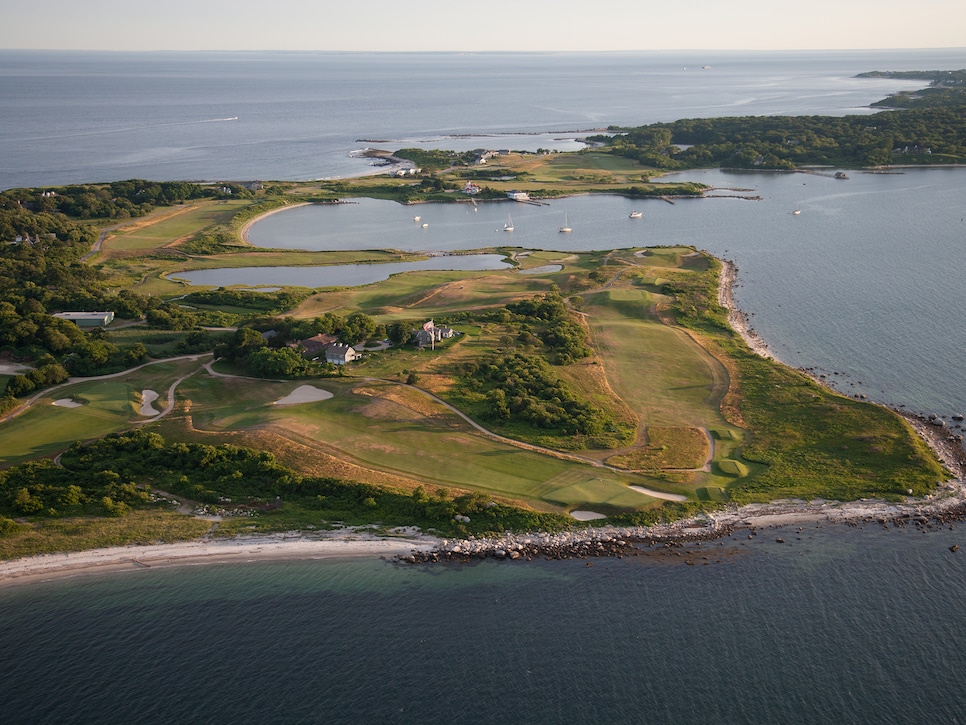 3 / 7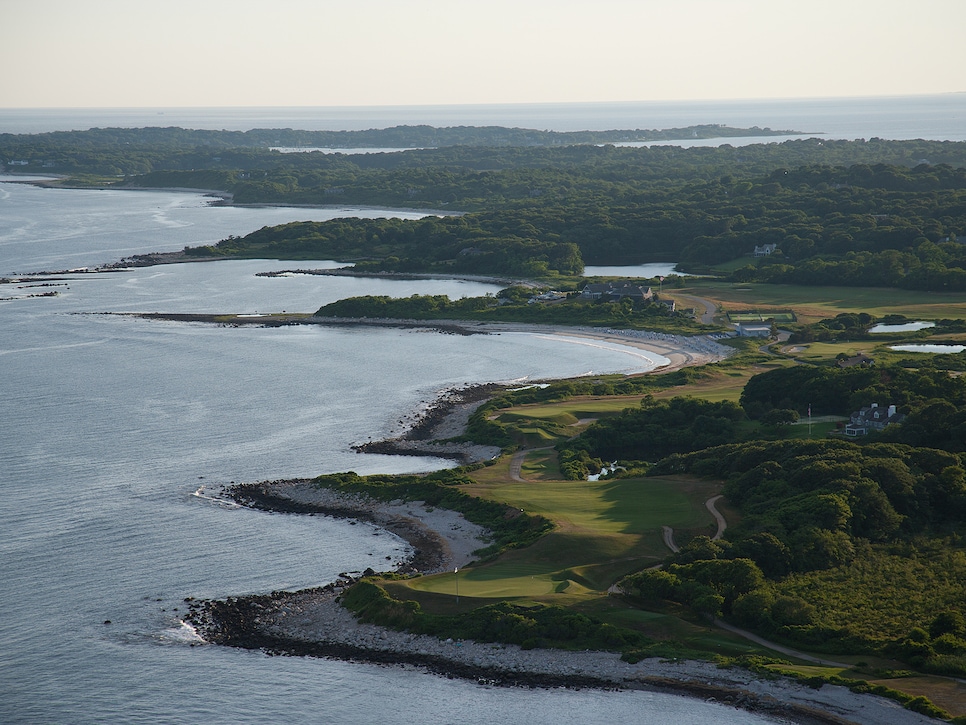 4 / 7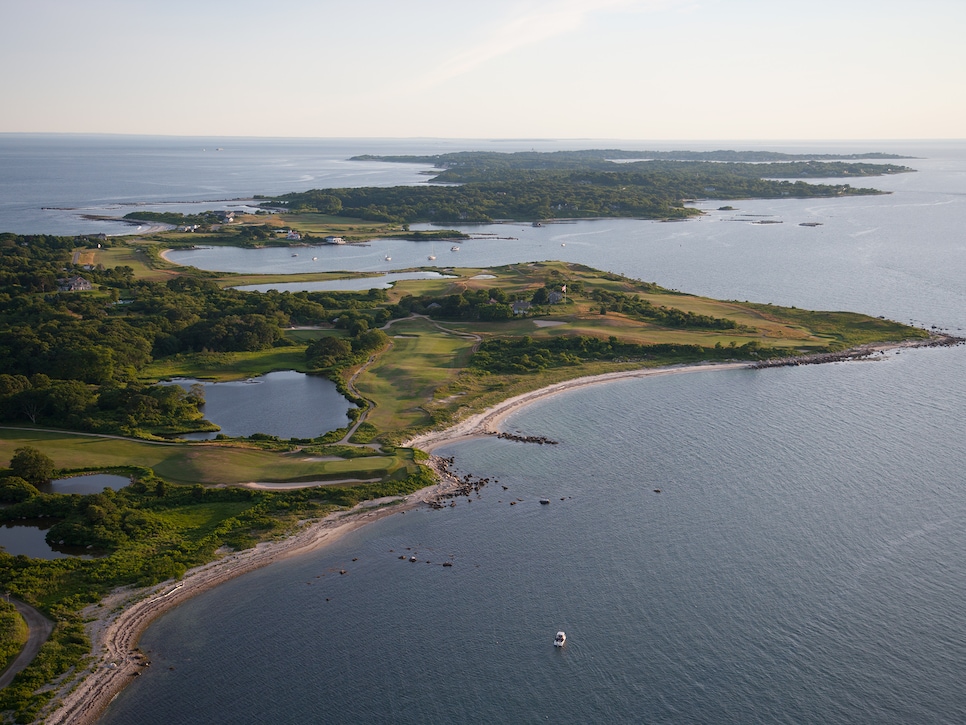 5 / 7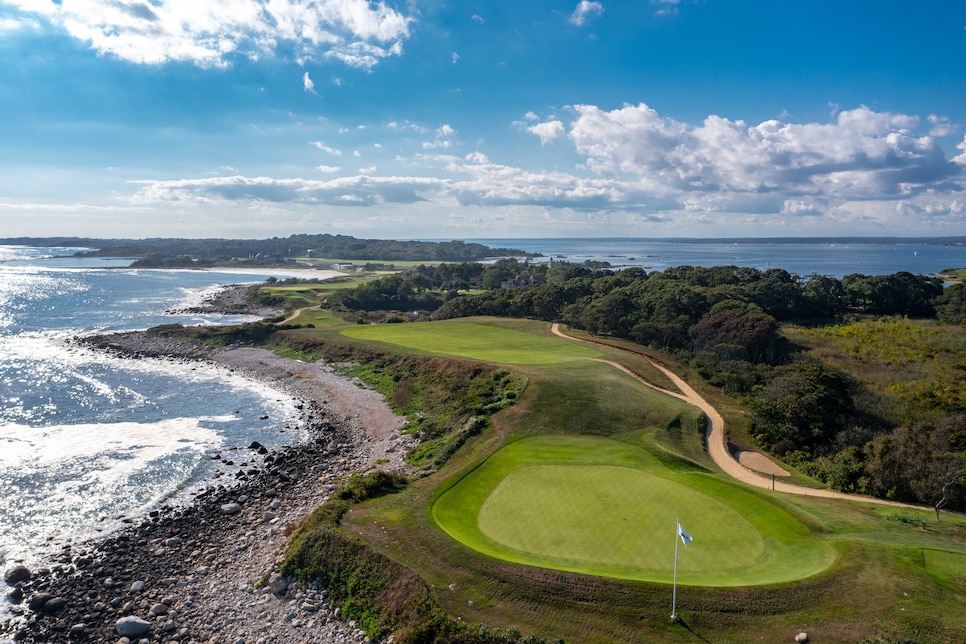 6 / 7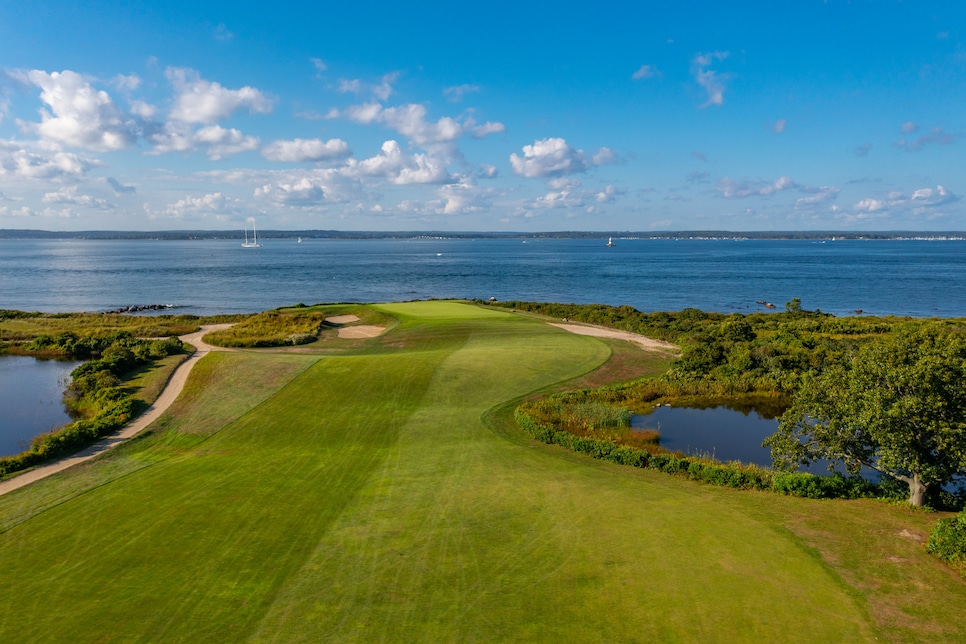 7 / 7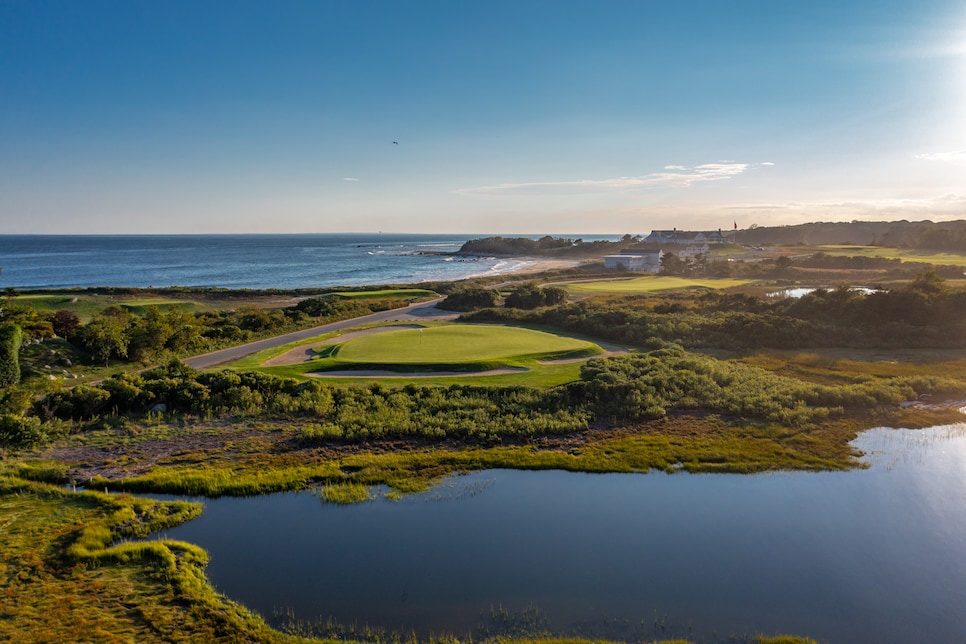 Overview
Probably the consummate design of architect Seth Raynor, who died in early 1926, before the course had officially opened. His steeply-banked bunkers and geometric greens harmonize perfectly with the linear panoramas of the Atlantic Ocean and Long Island Sound. The quality of the holes is also superb, with all Raynor's usual suspects, including not one but two Redan greens, one on a par 4.
Awards
100 Greatest: Ranked from 1969-1974 & since 2001.
2023-'24 ranking: 9th (highest, including 2015-'16 and 2021-'22.)
Best in State: Ranked Top 5 in New York since 2005; Top 10 from 1993-1995 & 1999-2003; Top 15 1989-1991 & 1997.
Current ranking: 3rd since 2019.
Panelists
Ratings from our panel of 1,900 course-ranking panelists
100 GREATEST/BEST IN STATE SCORES
Reviews
1 / 13
Review
"One of the most unique golf courses you'll ever play. Raynor took the topography of this tiny island & built a masterpiece. Landscape/views are breathtaking and the natural feel of the course will warm your soul. If you're a golf enthusiast, make it your priority to get here, it will be worth it. The golf course is not that long & has a small feel to it, but very challenging. The wind is the golf courses ultimate defense & allows the player to be as creative or traditional with their shot selection as they'd like. Bring your creativity & you'll have a lot of fun, rain or shine!"
Read More
2022
2 / 13
Review
"Each shot at each hole presents a myriad of shot opportunities that likely will vary from round to round depending on strength of wind and direction, as well as hole location. Standout categories include fun, character and aesthetics. The only knocks are challenge and conditioning. The green complexes were actually in incredible shape for October, but the playable turf elsewhere falls well short of other top ten courses as many areas are in need of attention. But to anyone with an architectural eye, that won't stand in the way of completely enjoying this strategic and beautiful gem."
Read More
2022
3 / 13
Review
"It's fascinating to comprehend that this routing was constructed and imagined through such and rugged and tight property almost 100 years ago without the heavy equipment that can be used today. A throw-back in so many ways."
Read More
2022
4 / 13
Review
"Absolutely a stunning golf course. Every hole has a different setting, angle, look and feel. From long and hard to short and fun. The variety keeps your mind wondering what is around the next hole. Beautiful contrast from Redan to the Winthrop "reverse redan". I use to think the Road Hole at St Andrews was the best golf hole in the world, but the Double Plateau just might beat it? From the tee challenge / reward to the approach and then challenging green just like "the road hole" Every aspect of this hole is tremendous."
Read More
2022
5 / 13
Review
"Oh. MY. GOSH. Fishers Island. Certainly a course one hopes they are able to play someday, and it absolutely did not disappoint. Caught it on a perfect day with just the right amount of wind, and during a very wet summer, so she is beautifully green, while still playing firmly. The routing is bananas that Raynor was able to find for this journey in all the various directions, land forms and elevations. SUCH a good strategic Driving golf course, as the lines and angles you create into the pins are essential, and you MUST execute approach shots well, especially to the elevated greens, as you will have massive hazards to contend with if you fall short, as evidenced by my triple from the front right bunker on 5. The putting green challenges are numerous and oh so wonderfully imagined. I don't think there is a better stretch of golf that I have played from 2 thru 14. So many BRILLIANT holes in there - 3,4(which might be my favorite hole I have ever played, my gosh what a perfect green complex), 5(So friggin frightening and Epic!) the wonderful terrain on 6, The gorgeous reveal and great options from the tee on 7, Gil Hanse has done a fabulous job sharpening 8 into an outstanding Road hole with perfect Road strategies in place there, the All world 10th Knoll hole with its massive false front that puts such a premium on the approach and the short game too with all the options you can employ. Excellent Eden at 11! The spectacular Redan-like green on 12 is not something I've seen before on a par 4 which has spectacular strategic shaping to help you use the ground either on the approach from the fairway or from around the green to try to access any pin on that terrific putting surface. The course gets a touch quiet at a very basic Long hole at 15, and a real outlier at 17 which is a solid, but in-particular hole, then 18 might need a review from Hanse now as it has almost the exact Road dynamics as 8, which is oh so right as the Road hole. Fishers Island is all that one wants from golf. It is so thrilling to play, but golf near the sea, and in that beautiful a setting just works on you in an emotional way that makes you feel lucky to be alive. It makes you remember this day in your life forever, that is what truly great golf can do for the soul. It is what every place that is lucky enough to have golf on their site should strive for: Give their patrons good architecture, do the best with their setting to motivate your soul, and give you a day in your life to enjoy and remember."
Read More
2021
6 / 13
Review
"The most fun of the top rated golf courses. I could play 36 here anytime."
Read More
2018
7 / 13
Review
"Tremendous spot. Epic Raynor course. Many, many world class holes. Probably the best Punchbowl green in golf. A phenomenal Biaritz, and third hole is beyond compare as a short Par 4."
Read More
2018
8 / 13
Review
"Great Raynor course with his usual template holes. Fun to play and worth the time to get to the island."
Read More
2018
9 / 13
Review
"If God put a golf course in heaven, it would look something like this. The green complexes and as unique and interesting as any you'll play and dictate how the hole should be played. The natural, seemingly untouched landscape enhances the ambience, aesthetic beauty, and memorability of the course. It seems like every green complex sits on the edge of the ocean. This truly feels like golf nirvana."
Read More
2018
10 / 13
Review
"Hard to get to, but worth it. Seth Raynor masterpiece with all the "template" holes. Conditioning is "hard "
Read More
2018
11 / 13
Review
"Good luck getting on this course. One of the best Seth Raynor courses in America. Extremely scenic."
Read More
2018
12 / 13
Review
"There are great views from almost every hole and the tranquility is special. I liked the overall island experience and several of the holes were unique. It has a rare charm and a feeling of great traditional . Although I loved the day, I didn't think the course itself quite belonged in the very top tier where it is often ranked."
Read More
2018
13 / 13
Review
"One of the top ten golf experiences in the United States. Take a small boat over to the island to enhance the experience even more. Spectacular setting and a wonderful golf course. This one is worth the effort !"
Read More
2018
Readers
Collection of reviews from our readers
There are no reader ratings yet
Reviews
There are no readers reviews yet. Be the first to write a review.