1 / 6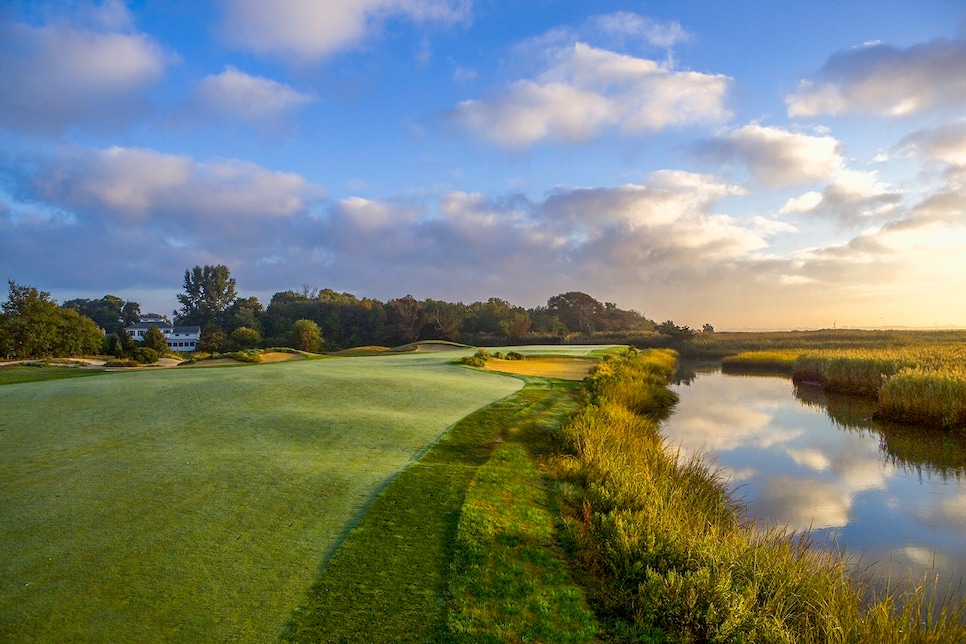 2 / 6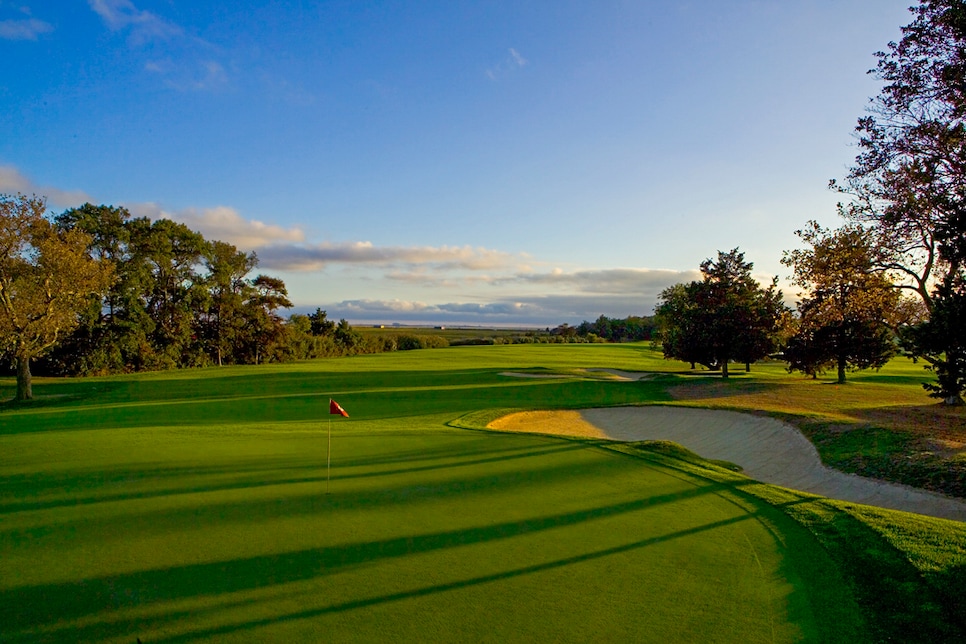 3 / 6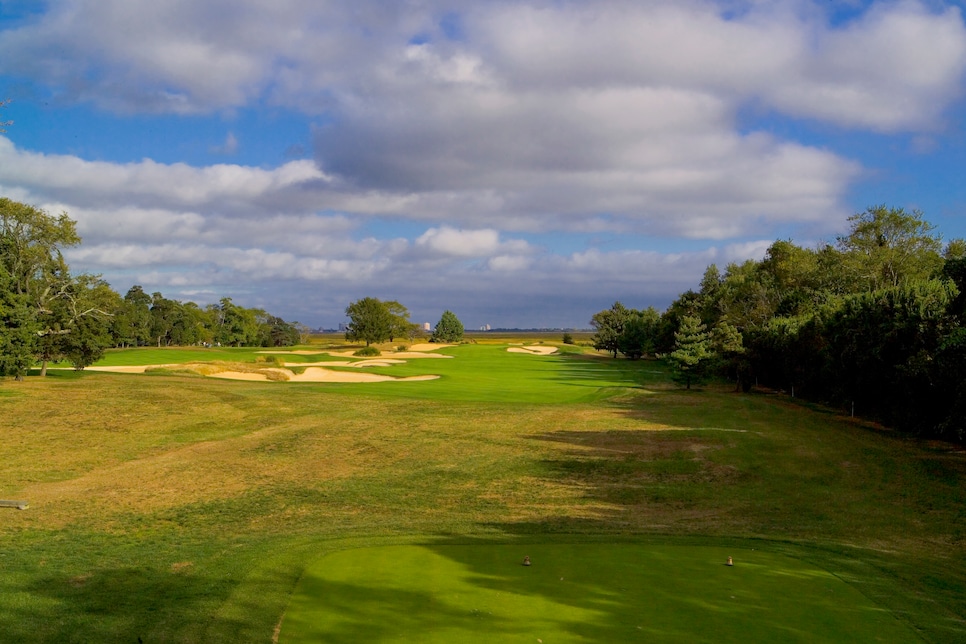 4 / 6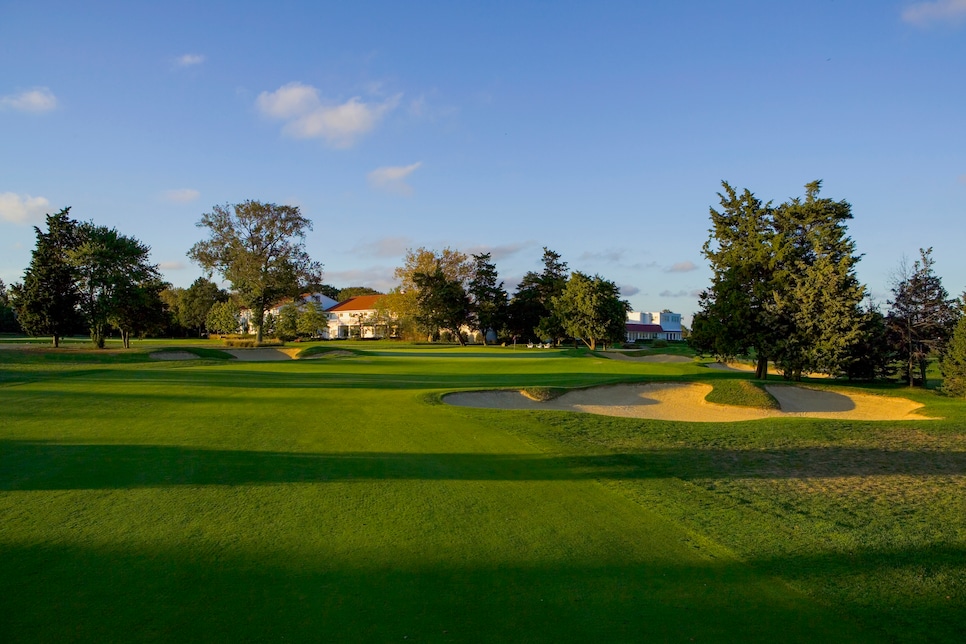 5 / 6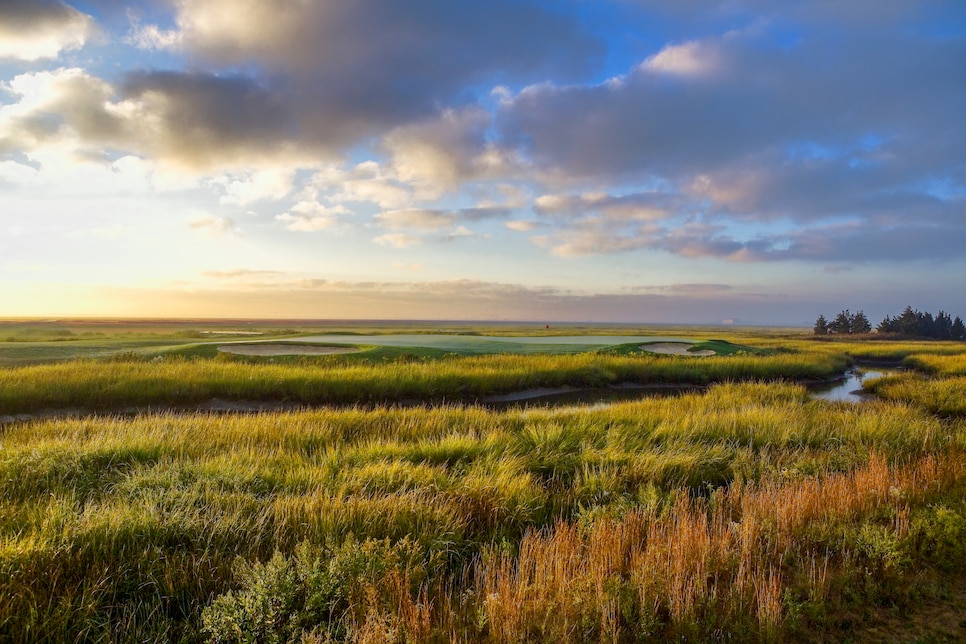 6 / 6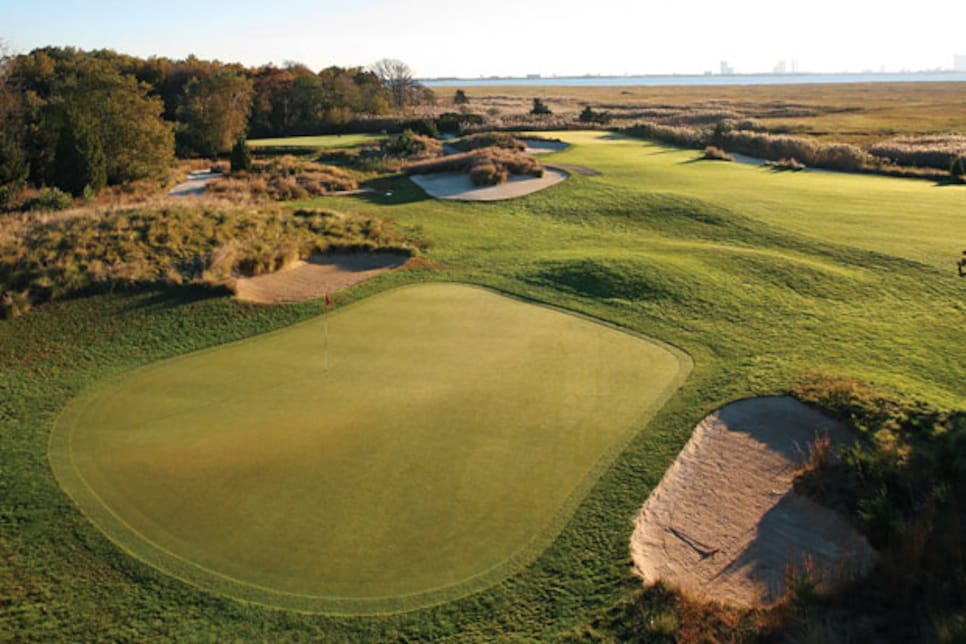 Overview
Atlantic City Country Club is now private, but if you're headed to AC for a golf trip—do your best to try to get on. The par-70, 6,577-yard course dates to 1897 but has been updated several times, including in 1999 by architect Tom Doak. He did his best to restore many original features, including firm, undulating greens and tall, native grasses that frame bunkers and fairways. Willie Park Jr., the British Open champion in 1887 and 1889, is often credited as the primary designer, though at least four others are responsible for this classic layout. ACCC is routed along marshland and back bays and has the feel of a classic Northeast country club, which it once was. The course opened to the public in 1998 when Hilton Hotels bought it, then was owned by Caesars Entertainment but now went back to being private.
As you play several holes along the shoreline, the neon-and-concrete kingdom of AC looms in the distance. The front nine is a brute with four par 4s longer than 445 yards. One of those, the opening hole, charmingly uses a portion of the practice putting green as its tee box. The back nine is much shorter (3,125 yards compared to 3,452 on the front) but also a lot tighter as you wind your way around the marsh. Several shots bring the hazard into play, and the 157-yard 17th is a blind shot over massive sand dunes.
ACCC's clubhouse is akin to a golf museum. ACCC played an important part in the history of American golf. Not only did the terms birdie and eagle originate from rounds played there in 1903, but the course was the site of six USGA championships, including the 1901 Amateur and the 1948 Women's Open won by Babe Didrikson Zaharias. Bob Hope regularly played the course. So did boxer Joe Louis and quarterback Joe Namath. Arnold Palmer spent a couple of summers there in the 1950s while serving in the Coast Guard nearby. Everything from the wood lockers to the spike marks on the 19th hole's floor lets you know that you're experiencing a piece of golf's past. --Ron Kaspriske, senior editor
About
Designer
(R) Tom Doak/Bruce Hepner
Awards
Best in State: Ranked in Top 20 in New Jersey from 2009-2014.
2023-'24 ranking: 20th.
Previous ranking: 21st.
Panelists
Ratings from our panel of 1,900 course-ranking panelists
100 GREATEST/BEST IN STATE SCORES
Reviews
1 / 11
Review
"What a great course. The back 9 has some holes reminiscent of other seaside courses on the east coast. In fact, I'd put #17 up there as memorable as #8 at Maidstone. Must play if in the AC area."
Read More
2022
2 / 11
Review
"Really good historic course which works well today after renovations done a number of years ago."
Read More
2022
3 / 11
Review
"I've played most of the best public courses in New Jersey and Atlantic City CC is by far my favorite. An old school, historic gem touched by numerous architects, this seaside course was where the term "birdie" was invented and features numerous classic holes on the marshes overlooking Atlantic City. Many of these holes could not be built today. Atlantic City is an underrated golf destination and on the public side, ACCC is your best option. Editor's Note: Atlantic City is no longer open to the public."
Read More
2022
4 / 11
Review
"Neat old course with recent work done by Tom Doak. Flattish property, but enough movement to stay interesting. The finishing 6-7 holes are among the best on the course."
Read More
2021
5 / 11
Review
"This is a wonderful old gem with loads of ambiance. The locker room is a throwback to another era. The course wasn't on the best condition when I played it but it is loads of fun and the holes along the marsh are splendid."
Read More
2019
6 / 11
Review
"Really nice semi-public course with a fantastic back nine. Course in surprisingly good condition."
Read More
2018
7 / 11
Review
"Old school golf club that the public has the opportunity to play. Love the Tom Doak bunkering and the creativity required to maneuver around it. Not the longest course (par 70) but with the back 9 playing along the bay, the wind creates a challenge still for the low handicapper. Great views of Atlantic City in the distance. One of my favorite locker rooms I have visited and where the term "birdie" was coined. A must visit if near it on the Jersey Shore."
Read More
2018
8 / 11
Review
"Had to beat Steve Hennessey's description which covers it all."
Read More
2018
9 / 11
Review
"A classic course with a lot of history. Both the course and the club have a relaxed atmosphere and a traditional feel."
Read More
2018
10 / 11
Review
"Terrific history with a charming old locker room — and the birthplace of the term "birdie." Tom Doak made some recent renovations to modernize the course. It's a mostly fun layout that brings vistas of the Atlantic City skyline into play. Now that it's semi-public , it's a popular spot for the AC-goer that should be on anyone's list traveling to the area."
Read More
2018
11 / 11
Review
"Clubhouse brings back memories of what this grand course was years ago. The course is an average course but the fun starts on the back nine where you have beautiful views of the water and the Atlantic City skyline. Nice view. The clubhouse is nice with a nice restaurant. The driving range (grass) is also good to practice on."
Read More
2018
Readers
Collection of reviews from our readers
There are no reader ratings yet
Reviews
There are no readers reviews yet. Be the first to write a review.