1 / 9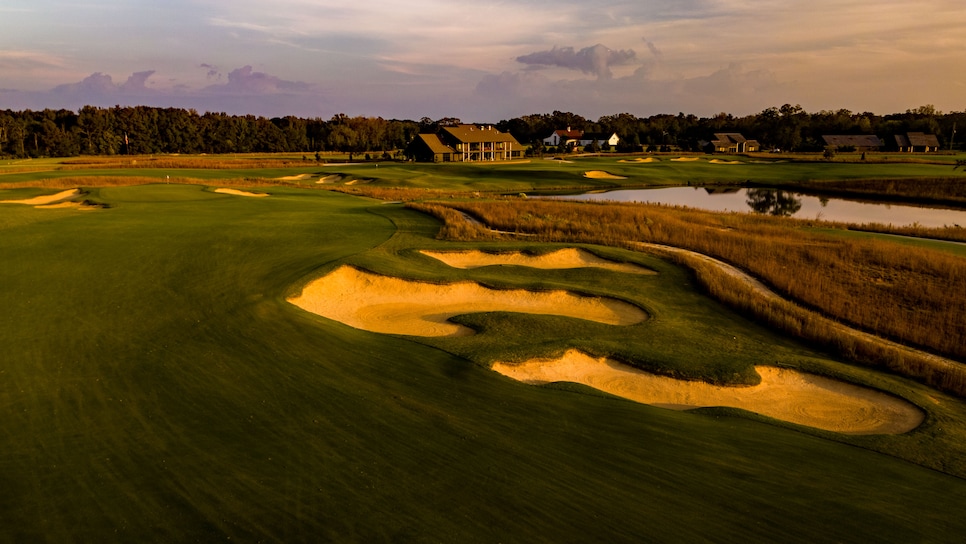 2 / 9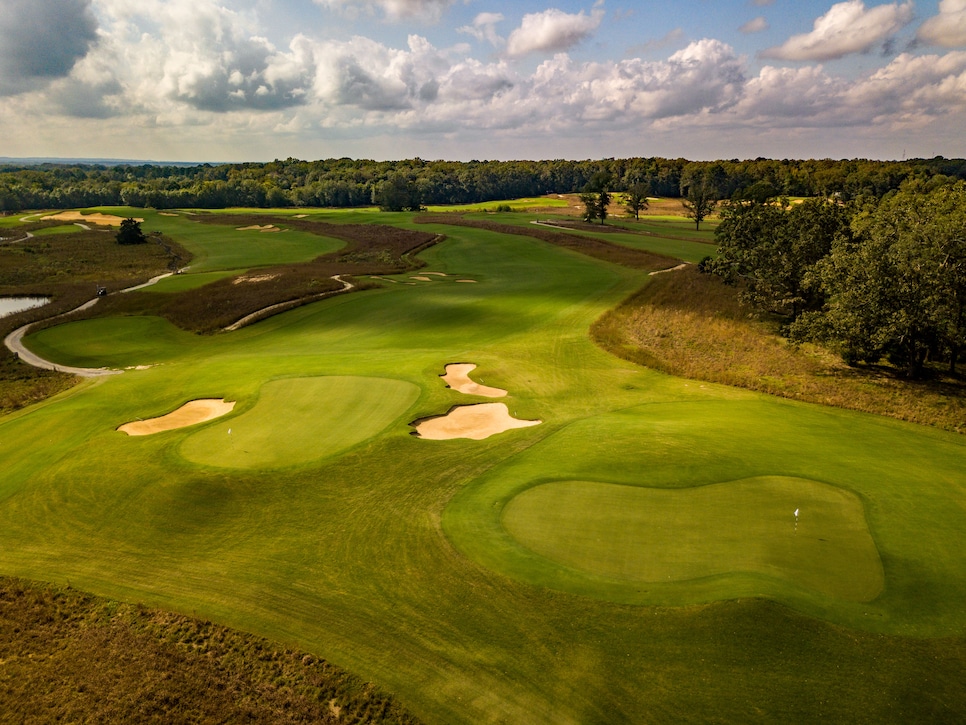 3 / 9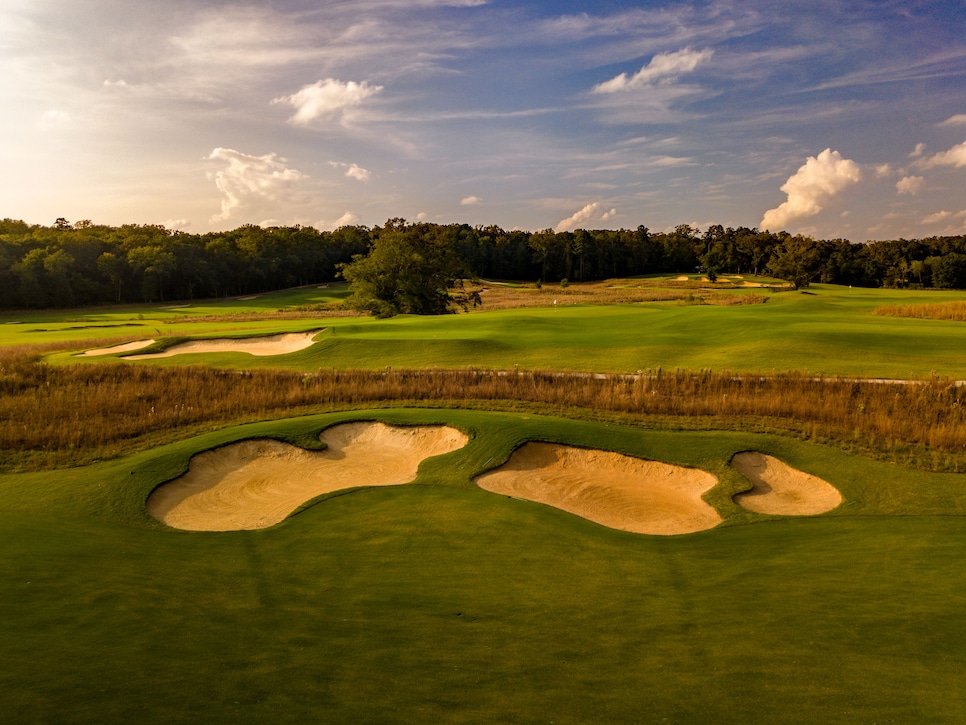 4 / 9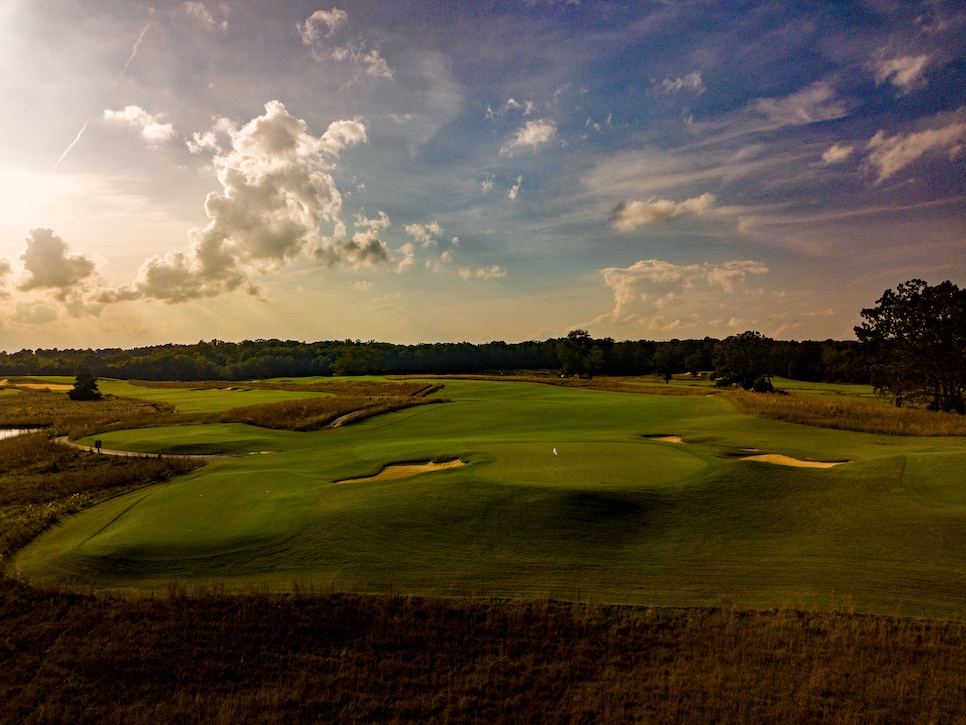 5 / 9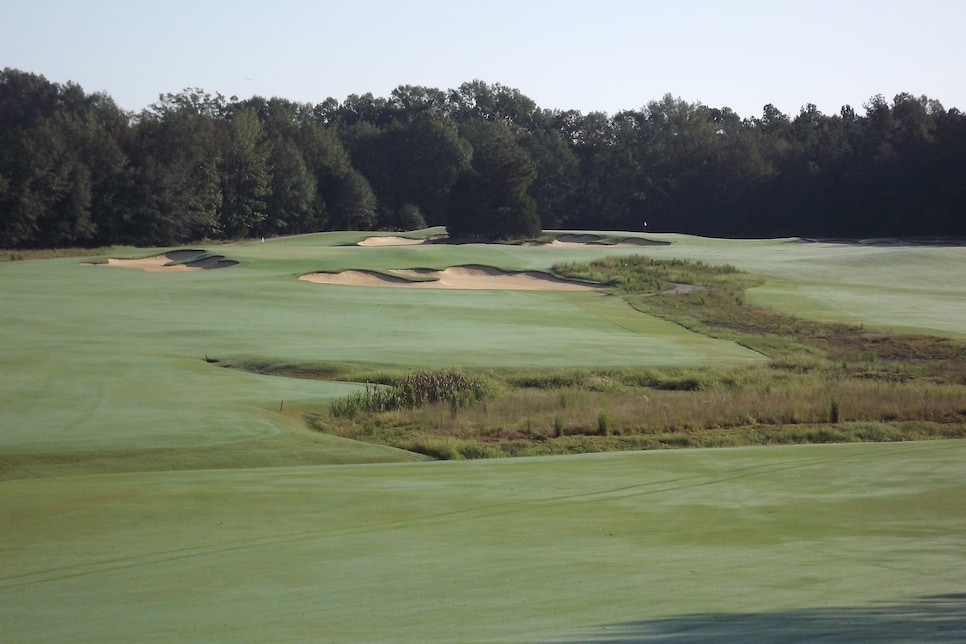 6 / 9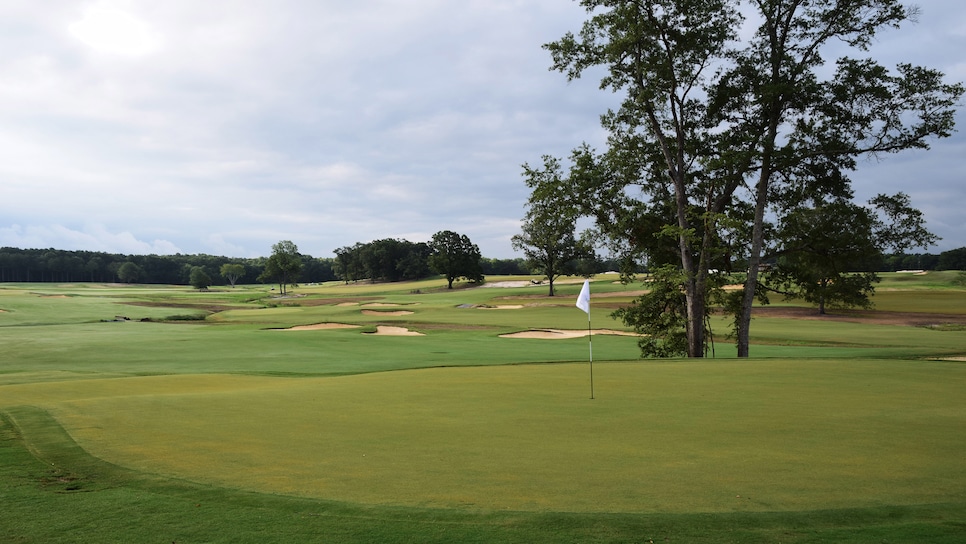 7 / 9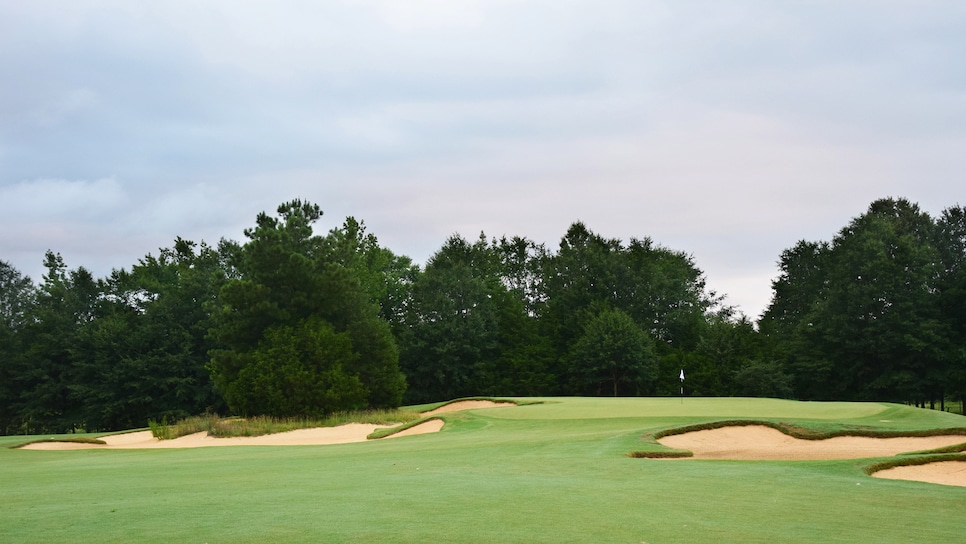 8 / 9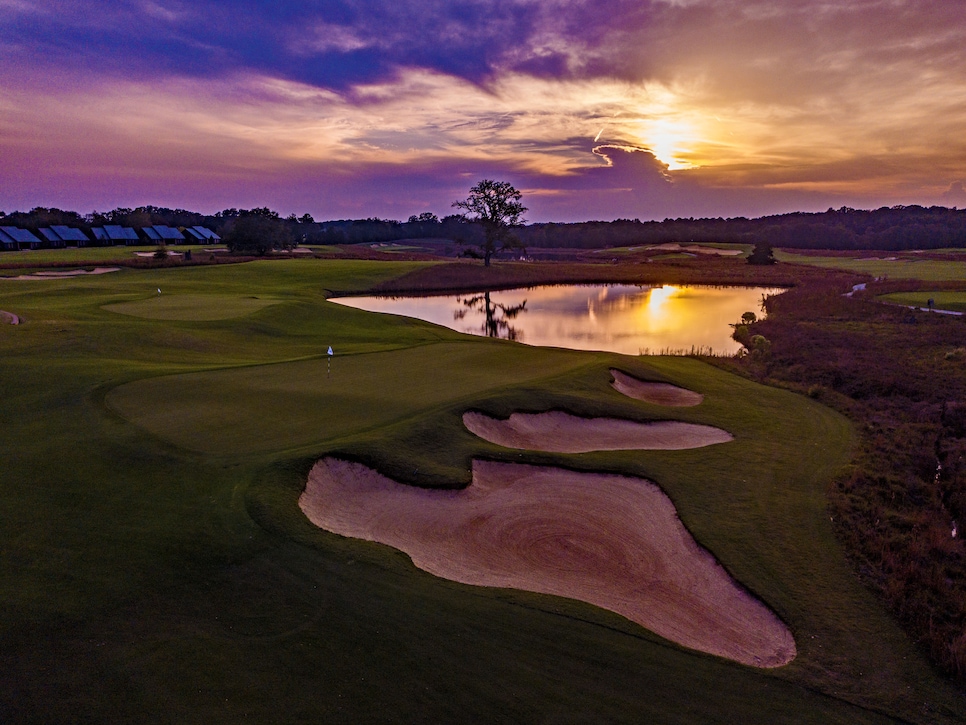 9 / 9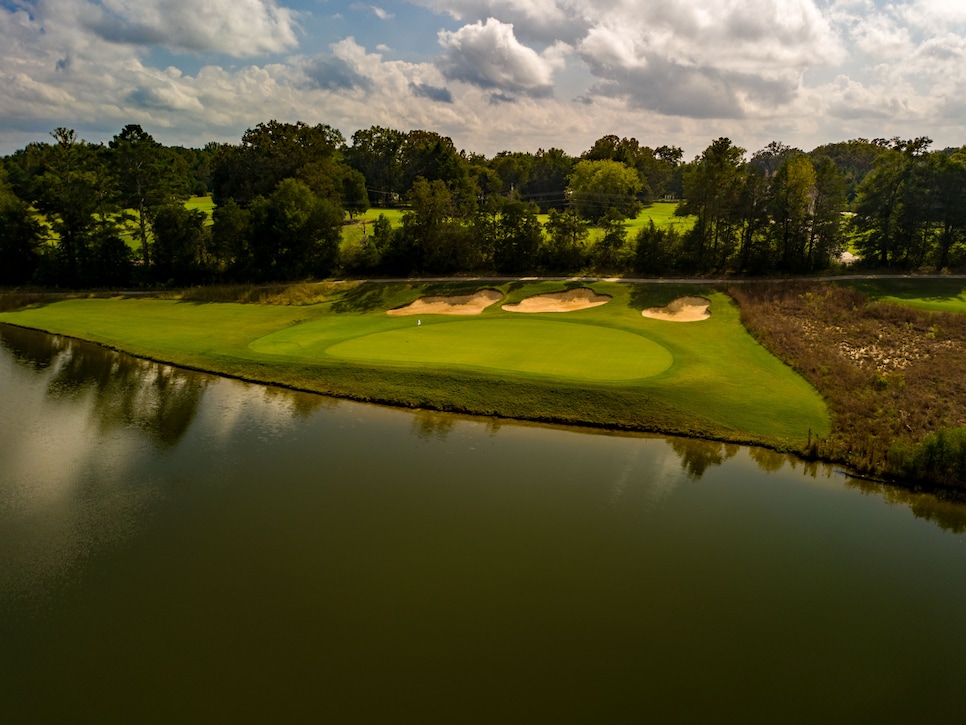 Overview
From Golf Digest Architecture Editor emeritus Ron Whitten:
Back in mid-1980s, George Bryan, who ran Bryan Foods, now part of Sara Lee Corp., created Old Waverly Golf Club in tiny West Point, Miss., a Bob Cupp/Jerry Pate design and former U.S. Women's Open host that to me is a bit underrated. In the early 2000s, Bryan bought an old dairy farm (Knob Hill Dairy) across the highway and hired Gil Hanse to give him an Old School public golf course. George named it Mossy Oak, after a West Point company of the same name that supplies outdoor camouflage gear. (The company has a 10-percent interest in the course.) He was going to call it Howlin' Wolf after a legendary blues singer born in West Point, but his heirs wanted too much money.
Hanse got the job before he was awarded the Rio Olympics design in 2012, and it was the first project he tackled after completing his work in Brazil. The site footprint is smaller than Old Waverly across the road, but except for some cottages along No. 10, there's no residential on Mossy Oak, so the course feels more expansive.
Hanse's design takes advantage of a prominent diagonal ridge that runs across the land, and his superb routing works up, down and sideways across the topography. There's a stream that comes prominently into play and a big irrigation lake over which the par-3 11th plays to a green that, to me, looks suspiciously like Alister MacKenzie's original 16th green at Augusta National. A coincidence, but I'm not sure.
I got a chuckle on the first hole. Hanse long ago declared war on golf course trees everywhere (only 19 remain at Mossy Oak; from the sixth green you can see all 18 flags). Yet he built a bunker left of the first green that has a massive, ugly cedar tree growing out of it. You can be in the bunker and blocked from a shot to the green by fir branches. How on earth did that tree survive? Or was it planted there?!
Gil showed his awareness of current events when he shaped a massive 30,000 square-foot fairway bunker on the par-5 17th and named it "Grant's Tomb," a clear acknowledgement that nearby Mississippi State University had just become the home of President U.S. Grant's official papers. But the name didn't stick; club officials opted to honor their boss, so they now call that enormous trap, "George's Bunker." The name just doesn't quite carry the same portent.
I like a lot of things about Mossy Oak, particularly the par-3 15th, a mirror image of the fifth at Hanse's Streamsong Black, which itself is a version of the Calamity hole at Royal Portrush, and I really liked the par-4 eighth, which plays over a creek and uphill between huge oaks to a green that slopes gently front to back. The par-4 13th is another fine hole, with a fairway that kicks left toward a stream, much in the manner of Merion East's fifth hole. I'm also a fan of the aforementioned 17th, which plays uphill to a plateau fairway into which that huge bunker is embedded. But it's 75 yards short of the green, which is well beyond the crest of the plateau and needs an extra tall flagstick just to pose a target. This is a very unusual hole.
I'm also a fan of Hanse's bunkering at Mossy Oak. It's big sweeping stuff like seen as some Tillinghast designs such as Ridgewood. And the sand is earthen toned, not bright white. Bryan told me they trucked it in from a river six miles away.
A couple of things I didn't care for: The green on the par-4 second has two bunkers on its left flank that also serve as fairway bunkers on the par-5 fifth hole going in the opposite direction. Granted, the fifth fairway is probably 50 yards wide and those bunkers are midway between the tee shot landing area and the second shot landing area, but the lawyer in me still feels it's a lawsuit waiting to happen.
And on that fine par-4 13th hole, there's a cart path going uphill between two greenside bunkers that spills out onto an area directly in the firing line of the 14th tee. In Hanse's defense, I should point out that he didn't lay out that cart path. Bryan told me the maintenance staff installed it at his direction because there was nowhere else to take carts, given the creek down the left and around the back of the 13th green.
Those observations will probably irritate Hanse, who has told me how annoyed he is that I seem to nitpick every one of his designs. It's not personal; I nitpick everybody's designs. That was my job for 35 years.
Awards
100 Greatest Public: Ranked 2019-'24.
Highest ranking: 60th, 2021-'22.
2023-'24 ranking: 70th.
Best in State: Ranked second, 2021-'24. Ranked fourth, 2019-'20.
2023-'24 ranking: 2nd.
Panelists
Ratings from our panel of 1,900 course-ranking panelists
100 GREATEST/BEST IN STATE SCORES
Reviews
1 / 5
Review
"Links style course, generous fairways, slight elevation changes that are used throughout the course and adds to the challenge. Good shape but has a tendency to play soft. Outstanding staff "
Read More
2022
2 / 5
Review
"Great layout with wide firm and fast fairways. Nice elevation changes an great flow. Really fun to play, tough, but won't beat you up. Have to hit it crooked to not have a next shot."
Read More
2018
3 / 5
Review
"Excellent, very walkable, and playable lay-of-the-land Gil Hanse design which is fun to play. More courses like Mossy Oak need to be built for public play."
Read More
2018
4 / 5
Review
"This is a new Gil Hanse design that opened for play in 2017. It is the public sister of Old Waverly CC. The guys I played with loved the open feel, dramatic landforms, and the interesting greens. I really liked the course ... the course demands imagination and execution. The greens keep you on your toes. It is a full of interesting holes. For me, it just didn't inspire LOVE."
Read More
2018
5 / 5
Review
"A lot of fun to play with wide fairways and big greens. A lot of strategic value plays into proper placement of your drive and approach shots. In very good shape and the staff is very service oriented. Try to stay at the cottages either here or at Old Waverly for the full experience and the southern food is great!"
Read More
2018
Readers
Collection of reviews from our readers
There are no reader ratings yet
Reviews
There are no readers reviews yet. Be the first to write a review.