Best in State
The best golf courses in Montana
Few courses have moved up faster in our ranking of America's 100 Greatest Golf Courses over the last decade than Rock Creek Cattle Company outside Deer Lodge. The Tom Doak design debuted at No. 119 in 2013 and has climbed most recently to 56th, jumping 25 spots in 2023-'24. Like every other course in the Montana ranking, it occupies high Rocky Mountain terrain playing variously through open grasslands and evergreen forests, with scenic views in every direction.
It's natural that the mountainous western part of the state would dominate—it's a paradise for hiking, skiing, fishing, boating and golf. But the more treeless prairie and river topography of the central and eastern part of the state—some of the most sparsely populated territory in the U.S.—maybe be better suited to golf.
We may see how much more so when Crazy Mountain Ranch, a new Bill Coore and Ben Crenshaw course currently under construction near Livingston, opens sometime in 2025.
Below you'll find our 2023-'24 ranking of the Best Golf Courses in Montana.
We urge you to click through to each individual course page for bonus photography, drone footage and reviews from our course panelists. Plus, you can now leave your own ratings on the courses you've played … to make your case why your favorite should be ranked higher.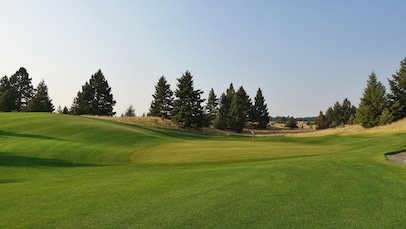 In the high plains north of Butte, Mont., minimalist master Tom Doak fashioned a splendid inland links from a working cattle ranch. His broad, looping routing starts in pasture, makes a slow but steady climb to the seventh tee, then plays through pines and over the ravines of Rock Creek, as gorgeous a fly-fishing stream as can be imagined. At the ninth, the course bursts back into the open, atop rolling hills offering hogback, punchbowl and sideslope fairways, then rolls downward and homeward, finishing back along the stream. Doak moved little earth because it was so rocky. Greens are huge to fit the scale and bunkers shaped to emulate those blown out by constant winds. Rock Creek Cattle Co. is high-country golf at its finest.
View Course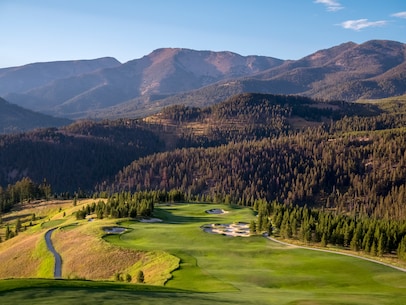 The Reserve at Moonlight Basin is just the third course from Montana to appear in the national rankings, joining Tom Doak's Rock Creek Cattle Company (No. 56) and Robert Trent Jones' Yellowstone C.C., which surfaced in the 1960s on the list of America's "Toughest" courses. Located near Big Sky at an elevation of 7,500 feet above sea level, the Jack Nicklaus design is the highest (in altitude) in the rankings. Big sky is apt—the course was built on the site of an old ski mountain with 360-degree panoramas of the surrounding Rockies, and the impressively large holes race, slalom and dive across circuits of terrain that twist different directions through the wilderness. With numerous downhill shots through the thin air, the championship yardage of 8,000 yards doesn't seem egregious, and scoring well actually requires a high degree control in judging where the ball will carry and settle. The epic vistas of holes like the par 4 first and par 5 17th (at over 700 yards) are sights to behold, for golfers and non-golfers alike.
View Course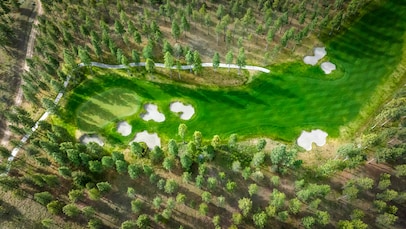 Sitting far closer (just eight miles) from the Canadian border than from any major city in Montana, Wilderness Club was an ill-timed residential development venture a decade ago, and thus the once-private club now accepts outside play, much of it from day-trip Canadians. The stunning design benefits from quick-draining sandy soil native to the site, some of which is used in free-form waste bunkers on several holes. There are many lakes in play, including long Grob Lake that dominates the left side of the par-3 17th and par-5 18th. Three mountain ranges surround the site: the Whitefish, Purcell and Rockies Mountains. Pine trees are prevalent but not imposing. In an age of destination golf, Wilderness is still undiscovered by most American tourist golfers. Perhaps its appearance on America's 100 Greatest Public will change that.
View Course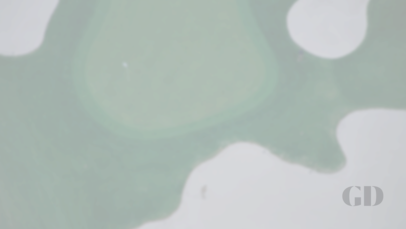 Just over an hour northwest of Yellowstone National Park, the Tom Weiskopf-designed Spanish Peaks is a scenic mountain course set 7,000 feet above sea level. Weiskopf built nearly every hole to have panoramic views of the surrounding forest and mountains, immersing the golfer in the beauty of the Montana landscape. The course can be demanding off the tee, with native grasses and dense forest guarding most fairways.
View Course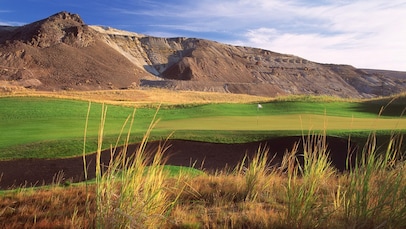 On the site of a former copper-mining operation, Old Works, designed by Jack Nicklaus, has the feel and conditioning of a high-end course but is priced more affordably. An old smelter smoke stack, touted as the largest free-standing masonic structure in the United States—at 585 feet—towers in the distance. (Hint: Most putts break toward it.) As a nod to the area's mining history, Nicklaus used black slag—a byproduct of smeltering ore—instead of sand in the course's bunkers.
View Course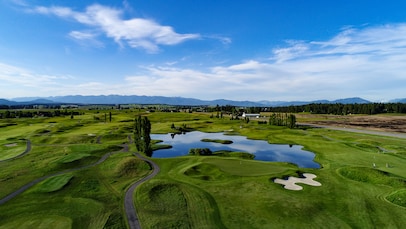 Northern Pines Golf Club is ranked as one of the best golf courses in Montana. Discover our experts' reviews and where Northern Pines sits in our rankings.
View Course