1 / 7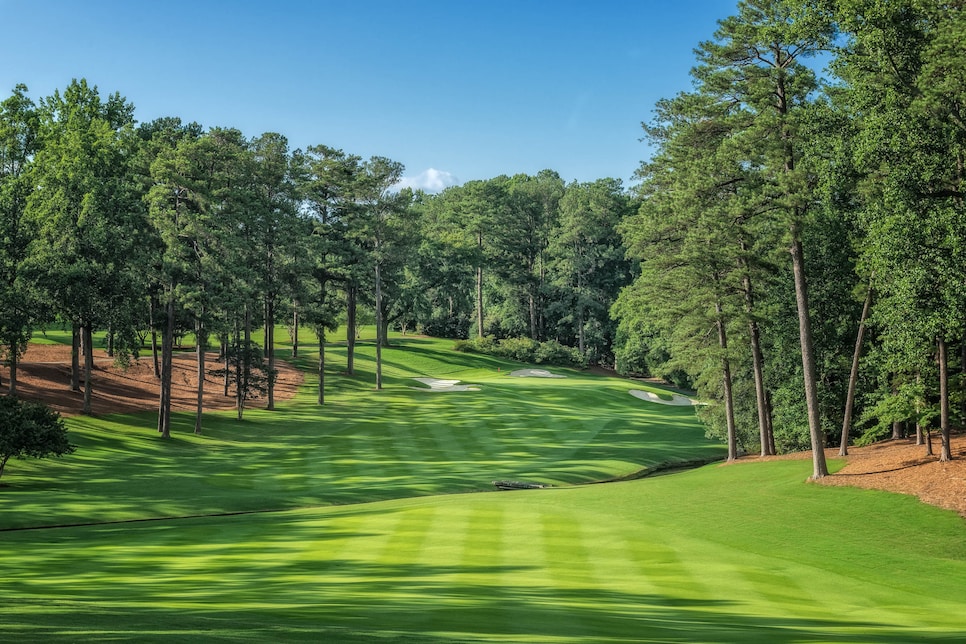 2 / 7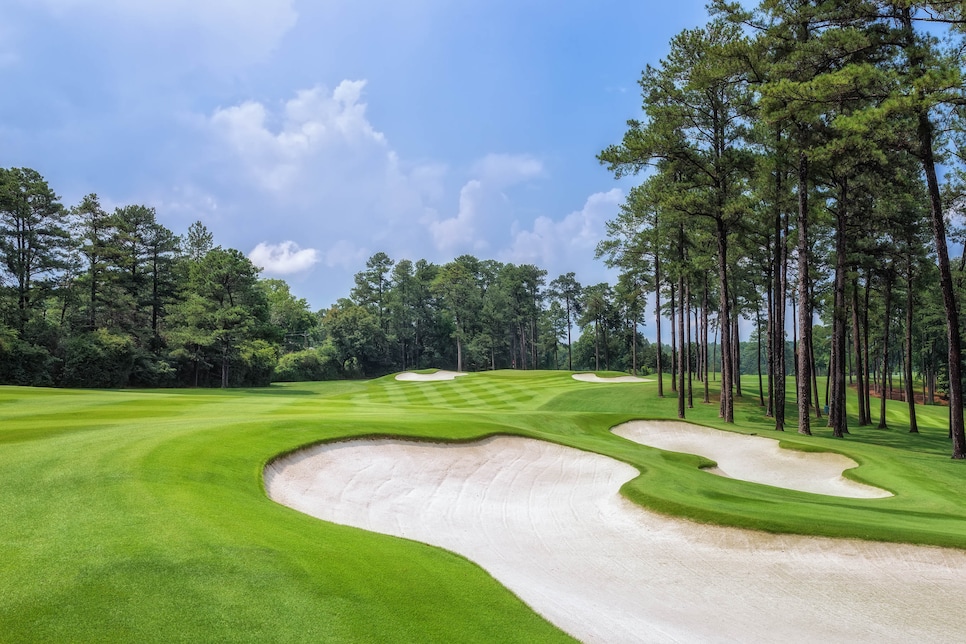 3 / 7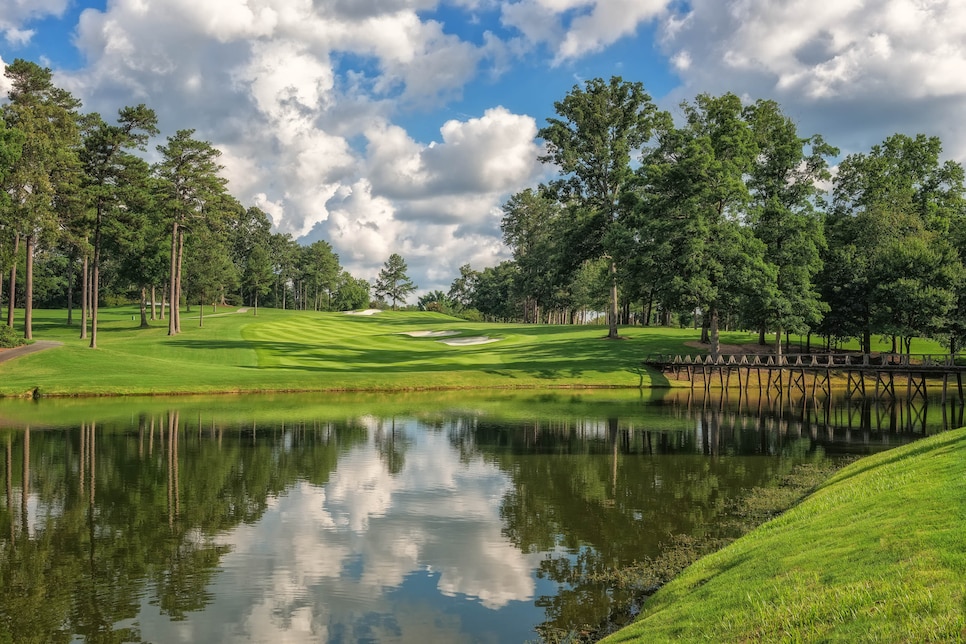 4 / 7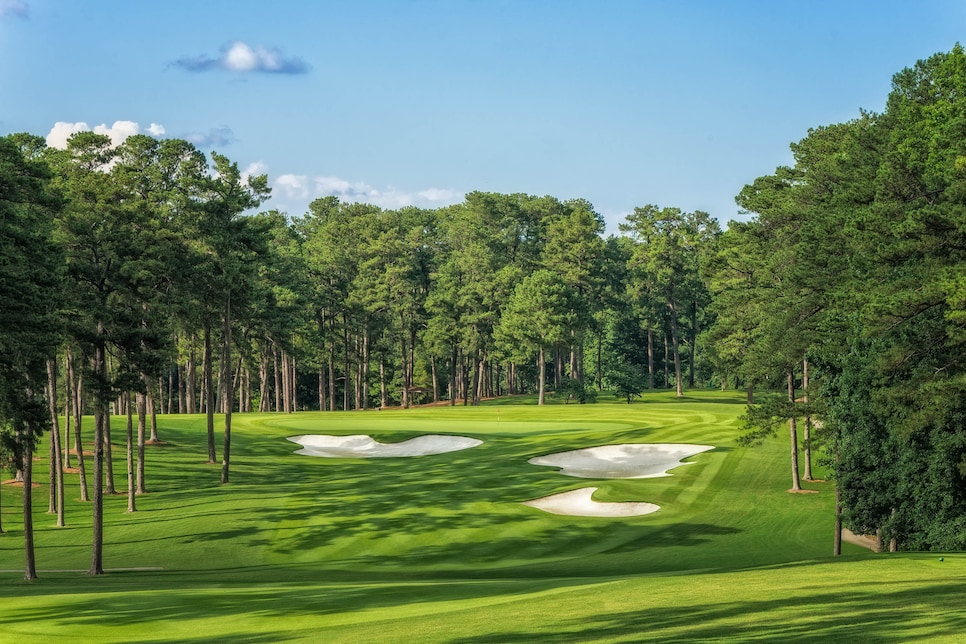 5 / 7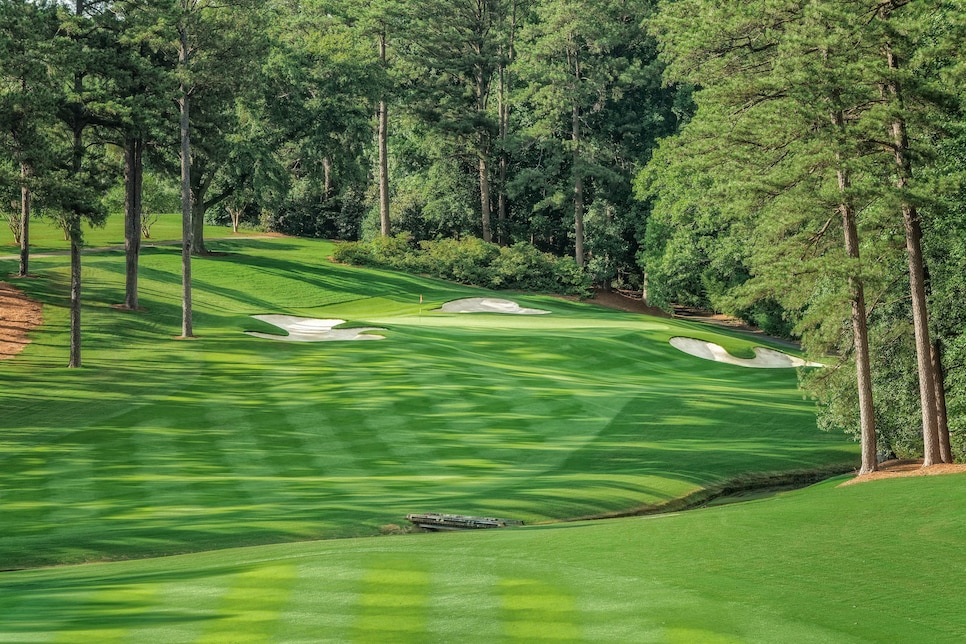 6 / 7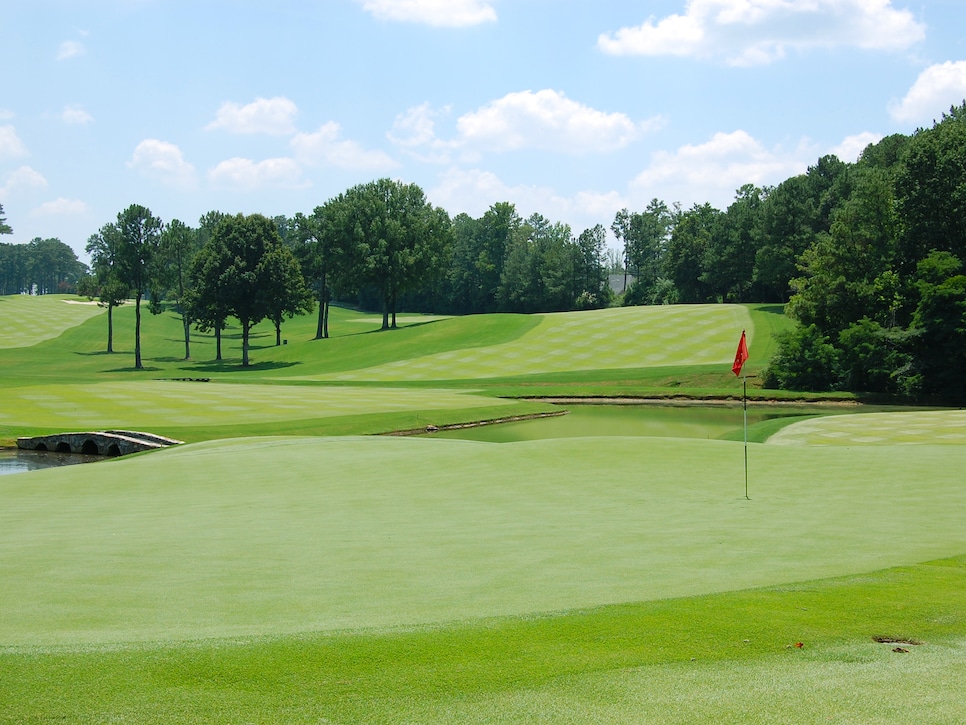 7 / 7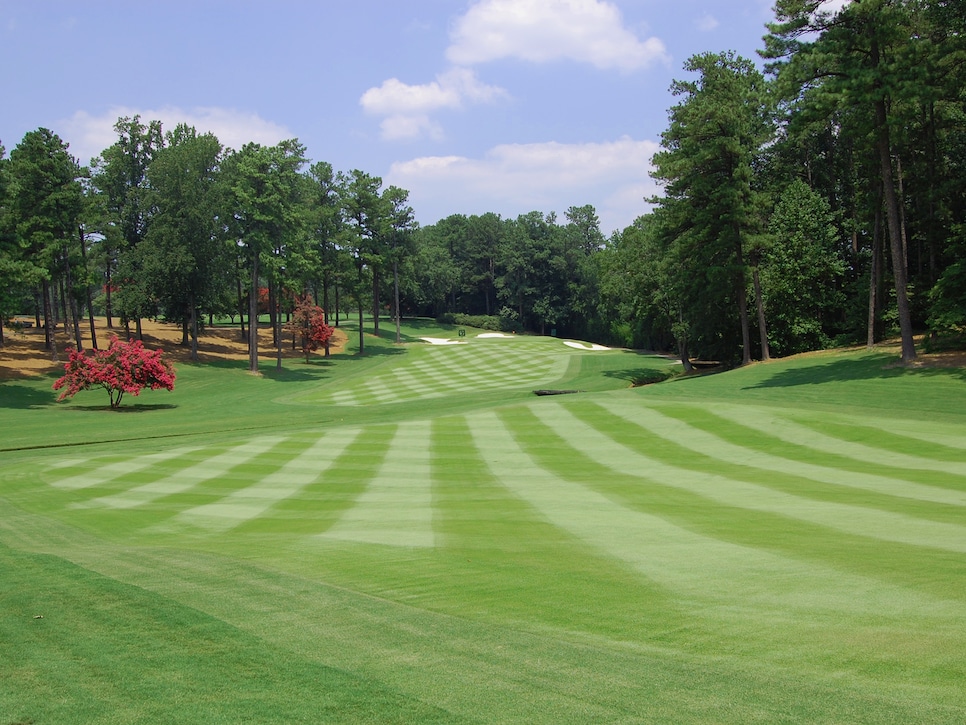 Overview
The design collaboration by amateur star Bobby Jones and golf architect Robert Trent Jones (no relation) was meant to recapture the magic that the Grand Slam winner had experienced when he teamed with Alister Mackenzie in the design of Augusta National. But Trent was an even more forceful personality than the flamboyant Mackenzie, so Peachtree reflects far more of Trent's notions of golf than Bobby's, particularly in designing for future equipment advances. When it opened, Peachtree measured in excess of 7,200 yards, extremely long for that era. It boasted the longest set of tees in America (to provide flexibility on holes) and the country's most enormous greens (to spread out wear and tear). As it turns out, Trent was a visionary, and decades later other designers followed his lead to address advances in club and ball technology.
About
Designer
Robert Trent Jones and Bobby Jones
Awards
100 Greatest: Ranked since 1966.
2023-'24 ranking: 25th.
Previous ranking: 30th.
Highest ranking: No. 16, 1991-'92.
Best in State: Ranked second, 2011-'20. Ranked third, 2021-'22.
Panelists
Ratings from our panel of 1,900 course-ranking panelists
100 GREATEST/BEST IN STATE SCORES
Reviews
1 / 9
Review
"Wonderful walk through the towering pines and dramatic elevation changes in an urban setting that seemingly is in the country. Vibrant RTJ Jr bunkering reminiscent of Augusta National. Challenging set of green complexes that offer variety of both rolling slopes and intricate bumps. Corridors lined by pines do not inhibit play and also provide recovery options, 3k trees recently removed. Standout holes include 2, 4, 9, 12, and 14. After a full day experience at this club, one can understand the opinion Peachtree is possibly the best course built in a 50 year span between 1940-1990."
Read More
2022
2 / 9
Review
"Augusta in the City." Close to perfect every time I've played it. Not a bad thing to say."
Read More
2022
3 / 9
Review
"It is my feeling this course is a special place a top 25 course in the US. One of the all time great places to play. Over the years of rating courses I've had the pleasure to play Peachtree a few times. This course never gets old. It's one of those course. When you are done playing it you want to go again because its a pure joy to play. Fun shot making and doesn't seem as difficult as it can be to actually score on the course. I'm often asked what are my favorite courses in the US. I tell them you asked the question the wrong way. What are the top 5 course that surprised me to the upside and 5 to the downside. You know Peachtree Golf Club will be a good experience prior to playing. Every time it plays even better then expected and surprises to upside. Most of the challenge is around the greens. Bring your chipping and putting to Peachtree."
Read More
2022
4 / 9
Review
"Incredibly conditioning and a really fun course for the member tees. Particularly enjoyed how the par 5s all offer the player a way to make it around the green with two well executed shots. The green complexes with the undulation changes were the defining feature for me here. Depending on where the pin is (generally massive green complexes), player has to be aware of correct carry distance and side to approach from. Incredibly fair test of golf where a bogey is certainly due to a poorly executed shot or two. The routing also bears comendation. Really nice use of the property with looping efficiently used while it still feels like holes are all apart from another. Also applaud the effort to remove so many trees...and William the super's continued dedication to continuing to remove more! If there is one weakness, some of the holes (particularly the par 4s) seem to run together a bit and aren't too different from one another."
Read More
2022
5 / 9
Review
"Old world charm, a touch of class and sexy. The conditioning is top notch. The feels of Augusta are everywhere. Peachtree is a treat to experience. The fairways are forgiving, and lots of run up areas make this a great course for all skill levels."
Read More
2021
6 / 9
Review
"What can you say about this club that refrains from using superlatives? It was Bobby Jones' club who designed it with Robert Trent Jones Sr. The club breathes history but the course feels contemporary. It is always in impeccable condition. The terrain is reminiscent of its more publicized brother in Augusta. The routing, conditioning, and challenge keeps the play engaged all the way around."
Read More
2018
7 / 9
Review
"Firm fairways and nearly perfect greens. There's an argument to be made that these were the best conditioned fairways and greens I've ever played."
Read More
2018
8 / 9
Review
"The clubhouse is one of the only buildings General Sherman didn't burn down on his way through Atlanta during the Civil War, which certainly adds to the mystique of the club. The serenity of the club, and history, is second to none."
Read More
2018
9 / 9
Review
"The design variety is right there with the best of the best, looking at an overhead view of the course you can see that there's every type of hole, and moving in every different direction. You have to be on top of your game to score here."
Read More
2018
Readers
Collection of reviews from our readers
There are no reader ratings yet
Reviews
There are no readers reviews yet. Be the first to write a review.