1 / 6
2 / 6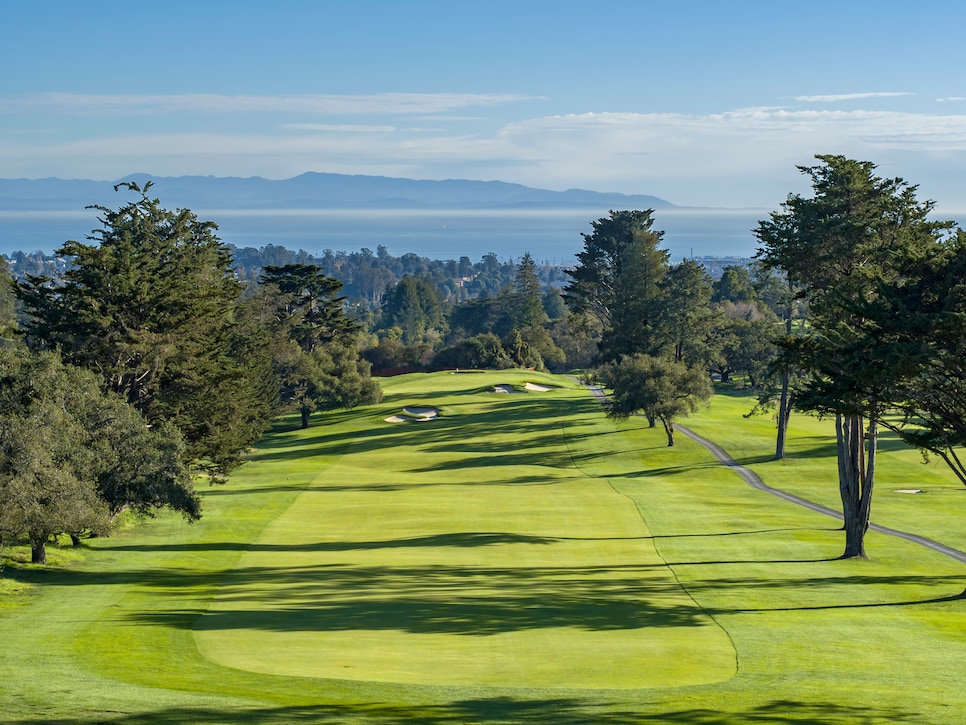 3 / 6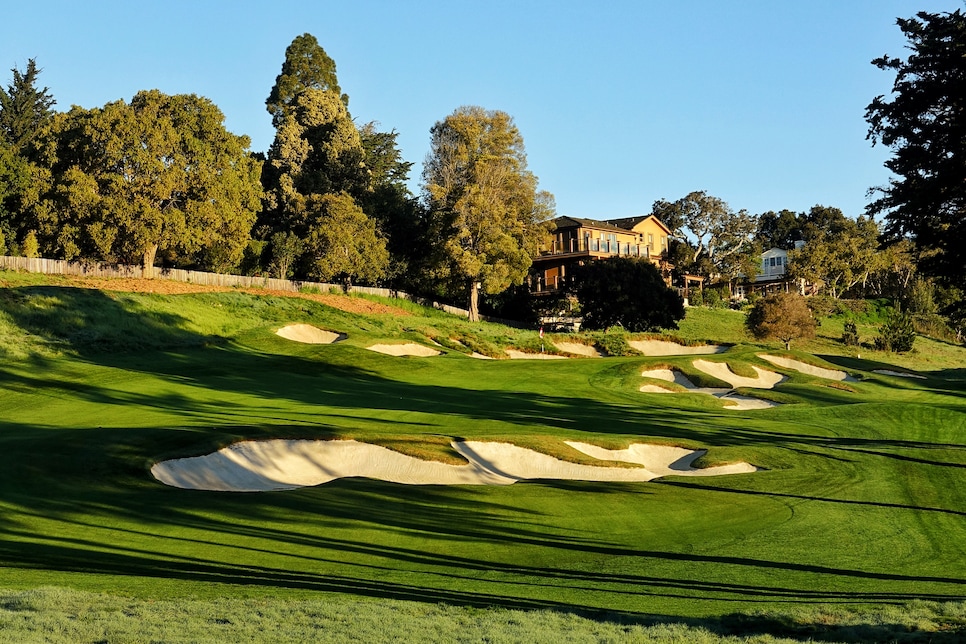 From the tee at the par-3, third hole
Courtesy of Jon Cavalier
4 / 6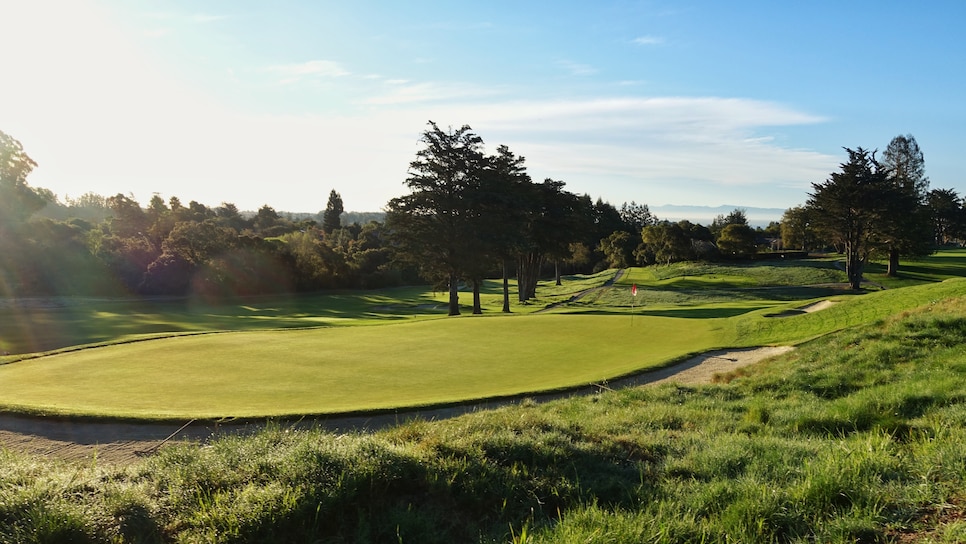 The view from behind the third green
Courtesy of Jon Cavalier
5 / 6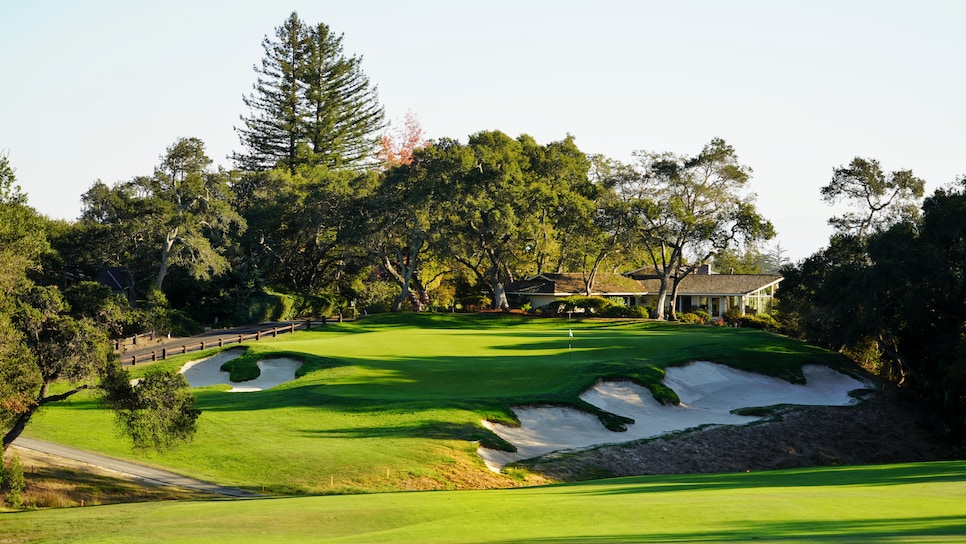 The approach to the famous par-4, 11th hole
Courtesy of Jon Cavalier
6 / 6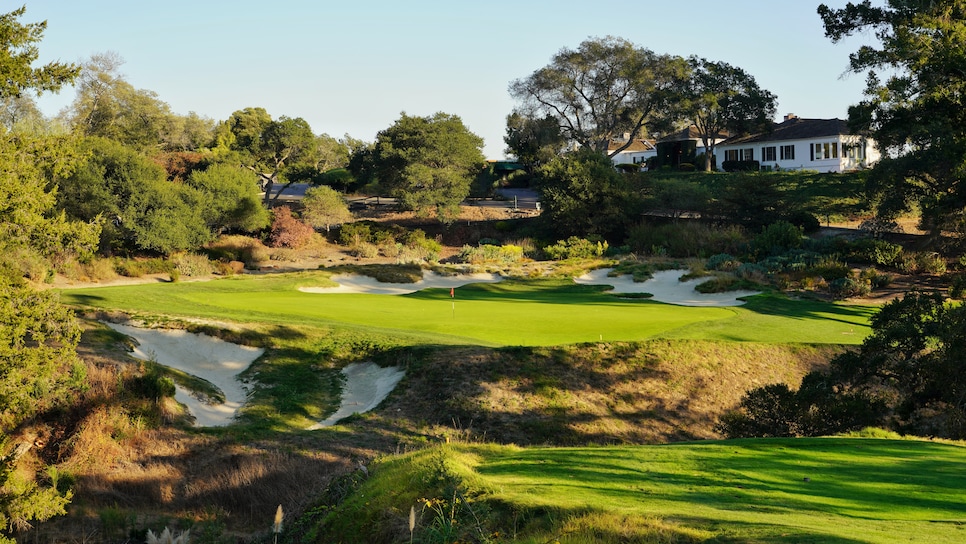 The closing par 3 at Pasatiempo.
Courtesy of Jon Cavalier
Overview
Pasatiempo is arguably Alister Mackenzie's favorite design. He lived along its sixth fairway during his last years. With its elaborate greens and spectacular bunkering fully restored by Tom Doak and now by Jim Urbina, it's a prime example of Mackenzie's art. The five par 3s are daunting yet delightful, culminating with the 181-yard over-a-canyon 18th. The back nine is chock full of other great holes: 10, 11, 12 and 16 all play over barrancas. The storied course has hosted two USGA championships: the 1986 U.S. Women's Amateur and the 2004 U.S. Senior Women's Amateur. In 2014, Pasatiempo received a Golf Digest Green Star environmental award for its measures in dealing with drought. Today, water worries are in the past, in part because of a new storage tank that allows the club to capture and store recycled water.

About
Designer
Alister MacKenzie/(R) Tom Doak/(R) Jim Urbina
Awards
100 Greatest: Ranked for 16 years from 1991-2004 and 2021 to current.
2023-'24 ranking: 96th.
Previous ranking: 98th.
Highest ranking: No. 77, 2001-'02.
Second 100 Greatest: Ranked for eight years from 2013-'20.
100 Greatest Public: Ranked since our inaugural rankings.
2023-'24 ranking: 15th.
Previous ranking: No. 17.
Highest ranking: Current.
Best in State: Ranked 12th, 2021-'22. Ranked 13th, 2013-'18, current. Ranked 14th, 2019-'20. Ranked 16th, 2011-'12.
2023-'24 ranking: 13th.
Previous ranking: 12th.
Panelists
Ratings from our panel of 1,900 course-ranking panelists
100 GREATEST/BEST IN STATE SCORES
Reviews
1 / 13
Review
"Really great golf course. The restoration by Tom Doak has greatly improved things as well. Each hole is uniquely challenging and interesting. Some of the toughest, yet fair, greens to play on a public access course. Worth every penny, especially when you consider its pricier counterparts down the coast."
Read More
2022
2 / 13
Review
"One of the best routed nine holes I have ever played. This Alister MacKenzie masterpiece was challenging yet fair while providing some extremely beautiful scenic backdrops. The back 9 offers so many unique fun holes as it winds its way through the Santa Cruz topography."
Read More
2022
3 / 13
Review
"Alister MacKenzie's favorite design, and you can appreciate why. Despite residential setting, the ocean views in the distance are great, but you hardly notice because the course is so pure. Lots of variety, multiple shot options on many holes, genius bunkering. A must-play for fans of golf course architecture."
Read More
2022
4 / 13
Review
"views of the ocean add to the legend of this course. cool story of its origins..."
Read More
2021
5 / 13
Review
"A must-play for anyone trekking to Monterey or San Francisco. As much fun as you can have on a golf course."
Read More
2021
6 / 13
Review
"Outstanding Mackenzie design made even better by recent Tom Doak restoration work. Go out of your way to play this course when visiting the Monterey area."
Read More
2018
7 / 13
Review
"A publicly accessible MacKenzie golf course with amazing greens and bunkering? Yup, you'll find that at Pasatiempo. The Par 3s on the front side are all truly special and #2 is a great Par 4. However, the back nine makes Pasatiempo; perfect routing, great mix of holes, and the most unique "
Read More
2018
8 / 13
Review
"It's got Alister Mackenzie DNA. It's well conditioned. The views and climate all add to the golf experience. Love the magestic Cypress trees! The one drawback is the uphill trudge from the middle of the front nine to about the middle of the back nine. Couldn't do that everyday."
Read More
2018
9 / 13
Review
"One of the best layouts of any course you will ever play. Great bunkering and green surrounds. Pasatiempo is one of very few accessible MacKenzie courses anywhere where the general public can play. Not much of a practice facility but don't miss playing this course."
Read More
2018
10 / 13
Review
"one of Dr. McKenzie's best short courses...amazing use of canyons, placements of deep bunkering and intriguing green designs tempting players to take risks..."
Read More
2018
11 / 13
Review
"Lots of good unique holes. Has a lot of character and memorability."
Read More
2018
12 / 13
Review
"A must play. It rewards the player who can shape their ball both ways. A master class in bunkering. The 16th is one of great greens in golf."
Read More
2018
13 / 13
Review
"For design variety, Pasatiempo is extraordinary. This course demonstrates a magnificent range of holes with unique elements that never get boring. Each hole requires a different drive with a methodical trajectory to position the ball appropriately away from a hazard or toward the right angle to the green. The greens are shaped differently--all receptive but very challenging. What's most memorable about this course is how fun it is. The collective continuity is there in spades, especially in the bunkering and greens. Both holes three and five are long par threes just as 15 and 18 are short par threes but feel remarkably different from each other and any other course that I have played."
Read More
2018
Readers
Collection of reviews from our readers
There are no reader ratings yet
Reviews
There are no readers reviews yet. Be the first to write a review.