1 / 1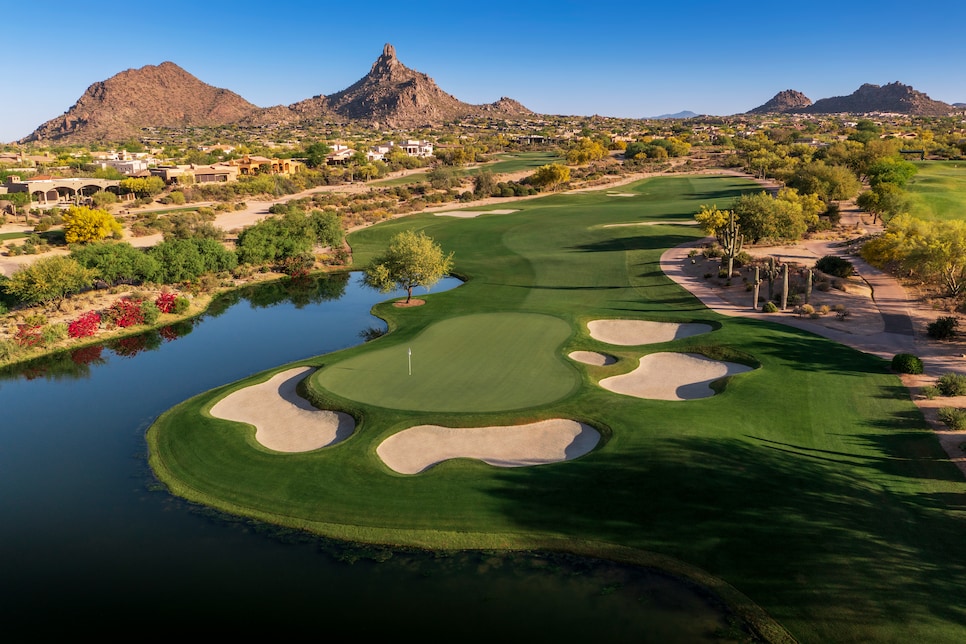 Overview
Designed by Jay Morrish and Tom Weiskopf in the mid-1980s, Troon Country Club was one of the first desert courses in the Scottsdale area. The course—ranked for 10 years on our 100 Greatest list from 1989-1998—is relatively playable and allows the golfer to run the ball up onto many greens. That said, finding the generally wide fairways is essential, as they are closely guarded by cacti-filled desert.
About
Designer
Jay Morrish, ASGCA/Tom Weiskopf
Awards
100 Greatest: Ranked for 10 years from 1989-'98.
Highest ranking: No. 41, 1991-'92.
Best in State: Ranked inside the top 5, 1987-2003. Ranked inside the top 10, 2005-'07. Ranked 13th, 2015-'16. Ranked 17th, 2019-'20. Ranked 18th, 2011-'12, 2017-'18. Ranked 19th, 2023-'24. Ranked 20th, 2013-'14, 2021-'22. Ranked inside the top 20, 2009.
2023-'24 ranking: 19th.
Panelists
Ratings from our panel of 1,900 course-ranking panelists
100 GREATEST/BEST IN STATE SCORES
Reviews
1 / 5
Review
"This section of Scottsdale desert is lush, and the Troon Country Club course designed by Weiskopf/Morrish takes full advantage of the available land. There is a strong preference for downhill shots, so the challenge is in front of the golfer. Every greensite is open to some type of running shot, and the wide fairways, large greens, and numerous tee boxes (along with the general lack of tough forced carries from the tee) make this a fun course for all handicaps. Troon Country Club is a course you could play every day without getting bored. It provides a fun and reasonably challenging but not overly stressful experience."
Read More
2021
2 / 5
Review
"This is a quality private club with a lot of challenging holes that require quality shots to play well. The greens are quick, but fair, just pay attention to the slopes in order to have a successful day putting. There is a good variety of hole designs for all pars. This is a private course so if you get invited here be sure to take the opportunity to play it."
Read More
2018
3 / 5
Review
"Demanding course with great scenery and views. Excellent facilities and very accommodating staff."
Read More
2018
4 / 5
Review
"One of the better desert style options . A fun course and a nice facility."
Read More
2018
5 / 5
Review
"Excellent golf course and attentive team taking care of the facility."
Read More
2018
Readers
Collection of reviews from our readers
There are no reader ratings yet
Reviews
There are no readers reviews yet. Be the first to write a review.