1 / 1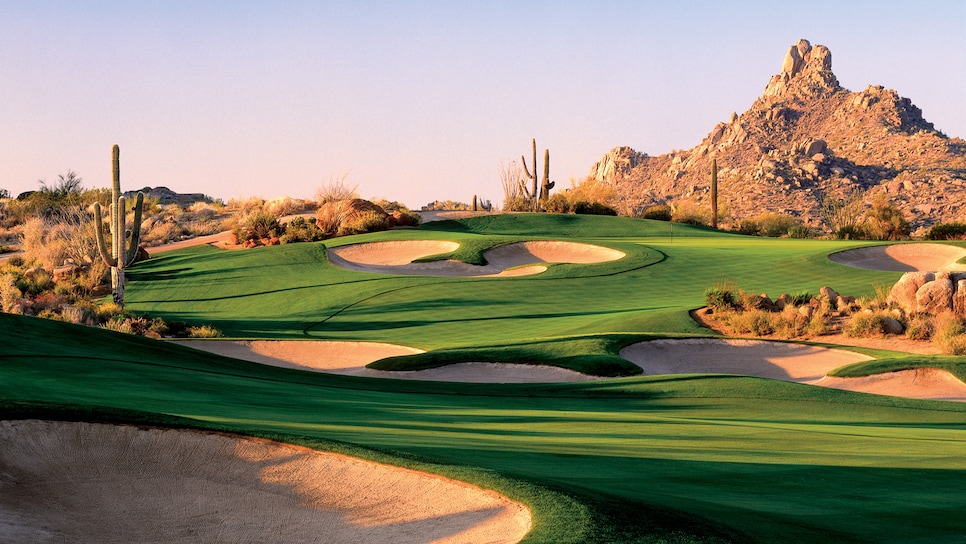 Overview
Like its sister course, the Pinnacle at Troon North is carved into the natural desert landscape with unfathomably large boulders lining the fairways and greens. Severe elevation changes create interesting variety among holes, as well as excellent vistas. The signature par-3 16th, referred to as the "Post Card," features a tee shot over water to a large, undulating green.
Awards
Best in State: Ranked inside the top 20, 1997-2003. Ranked 23rd, 2013-'16. Ranked 24th, 2011-'12. Ranked inside the top 25, 2005. Ranked 32nd, 2021-'22. Ranked 39th, 2023-'24.
2023-'24 ranking: 39th.
Panelists
Ratings from our panel of 1,900 course-ranking panelists
100 GREATEST/BEST IN STATE SCORES
Reviews
1 / 9
Review
"Comparable to the Monument course, maybe slightly more forgiving. The course is also encroached by housing developments at various points, while at others is pure desert golf. Decent amount of elevation changes here, and the conditioning is usually top notch. As with the other, bring your straight ball."
Read More
2022
2 / 9
Review
"Challenging course. Keeping ball in play off the tee is just the beginning. True desert golf."
Read More
2022
3 / 9
Review
"Doesn't have the memorable holes of its sister course on the property. A good solid layout. But often one is down in the desert-scape and it was hard to get a sense of the direction the course was playing in and telling one hole from another. Still, one of the higher-end resort layouts and worth it if there is a bit of a discount on the round off-season."
Read More
2018
4 / 9
Review
"This is the younger sibling of the two courses and not quite up to the challenge of competing with her. If I had five plays between the two I'd play the Monument four times."
Read More
2018
5 / 9
Review
"I don't know if they are letting it die to renovate, but conditioning is a complete 180 from monument. Could be good but they don't treat it very nice."
Read More
2018
6 / 9
Review
"Very good public golf option. Lots of fun shot options and a very pretty desert site."
Read More
2018
7 / 9
Review
"Beautiful conditions and layout. Great staff"
Read More
2018
8 / 9
Review
"Not quite as scenic as the Monument Course."
Read More
2018
9 / 9
Review
"Very nice desert golf course. Worth going out of your way to play this course. If you like desert golf, this is a top 10 to play. Great range, putting green, practice facility. Nice restaurants overlooking golf course. Last minute online deals to keep green fees reasonable ---- under $200."
Read More
2018
Readers
Collection of reviews from our readers
There are no reader ratings yet
Reviews
There are no readers reviews yet. Be the first to write a review.