Golf Club At Dove Mountain: Saguaro/Tortolita/Wild Burro
Marana, AZ • Public
1 / 4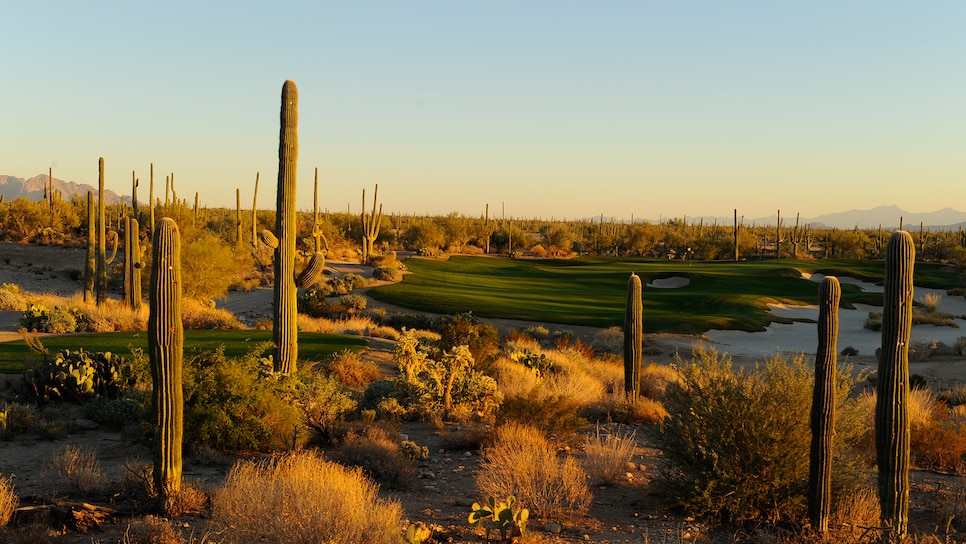 2 / 4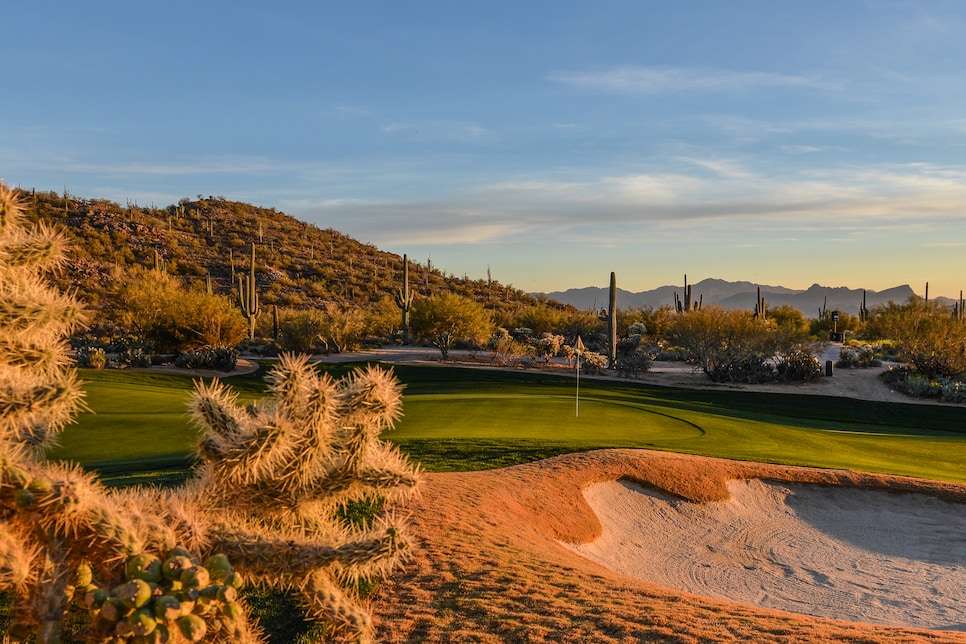 J. Martin Harris Photography
3 / 4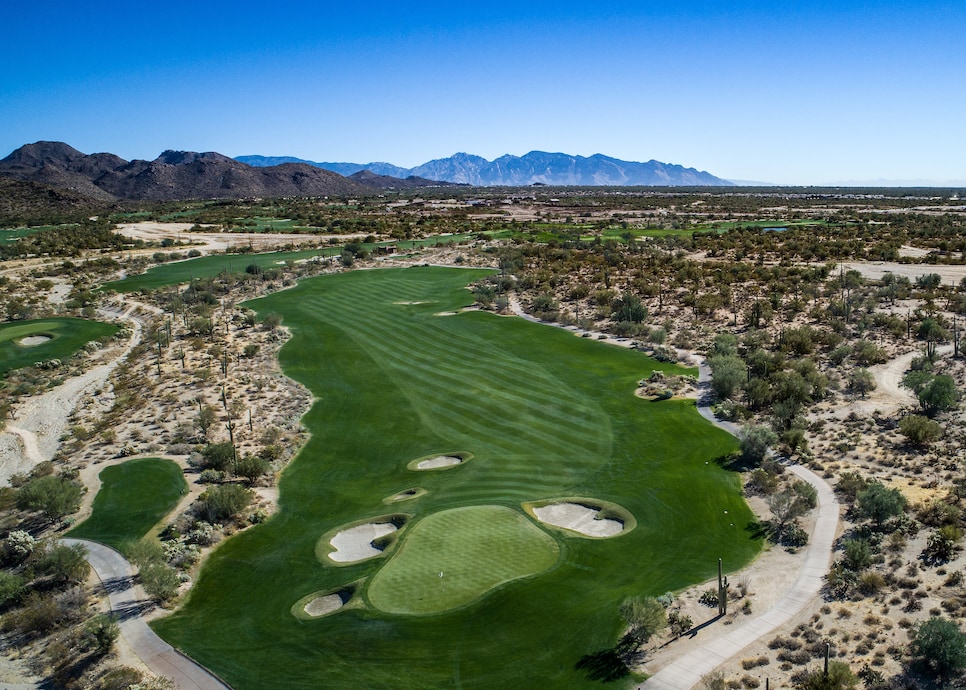 4 / 4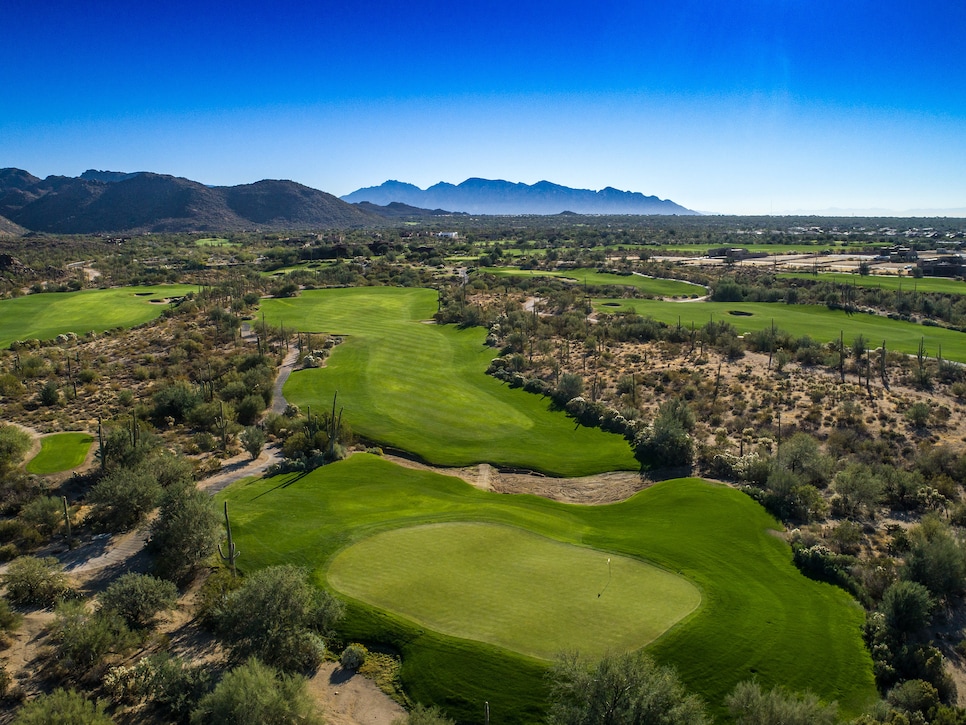 Overview
Formerly home to the PGA Tour's WGC match-play event, the Saguaro and Tortolita nines feature guarded greens and small targets. The Saguaro side lines a vast cactus forest, while the Tortolita sneaks through a secluded canyon. A natural stadium-like bowl surrounds the final green of the Tortolita, the perfect setting for matches that come down to the wire.
About
Designer
Jack Nicklaus/Chet Williams
Awards
Best in State: Ranked 21st, 2013-'14. Ranked 24th, 2017-'20. Ranked 25th, 2015-'16, 2021-'22. Ranked 26th, 2023-'24.
2023-'24 ranking: 26th.
Panelists
Ratings from our panel of 1,900 course-ranking panelists
100 GREATEST/BEST IN STATE SCORES
Reviews
1 / 6
Review
"The greens on Saguaro were a rough, bumpy and had some fungus issues. The member we played with said it was from the heavy monsoon season last year in the summer. The greens on Tortolita however in very good shape with none of the issue."
Read More
2022
2 / 6
Review
"The Saguaro and Tortolita course was a treat to play. Shot values were very good and for a mountain course it would be an easy course to walk. Playability was exceptional with 5 teeing areas. The greens were very good and quick."
Read More
2020
3 / 6
Review
"I found Dove Mountain (Saguaro and Tortolita) to be relatively one-dimensional and in many cases on the edge of fairness. Greens were quite small and extremely firm. With the guarded natures of the greens, the required shot was often a very high ball with lots of spin to be able to hold the small targets. In many cases, a run-up would have been the desired play for most players, given the firmness, but was not possible with the hole designs. Conditioning was very very good, but that actually detracted from the experience, as less firm/fast would have made it more playable."
Read More
2020
4 / 6
Review
"I've often felt that the key to playing Nicklaus courses is to avoid the fairway bunkers. On the Saguaro and Tortolita nines at Dove Mountain, there are safe and aggressive lines of play, the latter of which usually involves a heroic shot over or around these key bunkers. So it is simultaneously a risk-reward course and a strategic one, which many golfers find appealing. The green surrounds and bunkering is not as penal as some other Nicklaus courses, but many of the greenside bunkers are deep and require nifty wedge play to recover. Dove Mountain sits in a spectacular stretch of desert north of Tucson, and Nicklaus takes very good advantage of the natural beauty. The mountains are omnipresent, the holes are isolated from each other for the most part, and you have a strong sense of simply being alone in this beautiful, heavily vegetated desert landscape. If you like desert golf, this is really a spectacular property. "
Read More
2019
5 / 6
Review
"The Saguaro and Tortolita course is challenging, but playable. Greens were very firm and fast, greens almost too hard to hold shots particularly without a Jack Nicklaus high fading ball flight. Outstandiing facility."
Read More
2019
6 / 6
Review
"I played the Saguaro and Tortolita nines. It's a large challenging course with several forced carries over washes, water, desert areas. Bunkers near every green yet with enough area to play a ground game on most. Conditioning was excellent with hard and fast fairways and speedy, undulating, and receptive greens, with design variety up, down, right, left, short, long. Several bunkers in middle of fairways and on corners of doglegs. Unobstructed views of mountains and cacti. Fair and balanced course. Good finishing hole on both nines."
Read More
2019
Readers
Collection of reviews from our readers
There are no reader ratings yet
Reviews
There are no readers reviews yet. Be the first to write a review.