News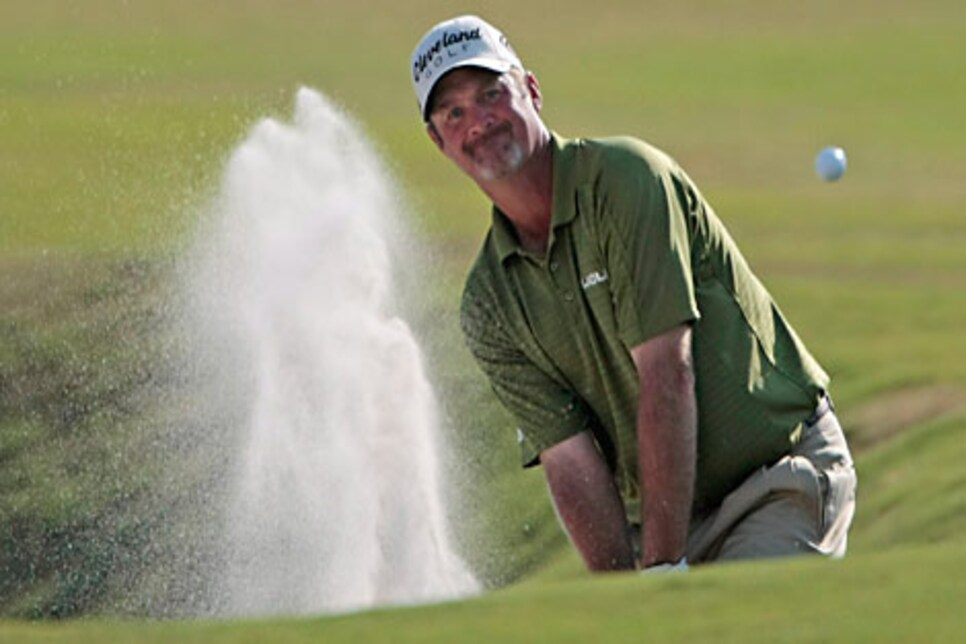 Kelly's short game has been the key. He's T-1 in both sand saves and greens in regulation.
NEW ORLEANS (AP) -- Jerry Kelly just wants to have fun.
Of course, even in New Orleans where he loves the great food and hot music, walking off with his third PGA Tour victory and the $1.1 million payday the Zurich Classic would provide would certainly up the fun factor.
"I'm going to try to have fun and see what happens," Kelly said after shooting a bogey-free 3-under 69 on Saturday to increase his lead to three strokes. "That's the key to my success when I come to a place like this. I have fun outside the ropes and inside the ropes."
Kelly, the 42-year-old Wisconsin player who won his two PGA Tour titles in 2002, has previously held or shared a three-shot lead after 54 holes six times in his career. Only one of those leads has led to a win -- the 2002 Sony Open. But this year 13 of the 16 players who have been up by three going into the final round have won.
"You know, I've got a swing that's not new, but it hasn't really been tested as much as I'd like to have it tested," said Kelly, who made two birdies on the front nine and one on the back. "That's because I haven't played well in the last few years."
His only goal Saturday was to be comfortable, said Kelly, who withdrew from the Verizon Heritage last week because of the flu and a dislocated rib that caused severe back pain. "I'm not going to force shots."
When he got into trouble Saturday, Kelly said he "played smart." He credited that, and an improved, but not perfect swing with his spot at the top of the leaderboard.
Kelly had a 13-under 203 total at TPC Louisiana. He opened with rounds of 68 and 68.
Steve Marino made the strongest move of the day, using eight birdies to offset two bogeys and a double bogey. Marino moved to 11 under before a bogey on the par-5 18th dropped him to 10 under, still good enough to give him sole possession of second place.
"It came out real hot and went over the green," said Marino, who finished with a 68. "That's the last place you want to be. I ended up making six. But I played well all day, and I look forward to more."
Marino's best finish was a second last year at the Mayakoba Golf Classic.
Five players -- Rod Pampling (68), Aaron Watkins (69), Charles Howell III (70), John Rollins (71) and Charlie Wi (71) -- were tied for third at 9 under. Howell and Wi moved to 10 under, but both bogeyed No. 17.
Pampling got in trouble on 12 with a double bogey.
"Trust me, I wasn't very happy," Pampling said. "You know, hitting a 5-wood and the ball plugs, you're never too happy after that. But I'd been playing good. I hadn't made too many mistakes."
The tough Pete Dye-designed course, pin placement, and swirling wind that was made unpredictable by trees on the course, all contributed to problems, players said.
"It's very difficult with the wind conditions," said Wi, who had the first-round lead. "Especially on 17, you get it next to the water. And you make mistakes there."
David Toms (72) was 8 under along with Jeff Overton (68), Joe Ogilvie (69), Roland Thatcher (70), Rory Sabbatini (71), Kevin Stadler (71) and John Merrick (72).
"I wasn't making birdies and I got kind of behind," Toms said. "I needed to make some shots and play smart and play the golf course like you have to."
Stadler, who finished with a triple bogey, gained entry into the tournament as a Monday qualifier when he shot a 66 at the Bridges Golf Club in Bay St. Louis, Miss. Stadler is a conditional player after finishing 145th on last year's money list.