News
Kelly Moving Towards A Win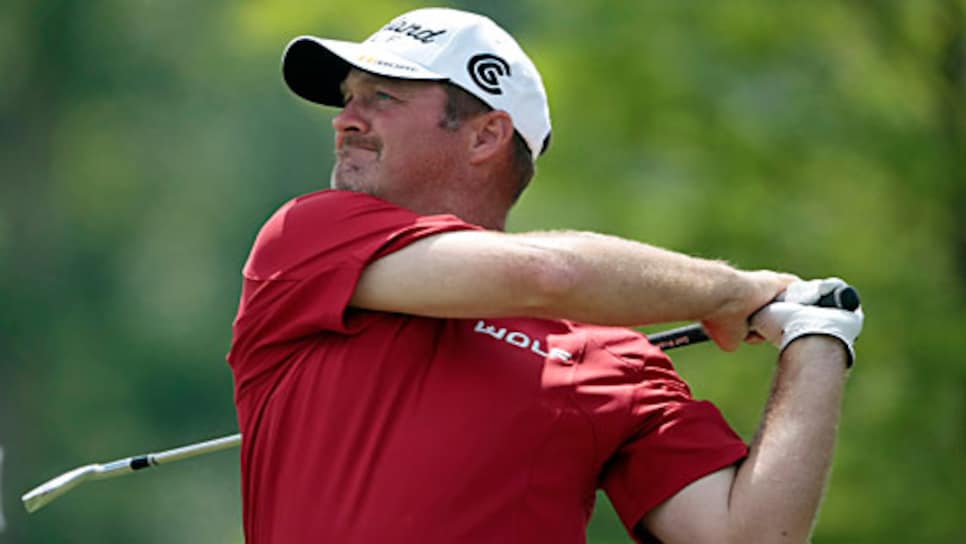 Although he has had some near mises the last two seasons, Kelly's last win was in 2002.
AVONDALE, La. (AP) -- Jerry Kelly moved into position for his first PGA Tour victory since his breakthrough 2002 season, shooting a 6-under 66 on Friday for a one-stroke lead in the Zurich Classic.
"I'm really happy, very comfortable with the swing," Kelly said. "It wasn't completely on, but it was helping me get in there."
No one was able to catch Kelly, but Troy Matteson was close behind.
Matteson had the low round of the tournament, an 8-under 64, to share second with Charley Hoffman, who shot a 66. Matteson's 64 -- which included an eagle on the windy seventh -- matched the course record.
"I tell you, I haven't had that many birdies and eagles all year if you add it all together," Matteson said. "So it's good to get a little round like that."
Louisiana favorite David Toms shot his second consecutive 68. The former LSU star was 8 under along with first-round leader Charlie Wi (70), Parker McLachlin (69), John Merrick (69) and John Rollins (67). Wi offset four birdies on the first nine and one on the backside with bogeys on 14 and 15.
Kevin Stadler, Ian Poulter, David Mathis, Rory Sabbatini, and Charles Howell III were 7 under.
Former champion Andres Romero was disqualified after the first two rounds for signing an incorrect scorecard.
Romero shot what he thought was a 3-over 75, pushing him to 5 over for the tournament. That would have made him miss the cut.
Romero told officials at the scorers' table he made a 5 at the par-5 18th. The 2008 rookie of the year didn't remember the one-stroke penalty he received for hitting his first shot into the water, so he actually made a 6.
Seventy-two players made the cut at 1 under or better.
Among those not sticking around for the weekend were Danny Lee, the reigning U.S. Amateur champion, who made his professional debut. The 18-year-old South Korean-born New Zealander, who broke Tiger Woods' mark as the youngest U.S. Amateur champion last year and became the European tour's youngest winner in February at the Johnnie Walker Classic, followed up a first-round 76 with a 75.
Lee made four birdies a bogey, two double bogeys and on triple bogey in the first round. In the second round, he had six bogeys and three birdies.
Nick Watney, the former Zurich champion who had made the cut in all nine previous appearances this year, including eight top-25s, went home after rounds of 74 and 70.
Masters runner-up Kenny Perry had a good round going at 8 under with two holes to play. But he finished bogey-double bogey for a 70 and a 5-under total.