Takeaways
Jason Day in the mix with little-known partner, X-Cantlay own the lead and Jay Haas sets a record for the ages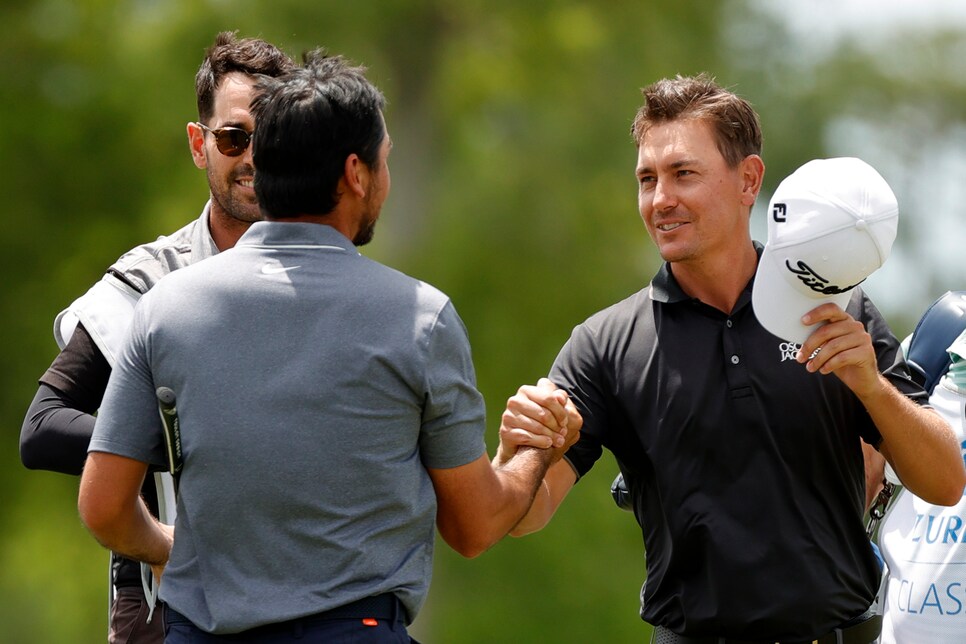 Jason Scrivener (right) shakes hands with teammate Jason Day after the pair shot 65 in the second round of the Zurich Classic of New Orleans.
Sarah Stier
Jason Day is in contention again on the PGA Tour.
And who's that with him? No … seriously, who is that with him? Jason Scrivener?
You're forgiven—even the most diehard golf fans among us—if the inclusion of Scrivener on a PGA Tour leaderboard caused you to do a double take. In fact, the second question in his press conference after his second round in the Zurich Classic of New Orleans was, "Could you pronounce your last name?"
The No. 188 player in the World Ranking doesn't often make TV appearances in America. This two-man team event is only his seventh start on the PGA Tour. The last tournament a casual viewer would recognize that Scrivener played in was the 2021 Open Championship, where he missed the cut. He did tie for 23rd at Kiawah in the 2021 PGA, but does anybody remember anything from that weekend other than Phil Mickelson holding off Brooks Koepka?
This is one of the cool aspects of this week's team format. Sure, you get the typical Ryder Cup and Presidents Cup reruns of Xander Schauffele and Patrick Cantlay, Ian Poulter and Shane Lowry, Marc Leishman and Cam Smith, et al. But you also get Day, a former World No. 1, in a seemingly unlikely pairing with some dude nobody's heard of.
Turns out, the 33-year-old Australian via South Africa and Zimbabwe is a bigger fish than his golf profile may indicate. According to pgatour.com, his cousin is the daughter-in-law of Camilla, Duchess of Cornwall—the wife of Prince Charles. Scrivener has shared a meal with Prince William and (former) Prince Harry.
So how did he end up on a team with Day? And, more importantly, how are the two of them only three shots off Schauffele and Cantlay's lead?
"Just known each other for a while and we've got the same agent, and I just messaged Jase, asked if he needed a partner, and he said yes," Scrivener said after the round.
The duo was only seven under in Thursday's four-ball round, the easier of the two scoring formats, but replicated that 65 in Friday's much more demanding alternate-shot session to tie the event's record in the format and climb the leaderboard. It's been a while, but Day has been in this position before. He's got experience with what to expect, how to handle himself. Scrivener? Not so much.
"We're halfway through the tournament, so we just—there's two more rounds to go. Like we can't get ahead of ourselves too far," Day said. "Just try to stay under the radar, not get too high, too low."
Staying under the radar shouldn't be much of a problem for Scrivener. That's where he's always been.
Here are three more takeaways from TPC Louisiana.
Team Schauffe-Lay continues to roll
When the formidable American pair teamed up again this week in Zurich, they instantly became one of the betting favorites. No shock, given their combined four wins together in the 2019 Presidents Cup and 2021 Ryder Cup. Now Nos. 4 and 12 in the world, respectively, Cantlay and Schauffele are proving their worth.
The pair backed up a record-setting, 13-under 59 on Thursday with a four-under 68 during Friday's alternate shot. Their 17-under total is the lowest through 36 holes in tournament history, trumping the previous record of 15 under. Cam Smith and Jonas Blixt and Jon Rahm and Ryan Palmer each reached the mark en route to victory in 2017 and 2019, respectively.
They're the obvious favorite going into the weekend, but with the format switching back to four-ball on Saturday it wouldn't be shocking to see another team go out and put up a super low number on the board. Of the two, it's usually Cantlay who is the succinct, straight-to-the-point guy. But after the second round, it was Schauffele who delivered the mic drop quote.
"We've played so much together that we're pretty aware of the dos and don'ts and we've seen it all," he said. "There's not too much conversation. We kind of got all that out of the way in the past couple years."
All business. Just go out and play.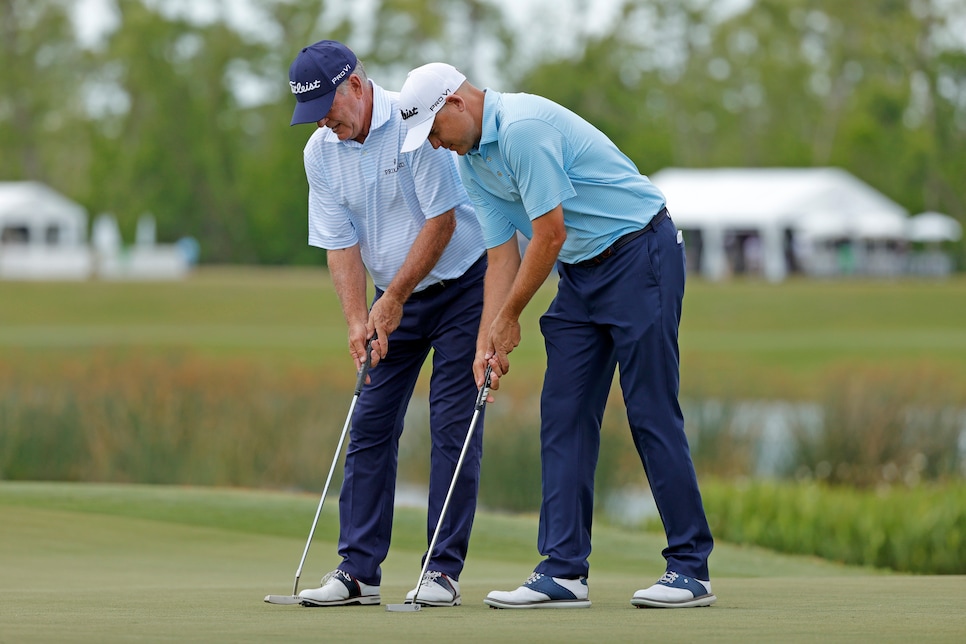 Jay Haas and Bill Haas prepare to putt in the Zurich Classic of New Orleans.
Sarah Stier
At 68 years, four months and 20 days old, Jay Haas became the oldest player to make the cut in PGA Tour history when he and son Bill shot 71 on Friday to make the cut on the number at eight under. Sam Snead previously held the record, at 67 years, two months and 23 days old—and it should be noted that he reached the weekend alone in the 1979 Westchester Classic. The younger Haas is 168th in the FedEx Cup standings and, to put it bluntly, needs some high finishes to retain his status on tour. He could have asked any number of higher-ranked players, or certainly somebody younger. But he called Dad.
Bill Haas told Golf Channel after his round he thought it would be a good way for the two of them to spend time together and, selfishly, for him to have his closest advisor inside the ropes with him. Dad is who he goes to for advice, anyway, Bill said, so it's nice to have him as a playing partner.
While he's only in New Orleans thanks to his son, there's still plenty on the line for Jay this week. He extended his own PGA Tour record of cuts made to 593, and this also is his 799th official PGA Tour start. He said earlier this week there's "no chance" he makes it to 800, but the 18-time winner on the PGA Tour Champions didn't expect to be playing here in New Orleans, either, so we'll have to see about that.
Big names, no names lurk as four-ball looms
Four-ball might as well be the Wild Wild West as far as scoring is concerned. As the tournament pivots back to that format for Saturday's third round. It's what your weekend warrior foursome might know as "better ball," and a handful of formidable duos with the firepower to go low are lurking at TPC Louisiana.
The aforementioned leaders seized control of the tournament with a 59, but there were also eight 63s, three 62s and 61s apiece, and a 60 in the first round. Put simply, there are low numbers—potentially extremely low—out there in four-ball. The All-SEC team of Sam Burns and Billy Horschel sit three shots behind Schauffele and Cantlay. Harold Varner III and Bubba Watson, each in the midst of solid stretches of golf, are at 11 under, six back, as are Aussies Smith and Leishman and the Ryder Cup duo of Lowry and Poulter.
But it's a couple pairs of under-the-radar pros who are in the best position to chase down Team Schauffe-Lay. Aaron Rai and David Lipsky, who was in a car accident earlier this week, and young Americans Doc Redman and Sam Ryder, would both have set the 36-hole scoring record if Cantlay and Schauffele hadn't blazed their way to 17 under.
On a course with four par 5s and a potentially driveable par 4, depending on the tee setup, there are tons of birdies out there. In fact, the only sure thing in fourball is that there are birdies aplenty, so the leaderboard could look completely different come Saturday night.
It's probably not wise, however, to bet against Schauffele and Cantlay.