Zurich Classic
Jay Haas is playing in his 799th PGA Tour event. So why does he sound so nervous?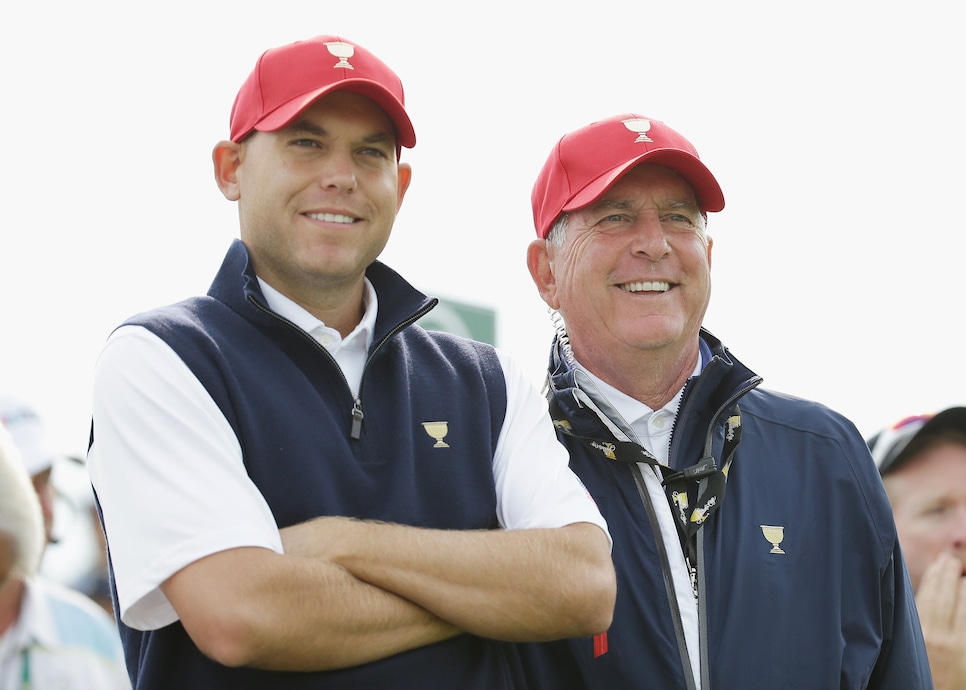 Bill Haas watches with his dad, Jay, captain of the U.S. Presidents Cup during the 2015 matches at Jack Nicklaus Golf Club in South Korea.
Chung Sung-Jun
Jay Haas was 19 years old when he made his first start in a PGA Tour event, the Greater Greensboro Open back in 1973 as an amateur. Forty-nine years later, at age 68, he's teeing it up for the 799th time (second only to Mark Brooks' 803) when he partners with his son Bill at this week's Zurich Classic of New Orleans.
Despite all the years and all the experience, Haas, a nine-time tour winner, appeared to have some trepidation after a couple days of practice at TPC Louisiana.
"Yesterday didn't help me in any way because I didn't play very well," Haas said on Wednesday. "So hopefully I'll get better as the week goes on. It's just fun being here, again being with Bill, getting the adrenaline flowing, and hopefully we can do better than I'm anticipating I'm going to do."
Modesty aside, Haas hasn't played a PGA Tour event since the 2010 Players Championship. The last time he made the cut was the 2006 PGA Championship. Since then, he's been a regular on the PGA Tour Champions, winning 18 times on the senior circuit, but he knows this is a different test. Jay says Bill is outdriving him by as much as 50 yards and TPC Louisiana is playing at 7,425 yards this week, making the course a true challenge.
Even so, there's a level of excitement given the chance to play with Bill, who approached tour officials earlier in the year to confirm Jay was eligible (he is still a tour member so that was fine). After getting approval, Bill asked his old man about the opportunity, noting that it would be fun to compete by his side but also to have him offer some friendly advice.
"I love him watching me play," said Bill, who teamed with Jay to win exhibition competitions in 2004 (CVS Charity Classic) and 2012 (Umpqua Bank Challenge) and played for his dad at the Presidents Cup in 2015. "Last week he came down and my mom [Jan] came down and watched me at Hilton Head. I just enjoy him being out there. He listens to me go through my rounds on the phone or in person sometimes. When he's there, he sees what I'm talking about, and he helps me with my game.
"So I think it's just a good opportunity to play golf and enjoy it and have fun, but also inside the ropes be competitive and him be able to see what I'm talking about when I say either I'm struggling or here I hit a good one, what do you see here? I do that anyway."
Jay was appreciative of the offer but admitted he wondered if Bill might change his mind.
"The first week or so, I kind of kept thinking, 'well, he's going to come to his senses and find Nick Watney or somebody,' you know, one of his buddies," said Jay (they're coincidentally playing with Watney and Charley Hoffman on Thursday and Friday). But the more I thought about it, the more I'm loving it. All the guys out here have been great. So many people have said this is unbelievably cool that you're getting to do that. It seems like I've become Pops out here. I've heard that a bunch. Hey, Pops, good shot and all that stuff. It's been very cool. Very cool."
Haas has a history with the New Orleans tournament, or at least when it was a traditional 72-hole stroke-play event. He's played in the tournament 13 times, the first coming in 1977 when it was called the First NBC New Orleans Open and played at Lakewood Country Club. His best finish was a tie for second in 1983 when he cashed a check for $29,866 (finishing 22nd this week will earn him that much).
While a bit nostalgic, Jay also wants to hold up his end of the bargain this week. He knows Bill—making his 442nd career PGA Tour start—is still grinding things out this season, having played in 18 events but sitting 168th on the FedEx Cup points list. Bill, who turns 40 in May, hasn't missed a cut in his last six cuts dating back to the Honda Classic in February, but his best finish in that time is a T-25.
Should the duo make the cut this week, it would be the 593rd time in Jay's career, extending the tour record he already owns. He would also become the oldest player to make a cut on the PGA Tour, breaking Sam Snead's record of 67 years two months, 21 days when he did it at the 1979 Westchester Classic. In the process, Jay and Bill would become the first father-son duo to make a cut on tour since Davis Love III and Dru Love at the 2018 RSM Classic.
"Obviously just being out here and teeing it up and hearing our names called tomorrow, hopefully I can hit some good shots and make some birdies and everything," Jay said. "But ultimately this is just … to be with my son, again, on the grandest stage here, that's what I'm trying to take from it."