Takeaways
Cantlay and Schauffele dominate, a missed walk-up song opportunity and a season-saving week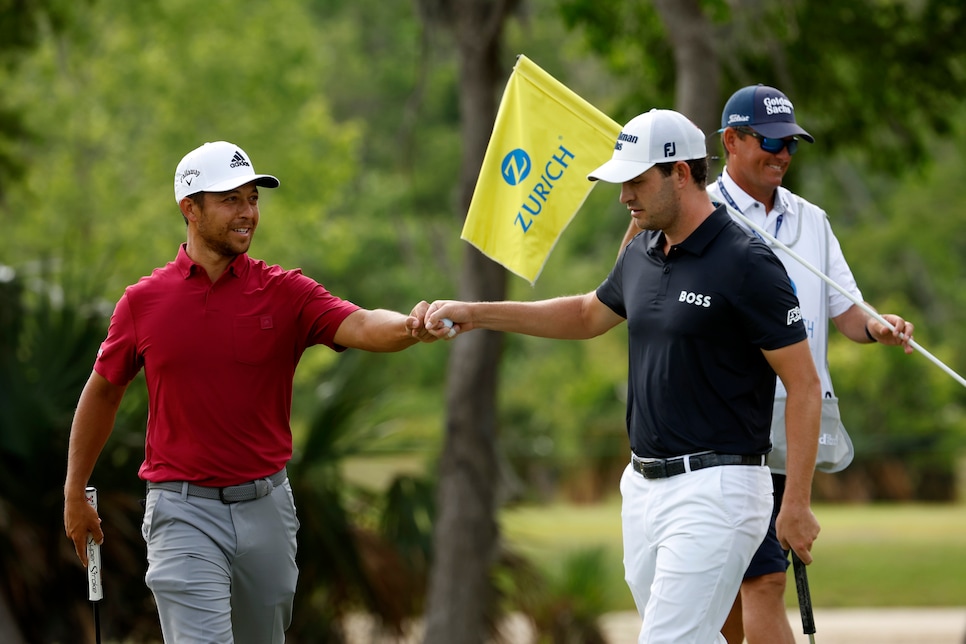 Xander Schauffele and Patrick Cantlay react after making birdie on the 15th green during the third round of the Zurich Classic of New Orleans.
Chris Graythen
There are no World Ranking points up for grabs this week in the Zurich Classic, and the volatility of the non-stroke-play format always leads to an eclectic leaderboard. Funny, then, that two of the best teams in the field occupy the top of the leaderboard with 18 holes to play. Scottie Scheffler's the highest-ranked player at TPC Louisiana—he's the highest-ranked player in literally any golf tournament in the world these days—and Xander Schauffele (world No. 12) and Patrick Cantlay (No. 4) have a lower average ranking than that of Scheffler and his partner, Ryan Palmer. So do Sam Burns (No. 11) and Billy Horschel (No. 13). If Scheffler couldn't continue the heater and the golden-child duo of Collin Morikawa and Viktor Hovland couldn't challenge, tournament organizers couldn't ask for much better than a Schauffele/Cantlay masterclass.
Cantlay and Schauffele have led this one-off team event from the jump, shooting a best-ball 59 on Thursday to set a tournament scoring record and following it up with an alternate-shot 68 on Friday. They kept their noses in front with a highly impressive best-ball 12-under 60 on Saturday despite increasingly windy conditions. The pair shot four under on the front before catching absolute fire on the back, where each guy hit all nine greens. One of them managed to find the bottom on eight of those holes for an eight-under 28 that put some distance between themselves and their challengers. They lead by five, set the 54-hole tournament scoring record by six and have the largest 54-hole lead in tournament history. It's really been the Schauffelay show.
It's hard to pick against such a solid ball-striking duo with another day of alternate shot—known in some circles as "Sorry, pards"—set for the final round. But with high winds forecasted and the potential for alternate-shot disaster, Horschel and Burns have an outside shot despite being six back. Horschel called this tournament a "second home" for him earlier this week; it's the site of his first PGA Tour win in 2013, back when this was an individual pursuit, and he also won it in 2018 with Scott Piercy. He's also a longtime Zurich ambassador. A third win in the Big Easy and you gotta think Horschel might be looking at some New Orleans real estate. Jason Day and his Ausie compatriot Jason Scrivener are also six back.
The closest chasers, however, are the South African duo of Branden Grace and Garrick Higgo, who are putting on a solid audition for International Presidents Cup captain Trevor Immelman. Higgo and Grace enter Sunday five back after a nine-under 63 that should've been one better had Grace not missed a three-footer for birdie at 18. Or if Grace's ball didn't end up inside a dead tree stump, but that's another story entirely.
So, would this count for Xander?
After he and Cantlay shot 59 on Thursday, Schauffele was asked if he was proud of shooting golf's magic number—even if it came some help.
"Yeah, it counts for me. I haven't done it before," he said. "I don't think Pat has either. I'll count it in my book."
Can the same be said for a victory? It's hard to believe given how often he puts himself in contention, but Schauffele has not won on the PGA Tour since the Sentry Tournament of Champions in January 2019. It doesn't get talked as much as other winless streaks because Schauffele won a gold medal in last year's Olympics, but statistics are statistics, and Schauffele's been stuck on four PGA Tour wins for more than three years. So while this likely isn't how he envisioned the drought ending, he'd be delighted to officially end one of the more curious barren stretches and restart his PGA Tour win count.
All that crowdsourcing for … Sandstorm?
Morikawa and Hovland have disparate music tastes. That's another way of saying that Morikawa likes normal-people music, while Hovland is into some … different? ... heavy metal-type stuff. This put them in a pickle as far as their walk-up music goes, so Morikawa took to the interwebs to seek out some suggestions. There were plenty, which led to some interest in what the two 20-somethings would go with. The walk-up music, a nice little tradition this event has carved out, begins on Saturday each year, which meant this would be our first listen to whatever they chose.
And they chose … Sandstorm by Darude. It's a tried-and-true arena banger, something you'll hear ringing through gyms across America. It's a fine choice. Safe. And yet, speaking honestly, we hoped for something a little more creative—especially with all the help they got. Oh well.
This isn't a hit and giggle for everyone
The entire golf world seems to be dealing with a comedown from the pure joy of the Masters and the anxious rollercoaster of a Jordan Spieth victory. That, plus this odd format and the NBA playoffs in full swing, means this won't be one of the more watched golf tournaments of the season. And for the top players, this is largely an opportunity to break up the monotony of 72-hole stroke play events while picking up some cash, FedEx points and perhaps pleasing some sponsors.
That's not the case for every team, however. As mentioned previously, there are no World Ranking points being doled out this week, but there are a full slate of FedEx Cup points there for the taking. Well, kind of. The winning team will split the points that usually go to the first- (500) and second-place finishers (300), so it'd be 400 points for each player. The same is true for the second-place team—they'd split the allotment for third and fourth place in a normal event, and so on and so forth.
This is a massive opportunity for a couple struggling guys to jumpstart their seasons. Consider the team of Dylan Wu and Justin Lower, both rookies on tour. Lower came into the week ranked 176th in the FedEx Cup standings while Wu was 180th. That's a bit dire, especially with the fall season's weaker-field events no longer an option. Wu and Lower shot nine-under 63 on Saturday to climb all the way up to tied for sixth, and they're both projected to move up roughly 30 spots in the FedEx Cup standings. David Lipsky entered the week in 119th, way too close to the top-125 cut line for comfort, but he and partner Aaron Rai will enter Sunday inside the top five, and Lipsky could go a long way toward getting to the playoffs and locking up his full-status card for next year. A strong Sunday showing for any of these guys could end up saving their seasons. There's always a compelling story percolating on the PGA Tour, so long as you know where to look.