Takeaways
Leishman and Smith wig out, Clark's marvelous and muddy shot, and a modest proposal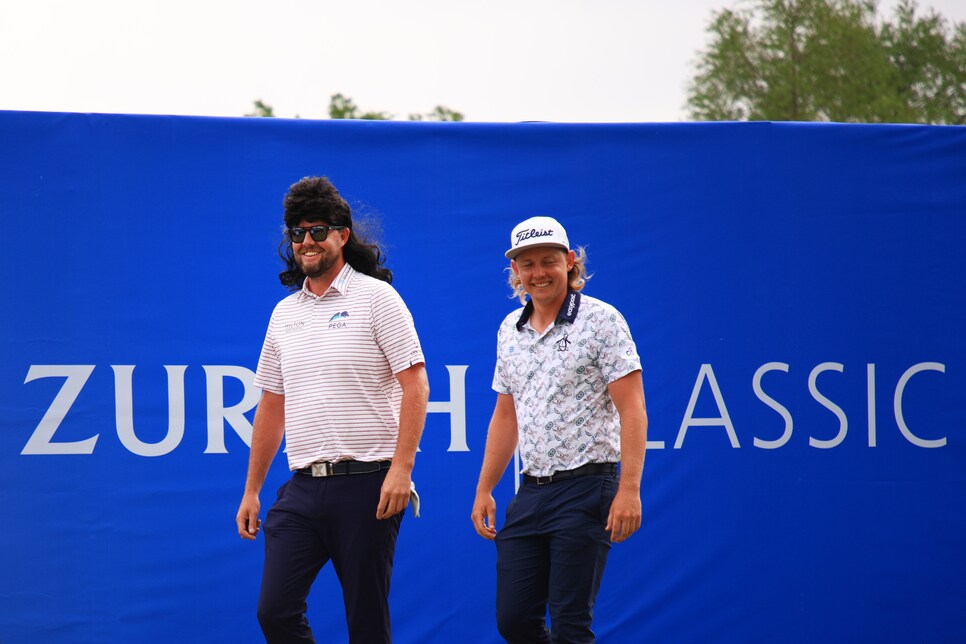 There is a stereotype that Australians are an easy-going, adventurous bunch, willing to sacrifice self and ego for the sake of a good time. And we're here to tell you that is not so much a stereotype as it is a hard incontrovertible fact.
Case in point: Marc Leishman, who decided to lean into the mullet motif of playing partner Cameron Smith as the Aussies arrived to TPC Louisiana's first tee to, ahem, "The Mullet Song" on Saturday afternoon.
Listen, in terms of entrances, it's not quite Jonathan Papelbon running onto the diamond with Dropkick Murphys blaring from the Fenway speakers. We'll even concede the bit borderlines on dad-joke territory. But part of the beauty of this week is players, if ever so slightly, lowering their guards and embracing the team format, and if the players don't do that it's a hard sell to the tour's fan base. There's another side to that coin: That sell can't seem like a "sell," it has to come off like these guys actually are enjoying themselves. Leishman, from this vantage point, isn't forcing something that isn't there. Which is why the moment, goofy as it may be, resonates like it does.
"Yeah, I guess if you pick a song like the mullet song you've got to commit to it," Leishman said. "Thought I'd get the mullet up and grow one quick enough. Fertilizer doesn't quite work on hair like it does on grass ... No, just a bit of fun. Got a few laughs on the first tee and lightened the mood, I guess, helped our start. We got off to a good start today. It probably won't come out tomorrow I don't think; concentrate on that first tee shot."
Better yet, that loose vibe is paying dividends, as Leishman and Smith turned in a nine-under 63 Saturday to sit at 18 under, one back of Louis Oosthuizen and Charl Schwartzel, and though anything can happen in Sunday's alternate shot, the pair has to be considered favorites to take home the title.
In short, we don't deserve Australians. Three other observations from Saturday's third round at the Zurich Classic.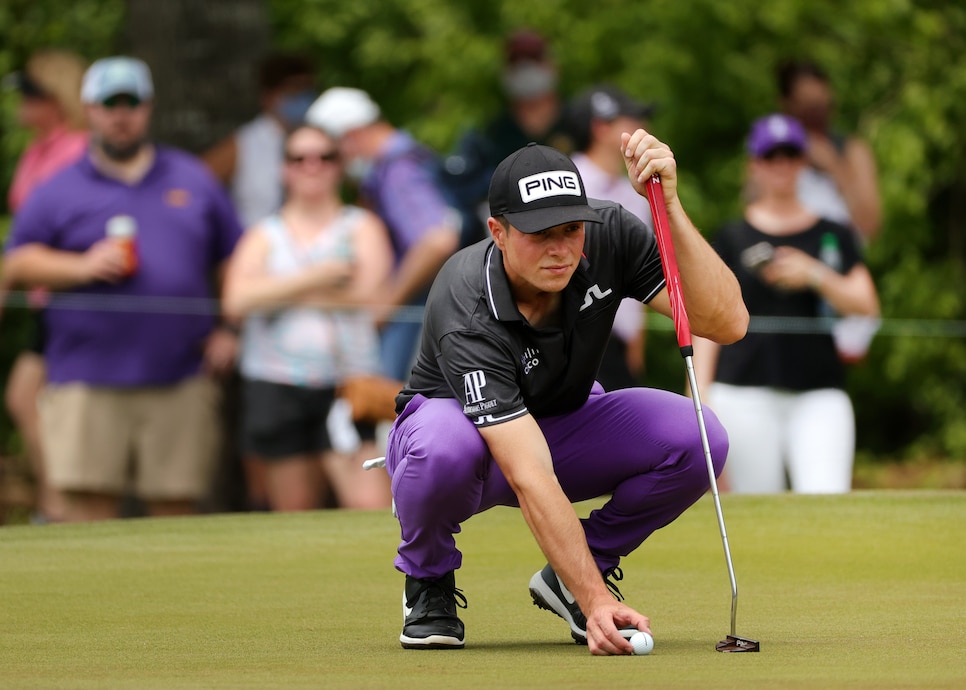 Viktor Hovland lines up a putt on the first green during the third round of the Zurich Classic.
Stacy Revere
Cowboys hold on for dear life
Things did not go well for 36-hole co-leaders Viktor Hovland and Kris Ventura. Getting the business end of the wind Saturday afternoon did not help. But their troubles were not just induced by tough conditions. The former Oklahoma State teammates simply had a collective bad day, their four-under 68 one of the worst scores of the round.
Luckily the Cowboys are still in this rodeo thanks to birdies on the last two holes, and a two-shot deficit can be erased in two winks of a coal miner's eye in alternate shot. And though Hovland has already established himself as one of the tour's best players, Sunday means a heck of a lot to Ventura. Since opening the season with a T-7 at the Safeway Open and T-6 at the Sanderson Farms Championship, Ventura has been in a funk, missing the cut in 10 of 14 starts, his best finish a T-36 at Bay Hill. A fine collegiate career and flying through the Korn Ferry Tour (two wins, two thirds in 11 starts in 2019) brought heavy expectations that, to now, he hasn't met. A win Sunday can get him going on the right path.
Clark's marvelous, muddy shot
A few times a season you'll see a PGA Tour player strip down to hit a shot from water confines, and admittedly we always felt these scenes were a bit vain. Big deal if you get your clothes wet; a good number of fashion ensembles whisk away moisture. Besides, they are tour pros, what do they care if they possibly ruin their clothes. A new shirt and slacks are waiting for you in the locker room. Basically it felt like they were performing for the cameras.
But Wyndham Clark just proved how wrong we were.
Paired with Erik van Rooyen at this week's Zurich Classic, Clark's tee shot Saturday at TPC Louisiana's par-14 16th found a hazard. Because it's best-ball format at the team event, this wasn't the worst of fates, as van Rooyen was safely in the fairway. But Clark's ball did not go into a lake but rested on the muddy bank that surrounded it, so Clark decided "what the hell" and attempted to hit from the precarious spot.
And, to Clark's credit, he produced a damn good shot, his approach nearly smacking the pin and rolling just off the green. However, marvelous a feat as it was, Clark's shirt did not come out as, ahem, clean.
That is laying out for the team.
"The first thing that went through my mind was snakes because I had to take my shoes off. There's snakes in Louisiana, so I thought about the snakes," Clark said. "And then I was like, well, there's alligators all over this golf course right now, and so I was just— and it's also one of the ponds where there's big ones. I definitely thought about it.
"I got in quick, and within probably 15 seconds of being in there I pulled the trigger just in case because I knew my partner was going to make par, and then I pulled off a great shot."
Unfortunately he was not able to convert the birdie, but the duo still cobbled together a nine-under 63 on Saturday, a score that gave them the clubhouse lead. Though it's a lead that likely won't stand at the end of the day, Clark's effort—and the resulting carnage—will undoubtedly stand long after Saturday. And serve as a reminder of why these guys strip down in the first place.
This isn't something you necessarily missed. But if you're reading this post you, to some degree, have an interest in the Zurich Classic. So if you will, indulge us for one minute.
The PGA Tour's only team event is now in its fourth year of existence, transforming a tournament that was often lost in the post-Masters doldrums into one of the more captivating showcases of the spring. Yet, in our estimation, that transformation has not gone far enough. The best ball and alternate shot formats that are refreshing on Thursday and Friday seem a bit redundant when run back on the weekend. Which is why we propose the following: Change Round 3 to scramble and Round 4 to worst ball.
Come on, it's not that out there. Both formats would underline how ridiculously good these players are; you'd likely see a handful of 57s in scramble and a best "worst" ball score around 65, 66. And the possible chaos stemming from a worst-ball format—think of the weight knowing one bad shot could submarine everything—is too delightfully sadistic to pass.
Is it wacky? Perhaps. Critics said the same thing about a team format when it was introduced to the Zurich and it's proved anything but. The tournament is in New Orleans, after all: Nothing wrong with getting a bit weird.