News
Patrick Cantlay is a Sunday bandit and other takeaways from Day 4 at Sherwood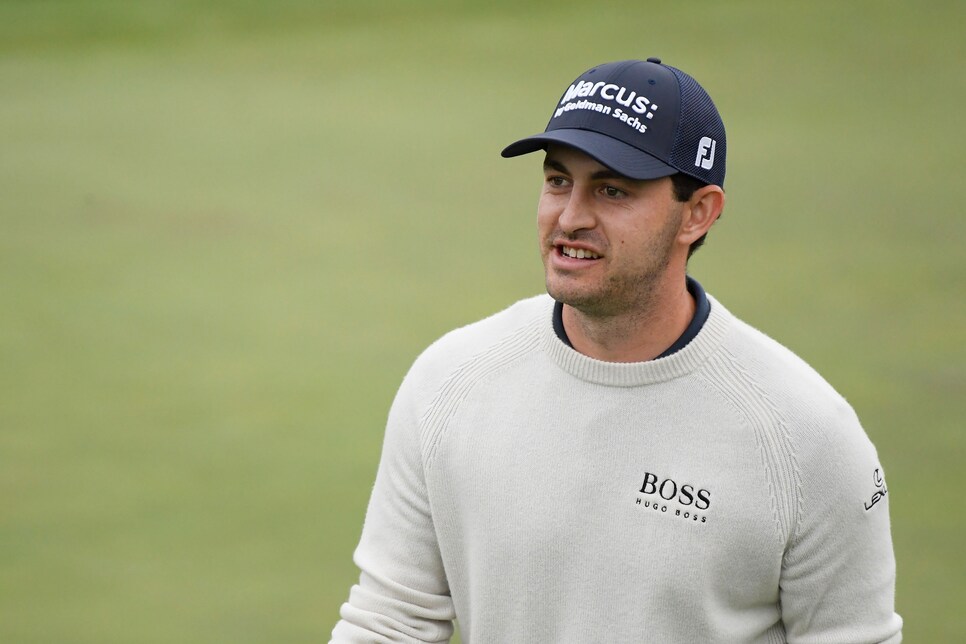 Patrick Cantlay came from three shots back on Sunday to win the Zozo, his third career PGA Tour victory.
Harry How
Just when it looked like the golf fans would be treated to a mano-a-mano duel between World Nos. 2 and 3 Jon Rahm and Justin Thomas on Sunday, in sneaks Patrick Cantlay.
Sure, Rahm and Thomas both did their part, and each kicked away a victory at the Zozo Championship, but Cantlay's final-round seven-under 65 to post 23 under was large. So was the torrid stretch of golf he played from the 11th to 15th holes on his way to what is now his third career victory on the PGA Tour.
Here are four takeaways from Sunday at Sherwood Country Club.
As much as this tournament was lost by Rahm and Thomas, Cantlay also won it, reeling off four birdies in a five-hole stretch beginning on the par-5 11th.
Then came another at the par-5 13th, where he did a terrific job of controlling a fairway wood from 266 yards out to get his ball to stop up on the green and set up a two-putt birdie.
But the money shots were on the par-4 14th and par-3 15th—the sixth- and third-toughest holes on the course. On 14, Cantlay drained a 15-footer, then he nearly aced the 176-yard 15th before rolling in a 10-footer.
Throughout the day Cantlay rode a hot putter, gaining more than three strokes on the field in the final round. Two things that have helped, he said: Switching to a slightly heavier putter a few weeks ago, which allows him to hit at the ball less and brings the long rhythmic motion back to his stroke, and getting his hands a bit more forward at address.
The result on Sunday: A career single-round best nine birdies.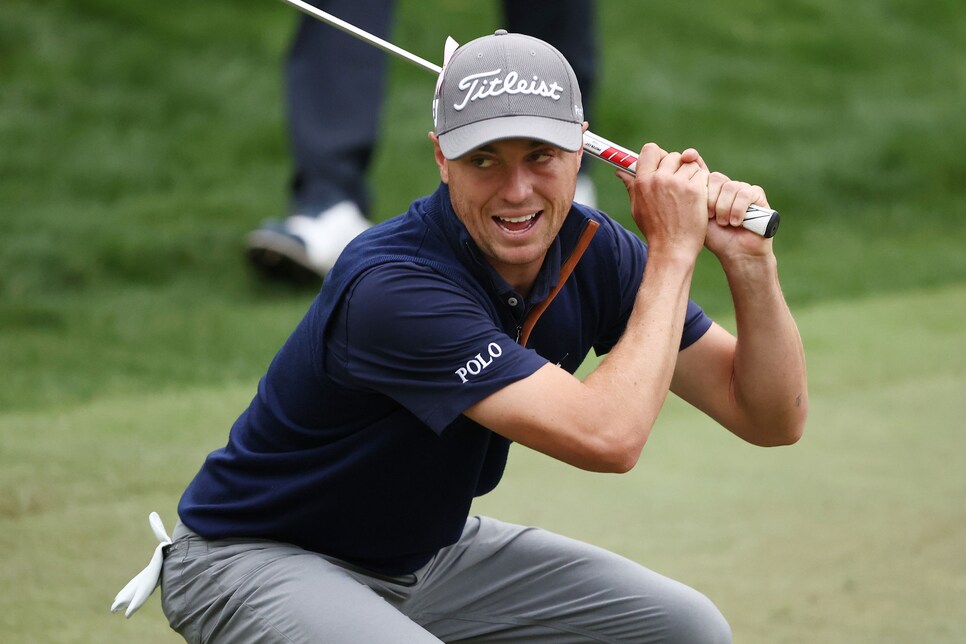 In Justin Thomas' words, it was "unacceptable" to play the par 5s at Sherwood in a combined one under for the day. He's not wrong.
"I think if I birdie 16, I win the golf tournament," he said.
Maybe. Instead, he left the face open on his iron and his second shot sailed right and into a creek.
"That's just pathetic," Thomas said when he hit the shot.
Thomas was also indecisive a hole earlier and that proved costly, too. With the wind dancing on the par-3 15th he backed off three times before sticking with 8-iron. The shot came up short. The ball was playable from the hazard, but Thomas still made bogey.
Rahm, meanwhile, made a bogey on the par-3 12th after missing the green left and being forced into an awkward stance with his feet in a bunker and the ball well above him, then inexplicably bogeyed the par-5 13th after leaving his second 40 yards short of the green and in the sand.
Rory McIlroy was humming along on Sunday, making seven birdies through his first 15 holes. Then he made a mess of the par-5 16th, hitting his second into a creek before leaving his fourth shot on the hole in a bunker and eventually knocking in a seven-footer for bogey.
It was only one hole, and McIlroy did card a final-round 66, but it was also a moment emblematic of how things go wrong for the Northern Irishman. He made a career-best 29 birdies over four days but eight bogeys and three doubles took him out of contention.
"After two days I had made seven [birdies] the first day, eight the second day, so I made 15 birdies after two days and was not in the top 40, so I was pretty proud of that," McIlroy said. "I kept saying to [caddie Harry Diamond] every time I made a birdie, '23, 24, 25.' He said, 'That's not a good thing. You're 20th in the tournament and you made so many birdies.'"
Up next for McIlroy: The Masters in three weeks. He'll make at least one trip, possibly two, to Augusta National before tournament week. After that, he said he likely won't play again until the Farmers Insurance Open in late January.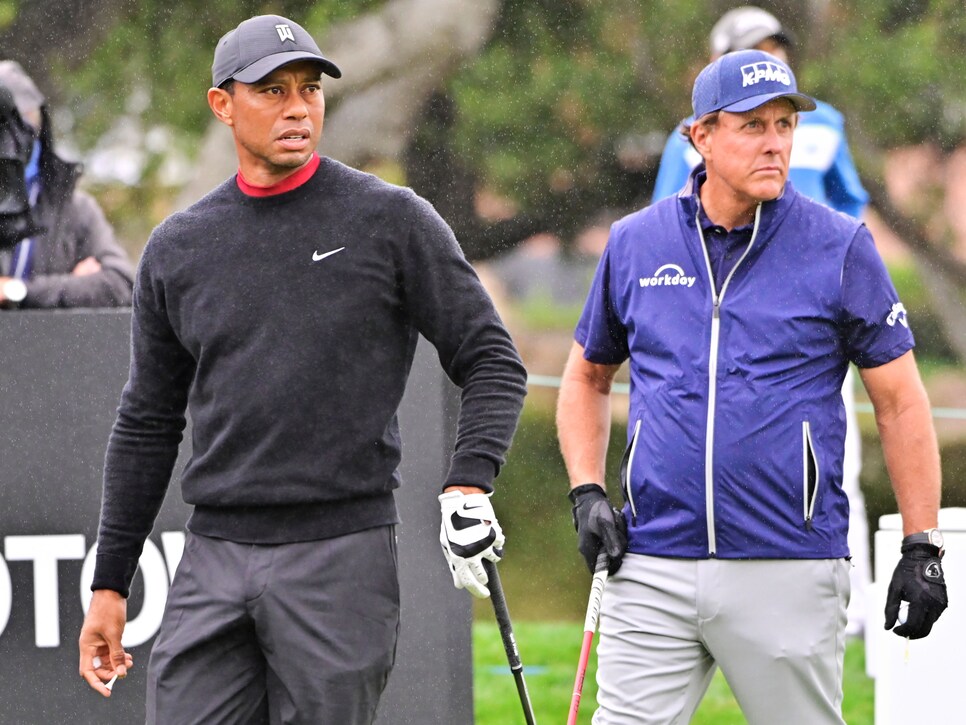 Usually a Tiger Woods-Phil Mickelson pairing is drool-worthy.
Not so much on a Sunday when the game's two biggest stars of the last two decades started the final round near the bottom of the leaderboard. Things didn't get any better as the day wore on, either.
Woods shot 74 and Mickelson 78, and they finished T-72 and 76th, respectively, in the 78-player field. They also got outplayed by the third member of the group, Adam Long, who showed a good dose of self-deprecating humor when he found out that he would be paired with them, tweeting on Saturday night, "Not sure exactly how many combined wins in this group but it's a lot, plus one."
Indeed, Woods has 82 wins, Mickelson 44 and Long just one, at the 2019 Desert Classic, where he birdied the final hole to win by one over—of course—Mickelson.
Now he's got another one over Phil, and one on Tiger, too.