Takeaways
Hideki does Hideki things, Rickie Fowler shines in the booth and Joaquin Niemann is already back for more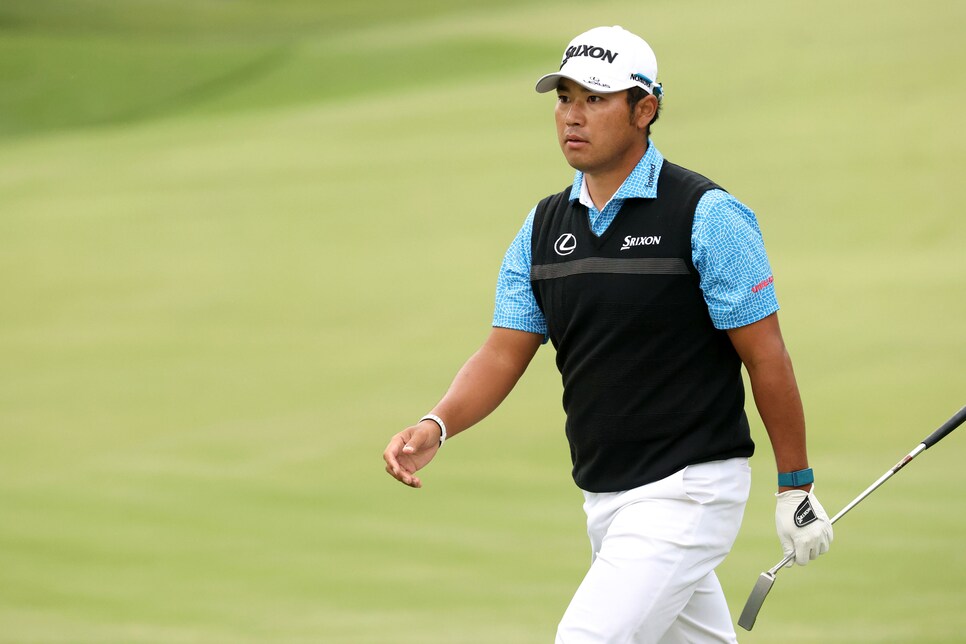 Japan's Hideki Matsuyama sits one off the lead after shooting a 64 on Day 1 of the 2021 Zozo Championship.
Atsushi Tomura
It was almost too perfect. Hideki Matsuyama, hours before teeing off in his home country knowing all eyes would be on him, completely underselling the state of his game, claiming it was currently at a 1 out of 10. Surely, at that moment, we should have all known what was to come in the opening round of the Zozo Championship.
The man notorious for one-hand-follow-throughs on shots that land 20 feet from the cup did it again—he made us all think his game stunk when in reality it was closer to the usual perfection he demands of himself. The Masters winner began the week in Japan with a six-under 64, the only real blemish coming in the form of a three-putt par at the par-5 18th at Narashino Country Club outside of Tokyo.
Matsuyama's 64 was not enough to grab the lead despite the course playing noticeably tough, at least in comparison to the last two weeks on the PGA Tour. There were far more bogeys and "others" in the first round then then we saw in the two Vegas events combined, a product of the two defenses of Narashino—a handful of long, difficult par 4s and lightning fast, sloping greens—doing some serious defending on Thursday.
And yet, Matsuyama was still able to pick the place apart, as did fellow countryman Hiroshi Iwata, whose seven-under 63 earned him the solo leader title. Two years after Tiger Woods' record-tying 82nd career PGA Tour victory at Narashino, a pair of Japanese players are at the top of the leader board, which might be the only thing that would bring the fans in Japan as much or more joy as Woods raising the trophy.
Rickie Fowler shines in the TV booth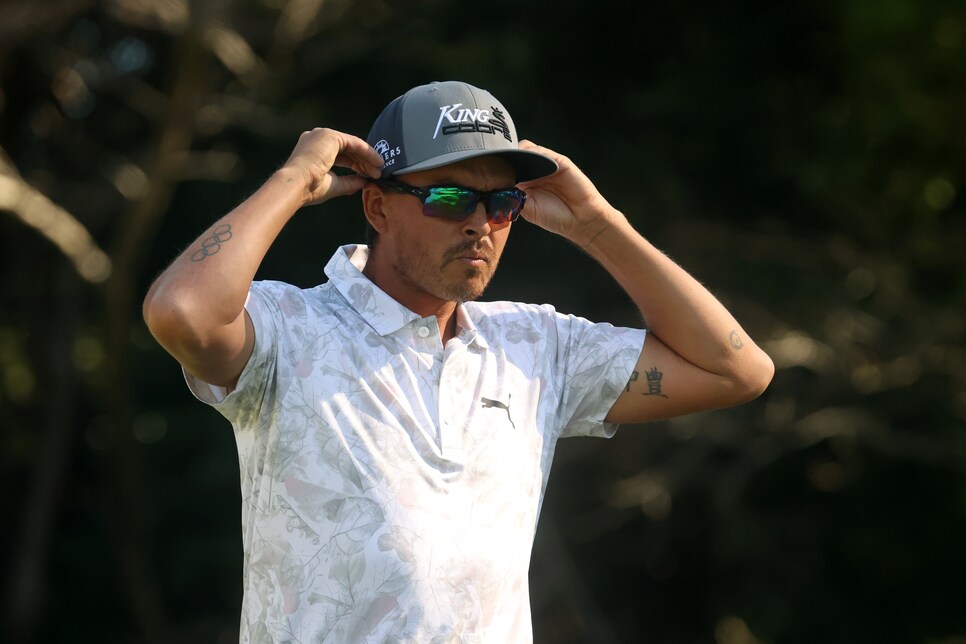 It wasn't a long stay, but in the short time Rickie Fowler spent in the Golf Channel booth on Thursday, he made quite an impression.
George Savaricas, who is calling the action this week, teased Fowler's appearance on Twitter earlier in the day, and Fowler showed up as planned after his opening round. Coming off a T-3 finish in the CJ Cup, he kept it rolling on the back nine at Narashino (his front), with birdies at 11, 14 and 18. Unfortunately, all three of those were negated by a disastrous triple bogey at the 17th, and his even-par 34 on the home nine gave him an even-par 70.
Not long after, Fowler slid into the analyst chair alongside Savaricas, and he did a mighty fine job. After assessing his round, they cut to the action at the 17th hole—"coming right back to where my hiccup was today," said Fowler, poking fun at himself. "That drive would have saved me a few shots," he added, referring to Hideki Matsuayama's tee ball that found the center of the fairway.
Soon enough, Fowler was breaking down shots and their potential results in Tony Romo-like fashion. "Hanging lie here for Xander," said Fowler upon seeing the ball below Schauffele's feet in the 17th fairway. "He's going to need to stay down through this, otherwise he'll flare it out right, though if he does he has some helping wind that might push it back." Schauffele proceeded with the shot, to which Fowler said "sounded heavy." Wouldn't you know it, it was, and it flared out to the right. Rickie Romo.
Fowler's short-lived performance was essentially exactly what the golf fan is looking for when watching tour golf—a knowledgeable voice breaking down exactly what the player is facing on a particular shot and the potential rewards or consequences of said shot. It's amazing how simple it is, really. Here's hoping these "player takeovers" Savaricas teased become the new norm.
Joaquin Niemann is already back for more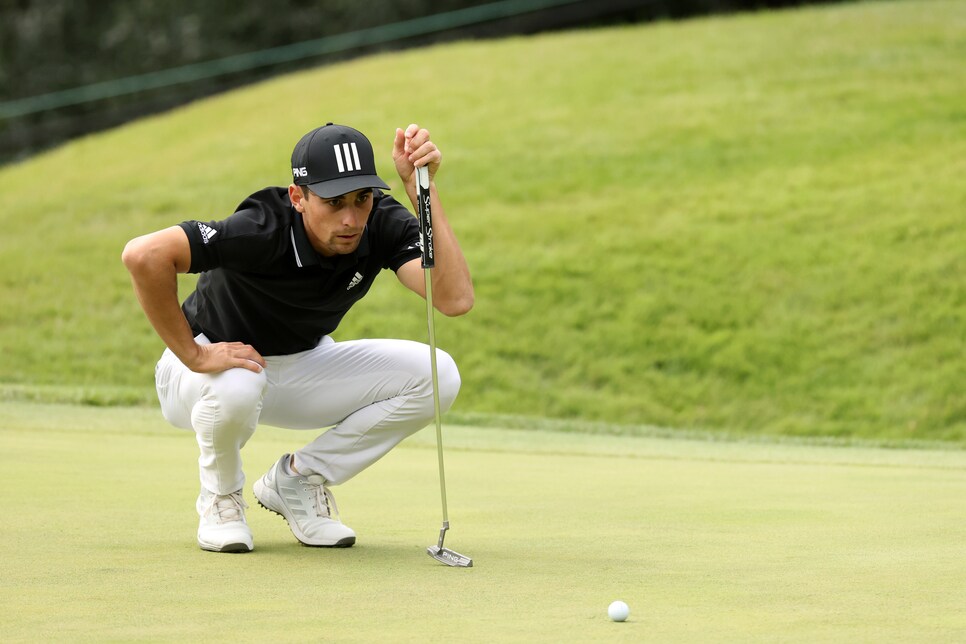 In an alternate universe, Joaquin Niemann won three times a season ago. In this universe, though, he finished runner-up three times, two of those ending in playoff losses and the third a one-stroke loss in regulation. Gutting stuff, to put it lightly.
Well, gutting for some. Not so much for Niemann, a 22-year-old who seemingly has little interest in letting a few close calls linger. He might already be back for more this week in Japan, where he opened his Zozo Championship with a bogey-free 64, putting him one off the lead. The day started with a bit of a literal slip-up, which Niemann of course had no problem recovering from.
"I think starting on the first hole I slipped on the first tee a little bit on my right foot and I hit a terrible drive," said Niemann after the round. "Yeah, I think making [par] there was huge, gave me more confidence in knowing that I could have a good day. And after that, I started playing great, hitting fairways, hitting good shots into the green, making good putts, which is always nice. Obviously, we got a nice day, we had a lot of fun. It was a fun round."
If past history is any indication, there's much more fun to be had for Niemann this week. Six times in his career he has shot 65 or lower in the opening round, and his six final results in those events have been T-6, T-5, Win, T-12, T-2 and T-2. When he starts hot, he usually stays hot.
Pair of Brits lurking at the top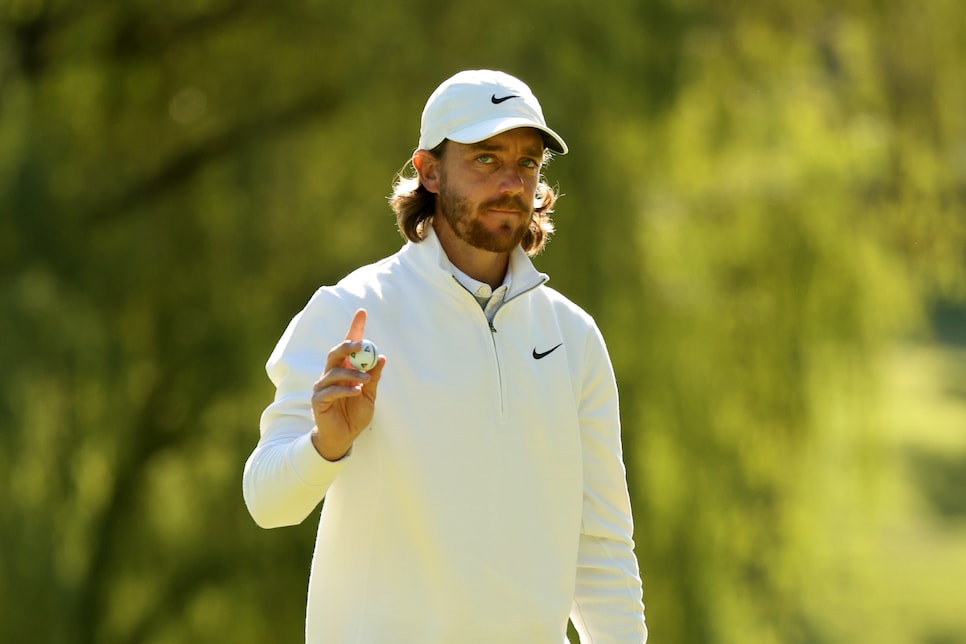 On weeks when the field is deemed "weak" before anyone hits a shot, the hope is that the few stars on hand perform to their capabilities and make for a pleasantly surprising weekend of entertainment. We're on that path thanks to Matsuyama and Niemann, in addition to a pair of Brits—Matt Wallace and Tommy Fleetwood.
Wallace, always a fiery character, posted a first-round 65, highlighted by a stellar front-nine 30, which was his back nine. He's just two shots off Iwata's lead, this on the heels of a T-14 finish at the Shriners and a solid season on tour a year ago that included two top-six finishes. Fleetwood, meanwhile, opened with a three-under 67, a round that included two eagles. With Matsuyama and Niemann the only top 30 players in the world ahead of them, you'd have to figure these two Englishmen can remain in this fight deep into Sunday.