The Loop
Zach Johnson pulls a Zach Johnson, perseveres after a tough start
PALM BEACH GARDENS, Fla. -- He spotted Tiger Woods four shots and then beat the No. 1 player in the world by eight over the last 16 holes. Zach Johnson usually relishes his regular underdog role, but he took it a bit too far Thursday in the opening round of the Honda Classic.
With a quadruple bogey on the par-4 11th hole, his second of the tournament, you could say Johnson put himself behind the 8-ball with an 8-ball. From there until the finish, he didn't miss a green in regulation, missed only two fairways, converted seven birdies, and posted a 3-under-par 67 at PGA National Resort. That left him four clear of Woods and just two off the early pace set by Will McGirt and Rory Sabbatini.
No. 7 in the world and winner of the Hyundai Tournament of Champions to begin 2014, Johnson submitted his second eye-raising performance in the company of Woods in the last three months. In December at the Northwestern Mutual World Challenge, Johnson rallied from four down with eight holes left to force a playoff and then defeated Woods on the first extra hole. Of course, everyone remembers how Johnson holed out for par to stay alive after rinsing his approach on the 72nd hole.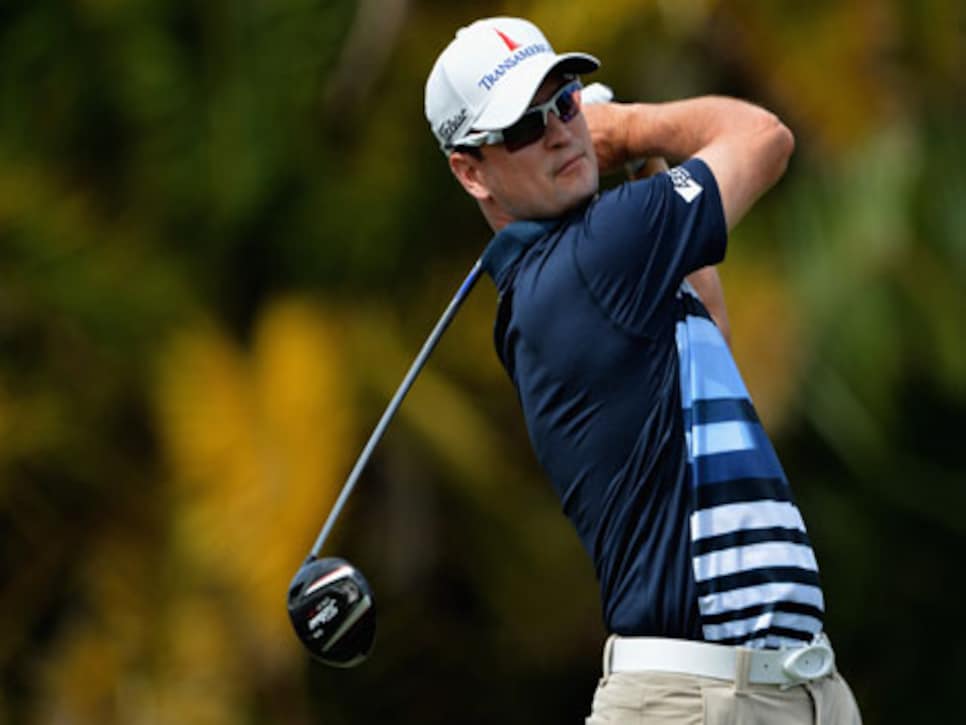 "Not surprising knowing how tough this guy is," said Woods, who couldn't get his putter going and opened with a 1-over-71 on the Champion Course. "He was pretty stoked about what he did, and he [talked about] Comeback Player of the Year and all that kind of stuff, and he definitely had a comeback player of the day award."
Johnson, who turned 38 on Monday, could recall only one other occasion when he rallied from such a poor start. It was during the second stage of the PGA Tour National Qualifying Tournament at the Hombre Course at Panama City. "I hit the ball eight times without a penalty shot and ended up finishing second by a shot," Johnson said.
"I like patient rounds where you have to persevere."
Johnson said he turned things around when he sank a 20-footer for birdie at the par-4 13th after a poor wedge shot. He also birdied the final three holes of the back nine to get back to even par and then simply continued his steady play from there.
"Yeah, no one ever likes that quad word," he said with a grin. "I feel good about it. I feel great about how I righted the ship. I feel good about my approach after that. Frankly, the approach wasn't any different this week or after that bad hole. It was the same thing I've been doing forever."
Especially lately. Since he lost to Jordan Spieth in a playoff at the John Deere Classic last July, Johnson has added nine top-10s -- not including his playoff victory over Woods -- and wins in Hawaii and at the BMW Championship.
"I've been playing well," he said, clearly redefining what it means to persevere.