News
Zach Johnson wins the Payne Stewart Award, forging a closer bond with a man he admired from afar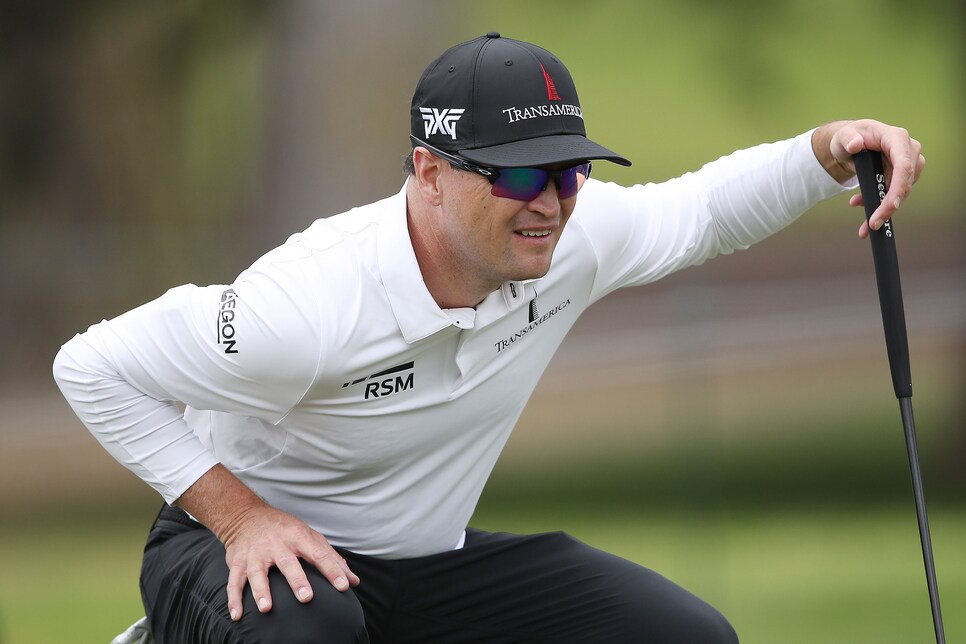 Zach Johnson never met Payne Stewart, having turned professional in 1998, the year before the three-time major champion died in a Learjet accident. But Johnson feels a kindred spirit of sorts with the late Hall of Fame golfer, and he idolized Stewart not only for the way he played the game, but also for the person he became.
"He was one of my favorites," Johnson said. "I have said before that my dream foursome would be my dad, Ben Hogan and Payne. I loved the way he played. I loved his character on the golf course. And I really loved how he changed his life off the golf course to become a devout Christian man, which I think says so much about him."
Johnson feels an even stronger connection to Stewart after being named the 2020 recipient of the Payne Stewart Award, which the PGA Tour presents annually to a professional golfer who best exemplifies the values of character, charity and sportsmanship synonymous with Stewart.
The 23rd recipient of the award created in 2000, Johnson, 44, will be honored on Wednesday, Sept. 2 in Atlanta in conjunction with the Tour Championship.
"This is a really special honor, because I feel like this makes everything I do on the golf course and everything I do off the golf course whole," said Johnson, who has won 12 PGA Tour titles, including two majors, the 2007 Masters and the 2015 Open Championship at St. Andrews. "It's almost like you take those two major wins and start to paint a picture. And then you take my other wins and that's a portion of it. And then what I do off the golf course—and why I do what I do off the golf course—that adds to it. It's like this collage of everything I've tried to do in my career. It glues everything together."
A native of Iowa City, Iowa, Johnson grew up in nearby Cedar Rapids, which he considers his hometown, and began playing golf when he was 10 years old. He attended Drake University and turned pro upon graduation in 1998. He played on mini-tours for several years, won twice and was the leading money winner in 2003 on what is now known as the Korn Ferry Tour before reaching the PGA Tour the following year.
Known for his short game prowess, strategic acumen and putting, Johnson won his first tour title at the '04 BellSouth Classic but didn't win again until his breakthrough at the 2007 Masters, where he beat Tiger Woods, Retief Goosen and Rory Sabbatini by two strokes. He would win at least once in seven of the next eight years with his final victory to date coming at the 2015 Open Championship, when he outlasted Louis Oosthuizen and Marc Leishman in a four-hole playoff.
"I feel like I have gotten the most out of whatever God-given talents I have, but I also feel like I still want to improve," Johnson said. "I'm not going to say that my best golf is ahead of me, but I also won't sit here and say that my best golf is behind me. I'm all about trying to get better. That excites me."
Johnson has represented the United States in nine team events (four Presidents Cups and five Ryder Cups), compiling a record of 10-6-1 in the Presidents Cup and 8-7-2 in the Ryder Cup. He currently is a vice-captain under Steve Stricker for the 2021 Ryder Cup after serving as an assistant to Jim Furyk in the 2018 Ryder Cup and reprising that role under Tiger Woods in the 2019 Presidents Cup.
"Zach Johnson as the recipient of this year's Payne Stewart Award is a testament to the impact Payne made on many of our contemporary players who never had the chance to meet him in person," PGA Tour commissioner Jay Monahan said. "Zach would say he's just a normal guy from Cedar Rapids, Iowa, but in truth, he has one of the most compelling stories on the PGA Tour in the last 25 years, a fearless underdog who has carved out an incredibly successful career through hard work and dedication to his craft.
"Off the course, his commitment to charity through his Foundation has made an indelible impact in Cedar Rapids and throughout Iowa where he is a state-wide hero."
While striving to improve on the course, it's his work with his eponymous Zach Johnson Foundation to which he devotes equal attention. "I'm not complacent about anything, and what we do with the foundation is incredibly fulfilling," he said. "It's my responsibility to put my abilities to work and use them for the betterment of the communities that have given so much to me."
Zach and his wife Kim established the foundation in 2010 with a focus on helping children and families in Cedar Rapids. The foundation is funded in part by the Zach Johnson Foundation Classic, held annually at Elmcrest Country Club, the course Johnson grew up playing. The foundation's flagship program is called "Kids on Course," which serves more than 1,000 students in the form of educational support.
"I love the fact that the game of golf is allowing my wife and I to try to dig deep and find what tugs on our hearts," Johnson said. "Our goal is to provide opportunity in and out of the classroom. We're allowing kids to see their dreams realized. And we tell them, if you stay with us, we're with them from essentially first grade to 12th grade, you stay with us through 12th grade, we'll see you into post-high school education or whatever you want."
Johnson, ranked 219th in the world, currently is 129th on the FedEx Cup points list and needs a decent finish at this week's Wyndham Championship to qualify for the playoffs reserved for the top 125. He'd prefer to receive the Payne Stewart Award at the Tour Championship while making the 30-man field, but he isn't going to define his year by that metric. In fact, there is only one metric that truly matters to a man who doesn't hesitate to espouse his deeply religious faith.
"The optimism I have for the game of golf is really, really high," Johnson said. "The scorecard sometimes doesn't show it, but I like how I am playing. I love testing myself and seeing how far I can climb again. But I combine that with what I want to do off the golf course and what I'm supposed to do. And when I say, 'supposed to,' that means I'm going to keep using the game of golf as a platform for a higher purpose."