The Loop
'You're way prettier than Michelle Wie,' and other things people say to Michelle Wie
__NEW YORK -- What do you get when you pair a media-hungry golf tour with a golfer that the mainstream media has actually heard of?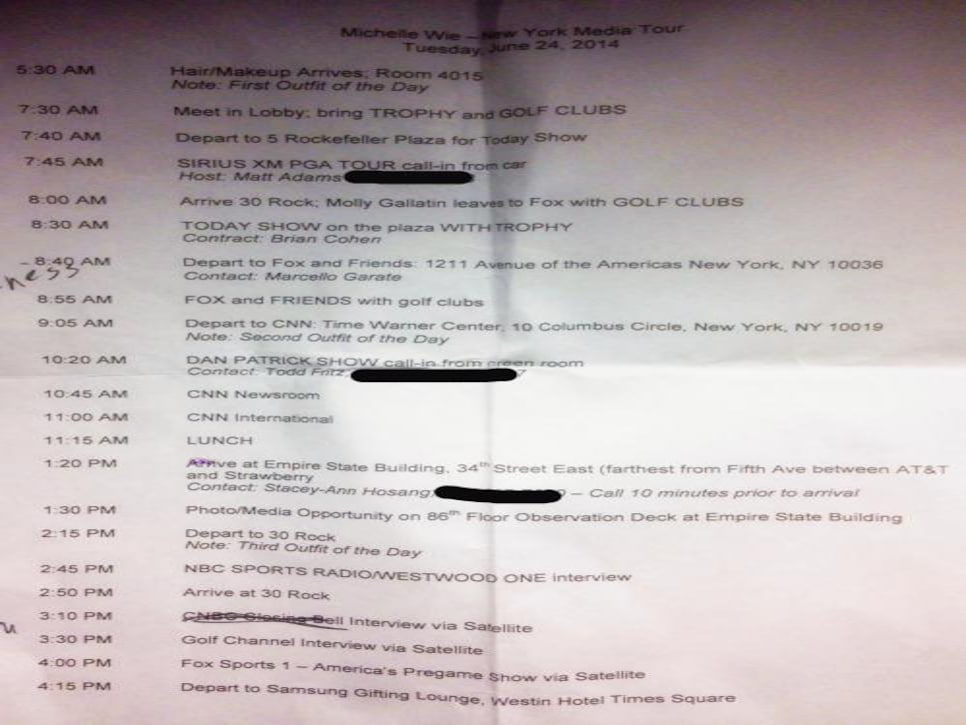 That was the printed itinerary for Michelle Wie's New York media tour on Tuesday. Two days after her breakthrough win in the U.S. Women's Open, Wie was barnstorming the city with a gaggle of handlers and was asked at least two dozen different times what it was like to capture her first major championship. [#image: /photos/55ad7977add713143b429b79]|||wie-trophy-350.jpg|||
For those keeping score, the above itinerary does not include an impromptu lunch at Chipotle (what is it with major champions and Chipotle?), a spontaneous drop-in at the Omega Store on Fifth Avenue, or a scheduled appearance Wednesday on "LIVE with Kelly and Michael."
At this point, Wie was feeling on top of the world, so fittingly, we caught up with her at the top of the Empire State Building to ask her a few questions.
__What's the best congratulations you've received since winning?__There's been so many. I think the highlight I got is a very nice text message from Barbara Nicklaus. Also (Nike head) Phil Knight, Liezl Els, Donna Caponi, Louise Suggs. I just felt an overwhelming feeling of support. It felt amazing.
What was the total number of texts?Right when I turned on my phone, it was about 134 texts, and they just kept coming. I felt really bad. I wanted to respond but my phone ran out of battery, and I'm still catching up.
Your unique putting stance has been talked about quite a bit. How much strain does it put on your back?None. I used to have a lot of back problems putting and stuff. I couldn't putt for more than 40 minutes without my back hurting. But with my new posture I'm really using all legs. I'm not using my back at all, so it feels great. It's way better for me.
__What's the most common mistake you see from the amateur golfers you play with?__I think a lot of them try too hard and they tense up. You just have to be loose and let your arms swing. Etiquette-wise, it's slow play. Everyone's trying to play every shot and they're thinking way too much.
__What's the best pick-up line you've gotten recently?__Well, the one I get all the time is, 'Oh my God, you're way taller in person.' Or I had this one guy who said, 'Are you Michelle Wie?' I was messing with him, so I said, 'No, I'm not.' And he said, 'Right. You're way prettier than Michelle Wie.' I was like, 'What's that supposed to mean? Is that a compliment?'
__Your key to traveling well?__Bring your own pillow. Everywhere.