The Loop
You're still talking about Michele Wie
Nope, we're getting mail about the Solheim Cup and especially about Michelle Wie's performance there. It may be known for swallows, but San Juan Capistrano's Dustin Stinett is eating crow.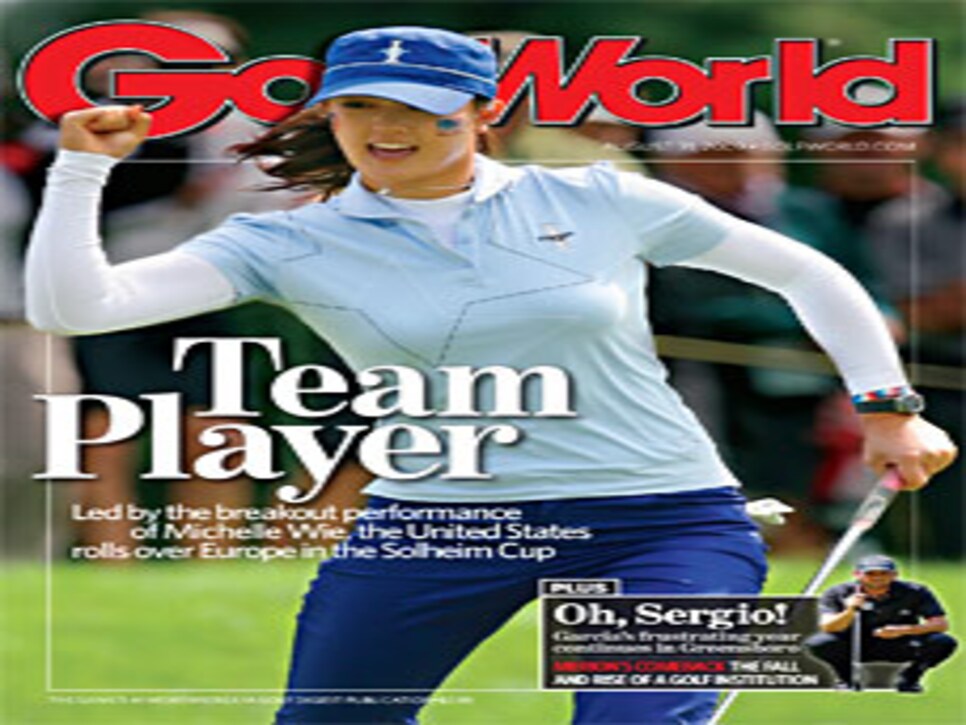 Here's what Mr. Stinett wrote on June 21:
Regarding Beth Daniel's "trouble" in deciding whether or not to select Juli Inkster and/or Michelle Wie for the 2009 Solheim Cup Team. One can only hope that winning the contest trumps "promotional reasons" when it's time for Ms. Daniel to make that decision, regardless of what the LPGA and the Golf Channel might want. Juli Inkster's experience (seven teams including the last six) and record (14-8-5) show that she has already earned a captain's pick. Michelle Wie hasn't earned a thing.__
And here is Dustin today:
Never have I been so pleased to have been proven so wrong.>
But he was only one of several Golf World readers talking about the Michelle Wie revival.
Dear Editor, Great photo of Michelle Wie on the cover.....and this time she earned it!!!! David Singletary Gilroy, CA
More than one reader, and whole lot of golfers I've talked to since the Cup, thought there might be a lesson for Wie's parents as well.
__Dear Editor, After watching the Solheim Cup, I hope that B. J.and Boe Wie got the message to fade into the background and let their daughter become the champion she is capable of being. Their horrible micro managing of Michelle's life has really retarded her potential but last week proved without a doubt that when they get out of the way with their poor advice and direction, Michelle is a winner. John Bird> >
You've got a point, John. But I think Michelle's parents might respond that their management of her, though not perfect, has if nothing else made it so that she will never have to worry about playing for money again. From now on, it's all about the competition.