Your wit recognized: Golf World's Front 9 Contest winners
At Golf World, we love hearing from our readers about articles and feature packages we put together for our magazine. Insightful commentary and analysis often fuels our discussions amongst editors about future content.
But we also hand over one part of our magazine every week. You write it. You, the reader, have a chance to get published in an issue of Golf World.
It's our Front 9 Facebook Punchline Contest. On Sundays, we post a set-up line to our Facebook wall. Submit a punchline, and it might be published.
So far in 2013, we've gotten 217 entries for four spots in each of our first four issues.
Here's the set-up line we proposed this week:
The winning punchline, submitted by M.T. Diehl of Orange City, Iowa: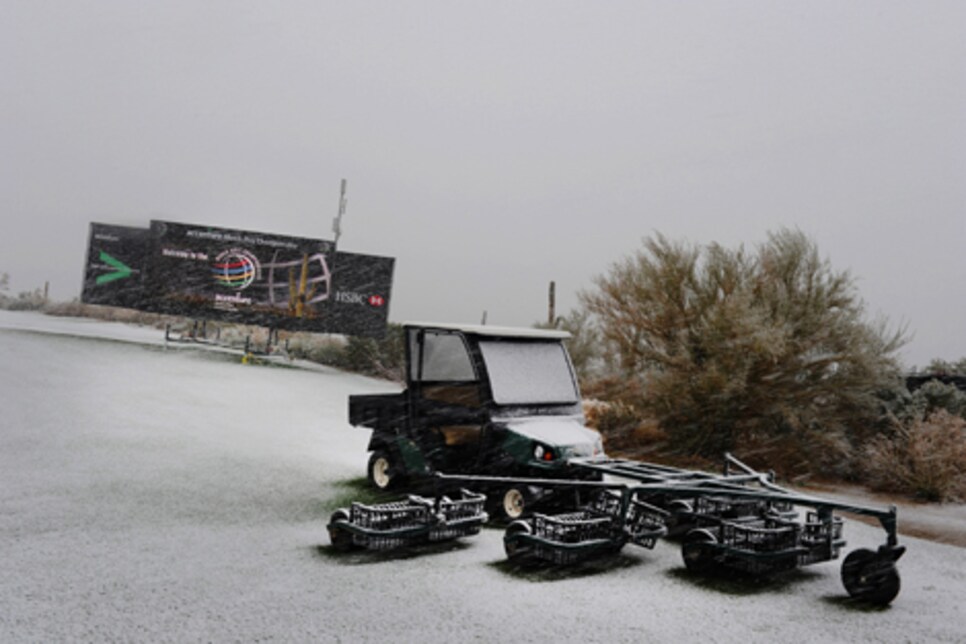 Cold and snow were the big winners on the first day of the Match Play at Dove Mountain G.C. Photo by Getty Images.
It's always tough decision every week to narrow our finalists down to one winner, but these were the finalists we considered:
__ Ceegee Able from Chicago, Ill.__: *"Titleist rushes to patent the Pro V1 Snowball." *
__ Russ Evans from North Palm Beach, Fla.__: *"Stimp Meters were immediately replaced by Slope Ratings." *
____Billy Anton from Glenview, Ill.: "Snow in Tucson? Yeah right! That's like Rory and Tiger losing in the first round."
__ Bill Fritton from Sinajana, Guam__: *"Now that's a good reason to use with yellow balls!!!"   *
Aaron Walker from Harleysville, Pa.:* "Meanwhile, the 2014 Sochi Olympic Games relocated to Arizona due to recent events."*
And let's recognize our three other winners from our last three issues:
February 18th issue: Our setup: "*Bill Murray heads a starry gathering of pros, celebs and CEOs at Pebble Beach—and misses the Pro-Am cut." *
Winner: Andy Peterson, Omaha. Punchline: *"He remains the perennial fan favorite, so he's got that going for him, which is nice." *
January 28th: Our setup: "*Tiger Woods misses Abu Dhabi cut after taking illegal drop." *
Winner: John Fox, Wyoming, Ohio. Punchline: *"There's sand in Abu Dhabi? You're kidding me." *
January 14th: Our setup: "Wind, weather delays play havoc with Hyundai Tournament of Champions schedule."
Winner: Josh Krutchik, Encino, Calif. Punchline: *"Apparently Mother Nature wasn't as excited about the start of the season as we were." *