The Loop
Your One-Stop Masters Television Viewing Guide
Masters viewing used to be so easy. You'd either record or be ready to go on the sofa with chips, dip and an Arnold Palmer ready to go that first Thursday in April when USA Network would pipe the Dave Loggins theme into our living rooms.
You'd watch Friday, then tune in on CBS over the weekend and wish you'd seen more. Now, more is here and while it can be a bit overwhelming, I'm here to make it as simple as possible.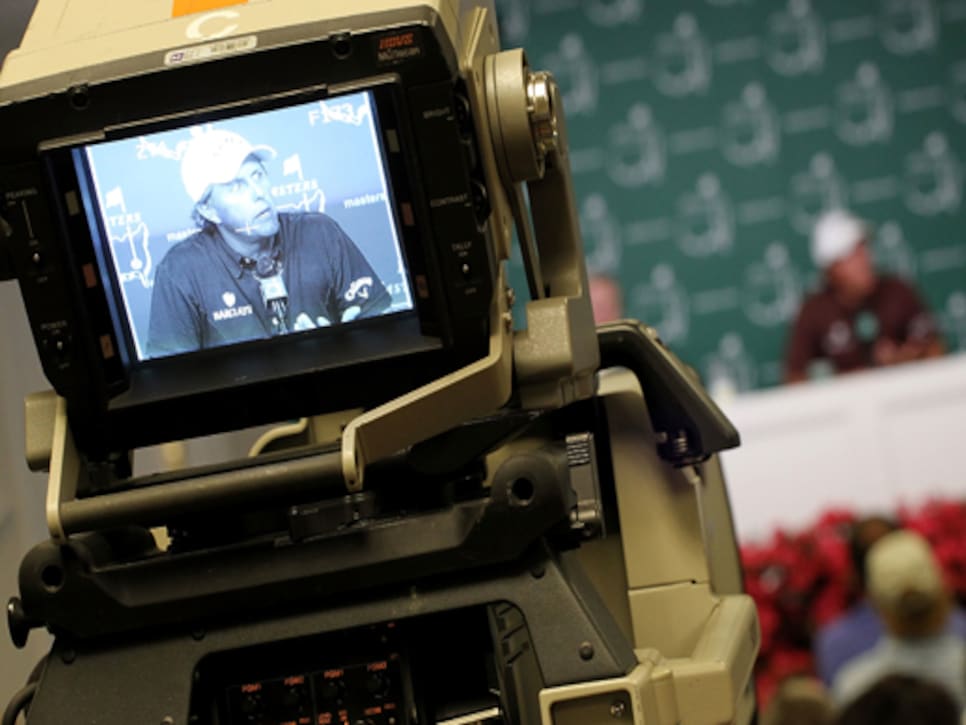 Day by day, here is what you can expect to watch in the way of live television coverage. And don't forget a squeeze of fresh lemon in that Arnold Palmer while keeping GolfDigest.com open for the latest from Augusta National.
Monday, April 7 (All Times ET)
__7-10 a.m. -- Morning Drive
2-5 p.m. -- Live From the Masters (includes player press conferences)
7-8:30 p.m. -- Live From the Masters
__Masters.com/Masters App
__12-2 p.m. -- Masters on the Range
__7-9 a.m. -- Morning Drive
9 a.m.-5 p.m. -- Live From the Masters (includes player news conferences)
7-9 p.m. -- Live From the Masters
__Masters.com/Masters App
__12-2 p.m. -- Masters on the Range
ESPN/ESPN Deportes/WatchESPN
__3-5 p.m. -- Live Par-3 Contest Coverage
5-6 p.m. -- Sportscenter At The Masters
__7-9 a.m. -- Morning Drive
9 a.m.-3 p.m. -- Live From the Masters (includes Billy Payne news conference)
7-9 p.m. -- Live From the Masters
__Masters.com/Masters App
__12-2 p.m. -- Masters on the Range
__3-7:30 p.m. -- Live First Round Coverage
8 p.m. -- First Round Encore
__Masters.com/Masters App/CBSSports.com
__11 a.m.-1 p.m. -- Masters On the Range (Also On CBS Sports Network)
2 p.m. -- Masters Radio coverage begins
12 p.m. - Completion Of Play -- Featured Groups 1 & 2
10:45 a.m.-6 p.m. -- Amen Corner Live
11:45 a.m.-7 p.m. -- 15th & 16th holes
__6-8 a.m. -- Morning Drive
8 a.m.-3 p.m. -- Live From the Masters
7:30-9:30 p.m. -- Live From the Masters
ESPN/ESPN Deportes/WatchESPN
__3-7:30 p.m. -- Live Second Round Coverage
8 p.m. -- Second Round Encore
__Masters.com/Masters App/CBSSports.com
__11 a.m.-1 p.m. -- Masters On the Range (Also On CBS Sports Network)
2 p.m. -- Masters Radio coverage begins
12 p.m. - Completion Of Play -- Featured Groups 1 & 2
10:45 a.m.-6 p.m. -- Amen Corner Live
11:45 a.m.-7 p.m. -- 15th & 16th holes
__6-8 a.m. -- Morning Drive
8 a.m.-3 p.m. -- Live From the Masters
7:30-9:30 p.m. -- Live From the Masters
__3-7 pm -- Live Third Round Coverage
__Masters.com/Masters App/CBSSports.com
__11 a.m.-1 p.m. -- Masters On the Range (Also On CBS Sports Network)
2 p.m. -- Masters Radio coverage begins
12 p.m. - Completion Of Play -- Featured Groups 1 & 2
10:45 a.m.-6 p.m. -- Amen Corner Live
11:45 a.m.-7 p.m. -- 15th & 16th holes
__6-9:30 a.m. -- Morning Drive
9:30 a.m.-2 p.m. -- Live From the Masters
7-9 p.m. -- Live From the Masters
__1-2 p.m. -- Jim Nantz Remembers Augusta: Nick Faldo At The Masters
2-7 p.m. -- Final Round Live Coverage
__Masters.com/Masters App/CBSSports.com
__11 a.m.-1 p.m. -- Masters On the Range (Also On CBS Sports Network)
2 p.m. -- Masters Radio coverage begins
12 p.m. - Completion Of Play -- Featured Groups 1 & 2
11:45 a.m.-6 p.m. -- Amen Corner Live
12:30-7 p.m. -- 15th & 16th holes
__6-9:30 a.m. -- Morning Drive
9:30 a.m.-2 p.m. -- Live From the Masters
7-9 p.m. -- Live From the Masters