The Loop
Young guns on show as the 2013 U.S. Women's Amateur gets underway
CHARLESTON, S.C.-- On a still, humid day near the Ashley River in Charleston, S.C., 14-year-old Yumi Matsubara of Japan shot seven-under 64 at CC of Charleston and broke the 18-hole U.S. Women's Amateur scoring record -- set by Rachel Rohanna in 2010 -- by one stroke. After an even-par 71 on Monday, Matsubara made seven second-round birdies and no bogeys to post seven-under 135 and finish stroke-play qualifying five shots ahead of Yueer Cindy Feng, Emma Talley and first-round leader Allisen Corpuz.
"I wasn't even thinking about the record," said Matsubara through a translator. "It feels very good."
Matsubara hit every fairway on the 6,479-yard Seth Raynor layout in posting the lowest round of her competitive career. This was only her second visit to the United States, following a recent trip to Oakland where she shot 75 at Sequoyah CC to earn a spot in this week's field. She has only played in two match play tournaments prior to this week.
Also making noise Tuesday was 10-year-old Lucy Li, the youngest U.S. Women's Amateur participant in history, who shot one-under 70 after an 82 on Monday. Her 10-over 153 total left her two shots off the eight-over cutline, but shooting 70 was more than enough satisfaction for the soon-to-be sixth grader.
"This feels great. I just wish I played better yesterday," said Li, who was surprised by the interview and autograph requests she received after her round. "It was really fun."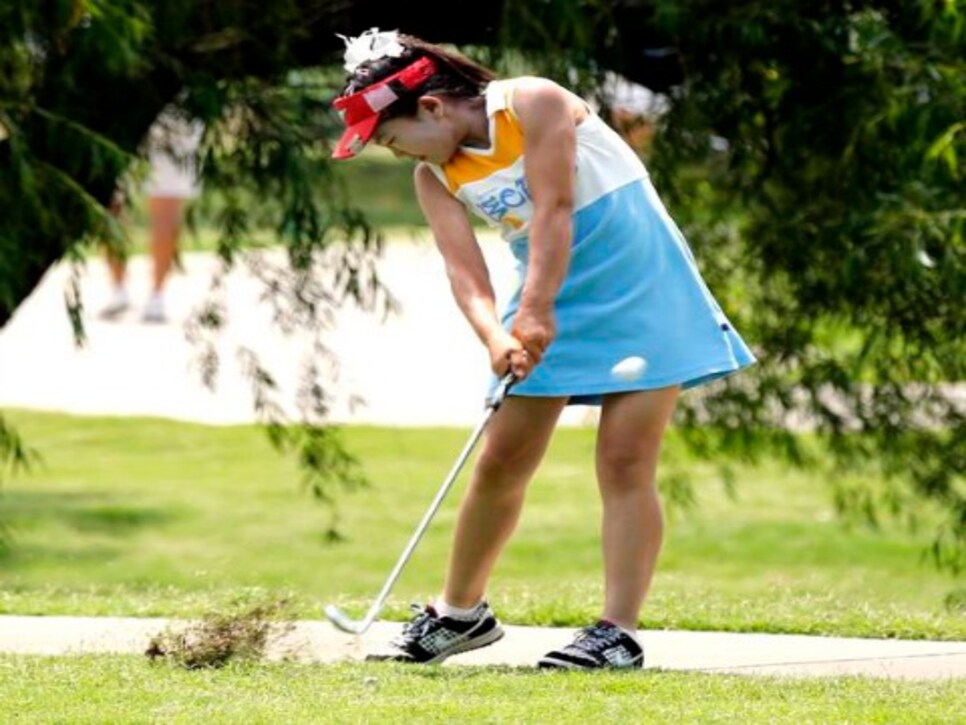 Li's 70 is the lowest round of her (short) competitive career following a 71 earlier this summer at the Women's Public Links. She made four birdies and three bogeys Tuesday, compared to six bogeys, a double and a triple on Monday.
Many players mentioned that the speed and firmness of the greens were not consistent during the first round, which, in addition to steady winds of about 20 miles per hour, made the task of adjusting to a new course even more difficult than usual. The first-round scoring average was 77.295.
"They recently top-dressed the greens and on Monday, you could see sand fly up when your ball landed on the green," said one player.
But Tuesday was a different story. The wind was absent and the course played shorter due to calmer air and slightly drier condition, which led to a scoring average of 74.160. But navigating the links-like course still wasn't easy.
"I shot 71, but I felt like I was a couple under par," said Annie Park, who won the NCAA Division I individual title as a freshman in May. "It's really a grind out there."
With that, the 64-player match play bracket is decided. The first match will tee off at 9:30 a.m. Wednesday morning.