The Loop
You'll never guess how Rory McIlroy "decompressed" after the Ryder Cup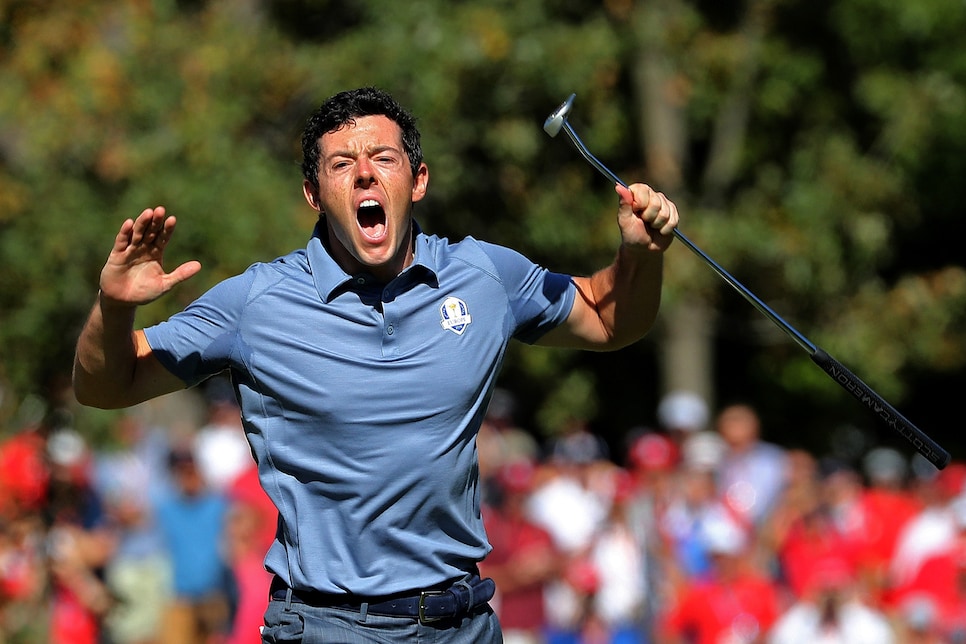 For three days at Hazeltine, Rory McIlroy was a fiery ball of pummeled drives, fist pumps and shouts. The four-time major champ played -- and screamed -- his guts out as he tried to lead his European squad to another Ryder Cup win. In the end, his efforts weren't enough, but they certainly didn't go unnoticed.
So how did McIlroy unwind after? The answer may surprise you.
Three days of wedding planning meetings? That sounds more stressful than three days of playing in the Ryder Cup. Good for you, Rory.
"It's nice to be involved in the process, but I definitely let Erica take the lead on most of that," McIlroy said of fiancee Erica Stoll.
Probably a good call. Of course, McIlroy said it would be tough to unwind from an intense week like that no matter what he did.
"I don't think there's much you can do," McIlroy said. "It's hard to get away from it."
On the podcast, McIlroy also called for a change to Europe's Ryder Cup selection process. Europe wound up fielding a team that didn't include two players in the top 20 of the Official World Golf Ranking, Paul Casey and Russell Knox.
"Honestly, it should be the best 12 players from Europe versus the best 12 players from the United States. For me, there shouldn't be anything to do with membership of tours," McIlroy said. "To have a guy like Paul Casey not on our team when he is playing some of the best golf in the world right now, it definitely hurt us."
"I know that isn't as exciting in terms of captain's picks and qualifying process and everything else," McIlroy added. "But if we're trying to make it the fairest way for the best 12 to make each team, I think that's the way to go."
Interesting suggestion, Rory. It makes us wonder what innovative ideas you have for next year's wedding. . .