The Loop
You won't believe how much Tiger Woods can move up in the World Ranking this week -- by just finishing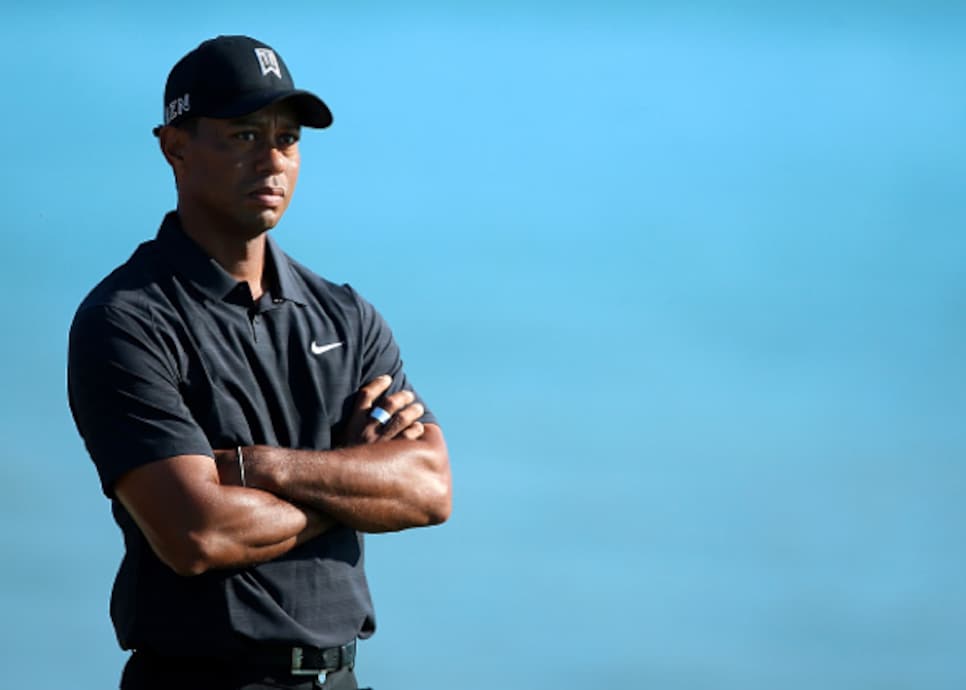 Sadly, it's become commonplace on Twitter to provide updates of Tiger Woods' falling Official World Golf Ranking each Monday. Essentially, these tweets read as so: "Tiger Woods is now (blank) in the Official World Golf Ranking. He's one spot above (Insert name of a golfer you've never heard of) and one spot below (Insert name of another golfer you've never heard of)."
As the 14-time major champ returns from a 15-month absence this week, the current number is 898 and the lesser-known golfers he's sandwiched between are Sean Riordan and Simon Yates. But the good news for Woods? While those two guys aren't playing in the Hero World Challenge, Woods is.
The 18-man, no-cut event isn't an official PGA Tour event, but it counts toward Official World Ranking Points. And it counts a lot more than you probably think.
Twitter handle @Nosferatu, an anonymous OWGR guru, crunched the numbers and came up with some staggering scenarios for Woods this week. Have a look:
What immediately jumps out, of course, is that Woods is guaranteed to move up about 150(!) spots. Well, as long as he completes all four rounds -- something bookmakers say is far from a lock. That's right, he could fail to break 80 for four consecutive days and still make a huge jump in the Official World Golf Ranking.
If he beats about half of the field and finishes solo 10th, Woods would climb about 350 spots. A solo fifth-place finish would move him up an extra 100, and if he goes out and wins the whole thing, he could vault up as high as No. 123.
The main reason for this is the strength of the field. Although only 18 players will be teeing it up at Albany Golf Club in the Bahamas, all of them other than Woods are ranked in the top 40, with 16 in the top 30 and six in the top 10 (Dustin Johnson, Henrik Stenson, Jordan Spieth, Hideki Matsuyama, Patrick Reed, and Bubba Watson).
This wouldn't be the first time Woods used his annual limited-field event to drastically improve his Official World Golf Ranking. At the 2011 event (then called the Chevron Challenge), Woods had fallen to 50th in the ranking in the wake of his scandal two years prior. He got back into the winner's circle by beating Zach Johnson with a birdie-birdie finish and he vaulted up to No. 21. The following year, Woods climbed as high as No. 2 before reclaiming the top spot during his Player of the Year campaign in 2013.
Woods was ranked 257th following a T-10 at the 2015 Wyndham Championship -- the last tournament he played before undergoing two back surgeries. On Sunday, Woods told reporters that he is "ready to go," and that he "can hit all the shots now, on call." But if he can simply play all the rounds, he'll take a big first step on his journey back to the top of the rankings.