The Loop
In the absence of drama, appreciating a runaway
BETHESDA, Md. -- Rory McIlroy! We want us some more Rory McIlroy, and we want it now. He puts up a 66 after the 65 and we want two more 60-somethings. Here's a vote for Rory McIlroy to run away and hide in this U.S. Open.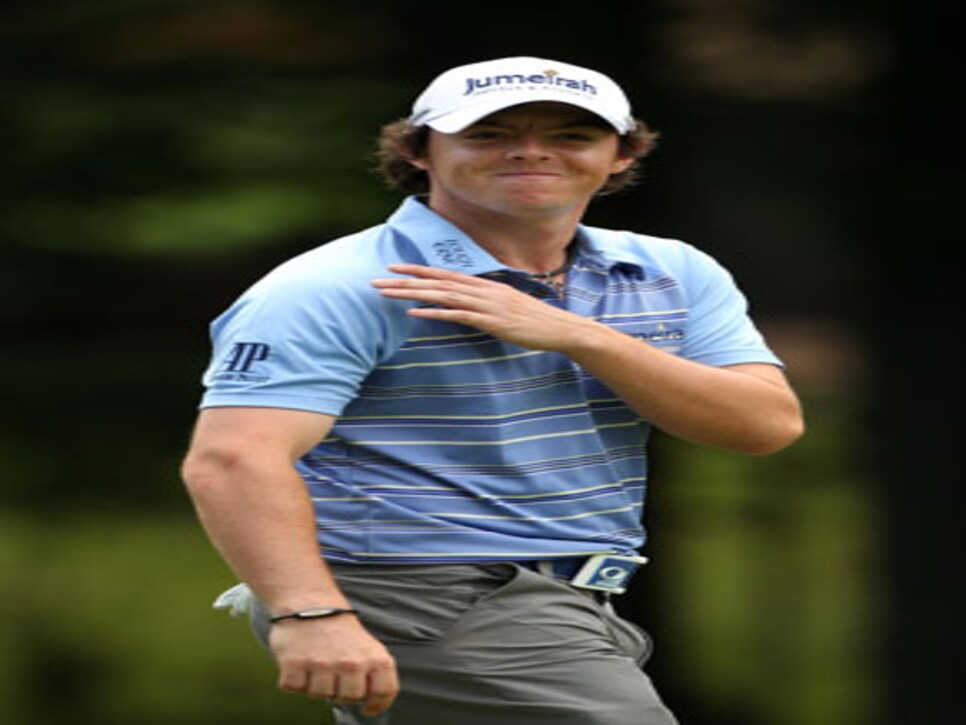 Rory McIlroy, for two days, has been golf's version of Secretariat winning the Belmont by a mile, Michael Jordan dancing on heads, Muhammad Ali floating around men who can't find him let alone hit him. You may want a man-to-man facedown Sunday, everyone staggering home. No, no. Give me the best there is. Give me Montana in the last two minutes, Koufax bringing heat, Tiger when he was Tiger. Give me more Rory McIlroy triumphant.
Please excuse the hyperventilation. But, really. What McIlroy has done at Congressional Country Club has passed beyond fantasy into phantasmagoria. Not content, apparently, with all those 3s on McIlroy's scorecard -- 12 in his first 25 holes -- the gods who decide golfers' fates agreed it was time for a 2. And from 114 yards, with a wedge, McIlroy hit a nice enough second shot to the eighth green. It flew far past the flagstick before coming to earth. On landing, as if controlled by higher authority than McIlroy, the ball went into reverse. And not just your everyday backspin roll. This one rolled 30 feet and into the cup.
See? Something's happening here. Even the man himself is at a loss. "I don't really know what to say," McIIlroy said. "It's been two very, very good days of golf."
For two days, the complicated game has been made simple. Think it, it happens. "I'm hitting fairways. I'm hitting greens. I'm holing my fair share of putts." Bobby Jones said golfers are "dogged victims of inexorable fate." But not all the time. Sometimes, perhaps from 114 yards out, they are celebrants of fate. "It's always a bonus when you hole it from the fairway," McIlroy said. "There's a bit of skill involved, but there's also a little bit of luck in here was well."
All this may not be proof positive of supernatural occurrences. But it certainly is evidence of a prodigy reaching maturity. He won the European Amateur at 17. He has won twice as a professional, at Dubai in 2009, at Charlotte last year. To hear the young man from Northern Ireland -- he turned 22 only last month -- is to hear a wise old head. McIlroy knows, for instance, that he must continue to play both aggressively and smartly -- more important, he knows that the proper order of those elements calls for him to play "smartly . . . but aggressively." Had Greg Norman, to drop a name, come with McIlroy's head attached, he might have won a Masters, to drop a name, by a dozen shots. The happiest part of McIlroy's performance here is that he is aware of its beauty. Nice, he said, turning a lovely phrase, "when all parts of your game are on song."
At the moment, McIlroy is an outlier, so far removed from others of his kind as to be something completely different. Alone in this U.S. Open, maybe alone in the history of all Opens, he played the first 35 holes without a bogey. When he missed a makeable eagle putt on his 33d hole, even the hardened denizens of the media tent groaned in disappointment. Through two rounds, McIlroy' has made 16 3s and the 2. His ringer score is 60. My Golf Digest colleague, Guy Yocom, noticed McIlroy's foot on the accelerator and fired off a tweet saying it reminded him of an old poster that showed two buzzards sitting on a tree limb, one saying, "Patience, hell. I'm gonna kill something."
Now a word of caution for those of us smitten with Rory McIlroy: Twice before he has gone low-60s in majors only to follow with 80s, first at the 2010 British Open, again at this spring's Masters. And that dreaded pull-hook that often has ruined him under pressure may have shown its evil snakeface on today's last hole; he hit his drive into the left rough, drew his second into a pond, and closed with a double-bogey 6.
But true believers can argue that McIlroy's double was more evidence that he knows exactly what he's doing. A Chinese proverb calls for a man to insert a mistake into his work lest he be charged with the arrogance of seeking perfection. So there you are. The double was Rory McIlroy's way of keeping fate on his side.