The Loop
You should have seen Phil Mickelson
Golf was not meant to be a contact sport, though Phil Mickelson has turned it into one through the years. He beaned a woman at the Wells Fargo Championship on Saturday. As compensation, she received a signed glove from the stash of them he must keep on hand for such occasions.
Mickelson was asked the last time he hit a spectator. "Oh, yesterday," he said, jokingly. "I don't know. It happens a lot."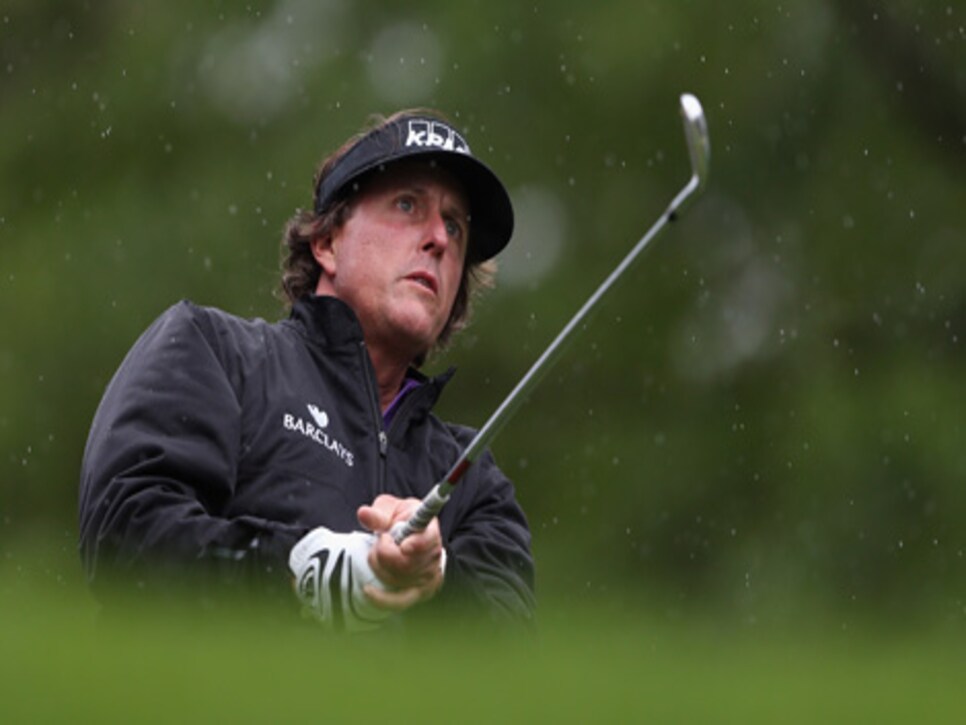 Even had he been exaggerating the frequency with which he fells spectators, it is a fact that he tends to hit to all fields. It is this confounding inconsistency, and the incomparable brilliance with which he often responds, that makes watching him so compelling, though you are advised to do so at your own risk. And bring a hard hat. Or stay home and watch it on television.
Alas, the latter was not an option, not for those who prefer their sports be televised live. The likelihood is that this was an inconvenience only to hard-core golf fans. Still, in the modern era of television, when even a wide array of college baseball games are aired live, it seems a reasonable expectation that the final round of a PGA Tour event with an impressive international leader board could be viewed live.
A nasty weather forecast in the Charlotte, N.C., area caused tee times to be moved up in advance of the worst of the weather in an effort to complete the tournament without it spilling into Monday. The tournament, as a result, ended more than an hour before the delayed telecast began on CBS.
We reached out to a CBS representative for an explanation. "We have the rights to the final round," she wrote in an email. "Our broadcast window is from 3:00-6:00 pm ET. Due to affiliate and/or other programming commitments, we can not move the broadcast window when tee times are moved up."
This brings us back to Mickelson, who over the course of four days gave us his career in microcosm, a mix of bewildering misfires from which he magically recovered to bring him to the brink of his 42nd PGA Tour victory, a spectacle worth viewing, live.
"I would say there's no way anybody can play four rounds and hit it as poorly as he has and win a golf tournament, with the exception of him," Golf Channel's Brandel Chamblee said. "Nobody can hit the ball that bad. It's not that the ones he hits good are close. It baffles."
Mickelson led most of the round, and at times was one ahead of Rory McIlroy and Lee Westwood, before bogeys at 16 and 17 derailed his bid. While much of this was going on, Golf Channel (an NBC property, incidentally) was showing a telecast of the European Tour's Volvo China Open. Delayed.