The Loop
You probably didn't notice: Bubba Watson and Dustin Johnson haven't three-putted in months. Literally
Bubba Watson and Dustin Johnson are known for hitting golf balls ridiculous distances -- and they are still doing just that. But improvements in how they're handling the game's shortest shots have gone a long way in determining their recent success.
We were surprised to discover these two bombers off the tee currently have the two longest streaks of avoiding a three-putt on the PGA Tour (through the WGC-Cadillac Championship). Bubba's streak has lasted 237 holes over seven tournaments, while Johnson's has spanned 217 holes over six events. Ben Martin is No. 3 and well back at 129.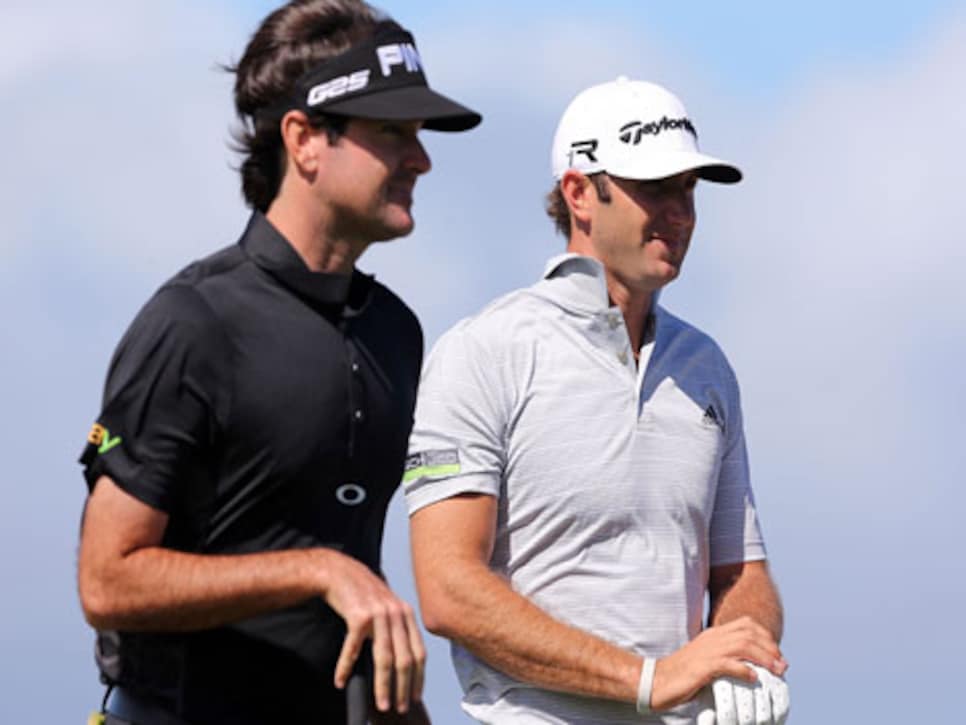 Not surprisingly, Watson and Johnson are well on their way to having career years. Watson has a win and two runner-ups in his past three stroke-play events, and Johnson has made more than $3 million in the five stroke-play events (all top 10s) he's played in the 2013-14 PGA Tour season.
Of course, there's more to that than just not three-putting, and both players' improved overall putting statistics are more eye-catching than the 318.6 yards Watson is averaging per tee shot (Johnson is No. 2 at 309.7). Watson is currently 26th in strokes gained/putting (.473). That might not sound that impressive until you realize he was 119th last year and has been no better than 117th in that stat the past four seasons, bottoming out at No. 157 at -.285.
Johnson has putted even better. He's 10th in strokes gained/putting (.715) this season, up from No. 117 last year and 171 in 2011, where he was losing half a shot per round to the field.
Add it all up and Johnson (69.043) and Watson (69.247) rank first and second in scoring average on tour right now. New statistical analysis may challenge the old saying, "You drive for show and you putt for dough," but we can all agree that doing both well is a winning formula.