News
You may not have known who Mark Laesch is, but if you follow college golf you owe him a debt of gratitude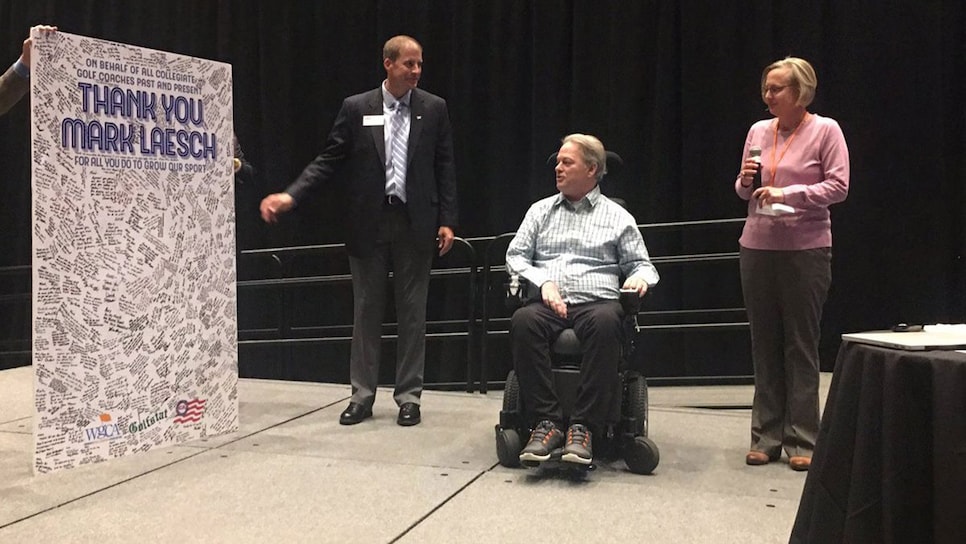 Every true college-golf fan has a story about a time they were sitting in front of their computer, Golfstat.com on their screen, right index finger cramping up because of the number of times you were refreshing the screen trying to see the latest scores. In some of these yarns, the teller recalls a four-letter word or two being used out of frustration for waiting on the scores to update.
Yes, the numbers sometimes were slow to come in, but they were usually reliable, allowing people from around the country to enjoy "watching" a tournament even when they were thousands of miles away.
And for all those stories, we have Mark Laesch to thank. Founding Golfstat in 1984, the Indiana native almost single-handed changed how players, coaches, family and friends consume a college golf tournament
Laesch's love of college golf continued even after he was diagnosed last year with amyotrophic lateral sclerosis (ALS), the fourth person in his family to have been stricken with the illness. He continued to work through the fall season, forced to use a motorized wheelchair when he lost the use of his legs.
Sadly, like his father, uncle and sister before him, the disease took ultimately took his life, Laesch passing away on Saturday back home in Indiana at age 62.
His legacy survives in Golfstat, which became known for aggregating tournament results for every tournament at every level of college golf, creating team and player rankings that became the gold-standard in the sport. NCAA Golf Committees used Golfstat to help selected teams to compete in the postseason.
Beyond warehousing results, Golfstat also helped run "live scoring" for hundreds of tournaments. In many instances, Laesch himself would attend a tournament looking to upgrade its profile by offering the unique feature. Laesch worked with event organizers and their volunteers to teach them how to take down scores from players on the course, call them in via walkie-talkie or cell phone, and have a central scoring area track everything in real time. In subsequent years, he'd stay home and watch the events himself, consuming them like every-day fans.
"Before Mark, your guess was as good as anyone's about where you really stood in a tournament," Clemson men's coach Larry Penley once told me a few years ago. "You were lucky if you knew if you were even in the hunt let alone winning. He changed all that. It might not seem like that big a deal, but it really changed the entire way you followed college golf."
Laesch is survived by three children, Brian, Jordan and Kelsey, and his fiancée, Jennifer Porter, as well as his sister, Ellen Laesch Darymple, and step brother, Dennis Giseke.