The Loop
You can experience virtual reality from the 2016 Masters, and it's pretty amazing
AUGUSTA, Ga. -- The Masters is among the toughest tickets in sports. Why, just this morning I saw scalpers charging four figures for badges as I drove to Augusta National G.C. But for $99, anyone can be sitting by the 16th green.
OK, virtually sitting by the 16th green.
NextVR, a California-based software developer, is using its live-streaming technology to give viewers an unprecedented view of the Masters. If you have an up-to-date Samsung/Android phone you can download the NextVR app and access the feed. The virtual reality experience comes to life when the phone is then connected to goggles (the GearVR brand from Oculus cost $99, one of a handful of models on the market) that magnify the phone screen and present the stereoscopic experience in full view.
When users turn they heads, they can see left or right, up or down, as if they are sitting right at the spot where NextVR's cameras are positioned.. With a click of a button, you can hear surround sound as well. About the only thing you can't do is smell the pimento-cheese sandwich the guy next to you is eating.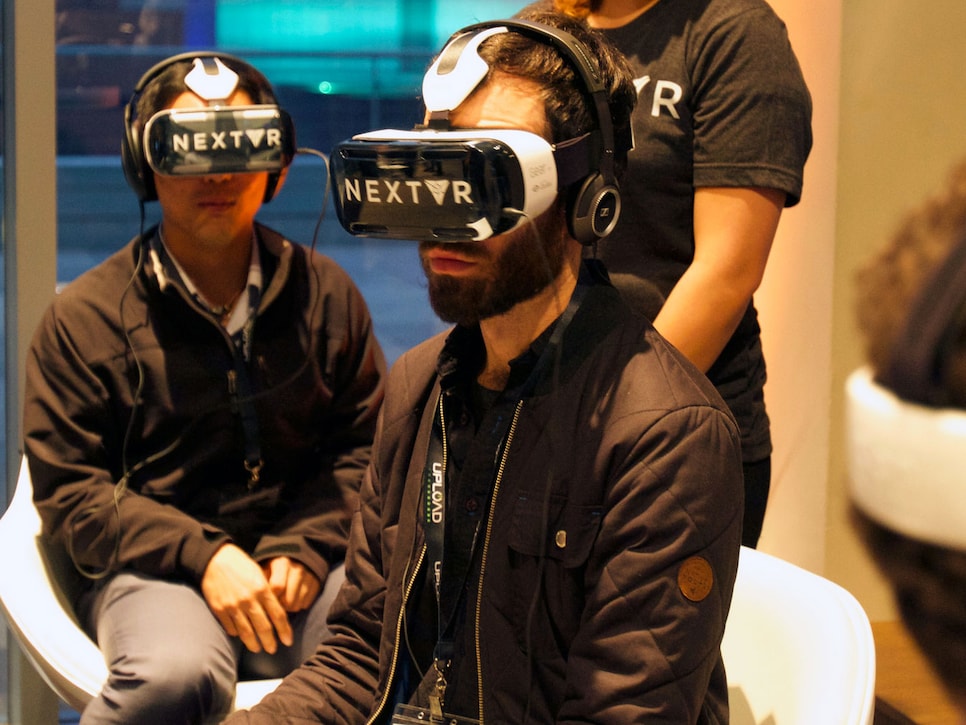 At this year's Masters, NextVR is showing a live feed from the sixth and 16th holes. In the future, however, streaming could come from anywhere on the course, essentially changing the way fans who aren't there in person can experience the action.
"This transports you to the event," says Brad Allen, NextVR executive chairman. "You honestly feel like you're sitting right there."
Of course, Allen is literally paid to say that. I am not, and was remarkably surprised after putting the goggles on to see how "real" things looks.
The images aren't quite as sharp as what you'd see on a high-def TV. "Right now the phones weren't really made to have the screen be magnified," explains Allen. By the end of the year, Allen says, phone manufacturers will be coming out with screens that all for greater resolution when magnified.
As you wear the goggles, you can access a leader board that appears in the forefront of the screen superimposed over the picture of the hole. The ability to add and access other statistics is an obvious future upgrade.
Folks with Apple iOS phones are out of luck for now with the mobile VR experience, but Allen predicts that won't be the case for long.
Allen says other sports are also experimenting with the technology, including the NBA, NFL, NHL and Premier League. "If you're a sports fan," Allen says, "this is the virtual ticket."