The Loop
You can bet on it that Elin Nordegren will be Rory's next girlfriend
The Irish bookmaker Paddy Power revels in stirring things up by offering novelty bets, which it again has done in the wake of the news that Rory McIlroy and fiancee Carolina Wozniacki have split.
Paddy Power is offering odds on who will be McIlroy's next girlfriend, or "birdie," as it called it. The favorite is his former girlfriend Holly Sweeney at 3/1.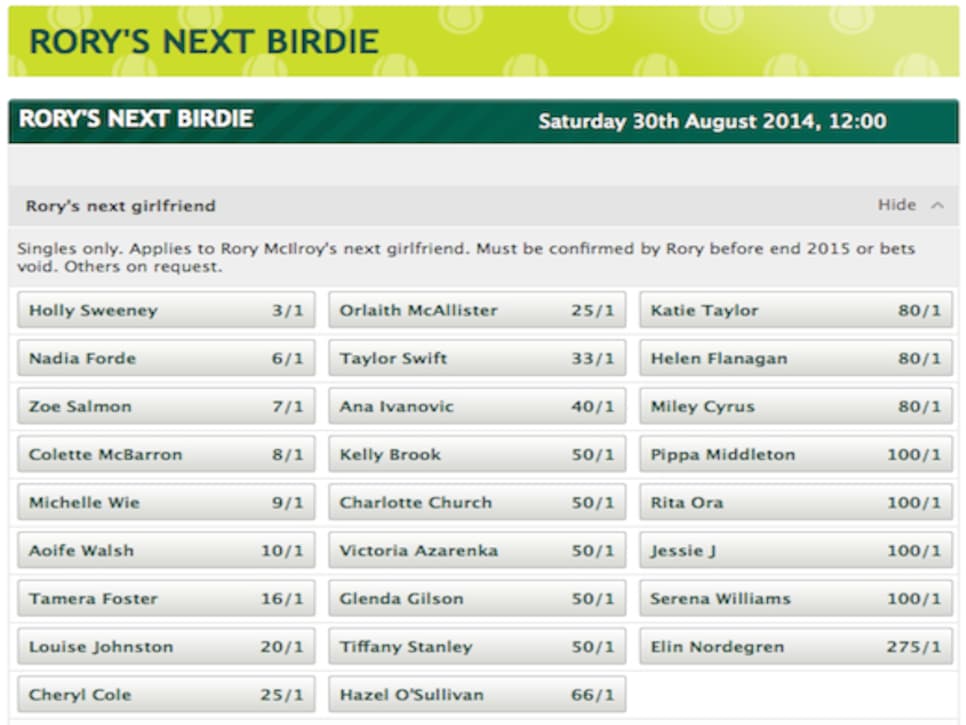 But where's the value in that? Be bold. Take a flyer on Tiger Woods' ex-wife Elin Nordegren at 275/1. Or one of the other notables on the board: Michelle Wie (9/1), Taylor Swift (33/1), Ana Ivanovic (40/1), Miley Cyrus (80/1), Pippa Middleton (100/1) and Serena Williams (100/1).
Ladbrokes, meanwhile, has offered odds of 5/4 that McIlroy and Wozniacki will remain apart for the rest of the year, according to this story in the Mirror. It previously had to pay off on 5/1 odds that they would become engaged in 2013.
"McIlroy and Wozniacki punters have taken us to the cleaners this year, but as far as we're concerned this is it for loves young dream," Jessica Bridge of Ladbrokes told the Mirror's Neil McLeman.
McIlroy, incidentally, was a 10/1 favorite to win the BMW PGA Championship this week, but has fallen to 12/1 at Ladbrokes, and is now a co-favorite with Justin Rose and Lee Westwood. He has fallen to 14/1 at Paddy Power. Apparently the bookies are factoring in his state of mind.