The Loop
Yet another controversy before Ryder Cup
NEWPORT, Wales -- Nuance is often a casualty in the Ryder Cup. Who has time for a reasonable explanation when a storyline is so much simpler without it?
Which brings us to the latest controversy two days before the start of the Ryder Cup -- U.S. captain Corey Pavin asking Major Dan Rooney to address the U.S. team at Celtic Manor on Tuesday. Pavin, Ryder Cup historians will recall, was at the forefront of the 1991 "War By The Shore" at Kiawah Island, with his camouflage hat in many ways emblematic of the tense atmosphere between the two teams. Now, nearly two decades later, he was bringing in a F-16 fighter pilot to rally his players before their own battle with the Europeans at Celtic Manor.
At first blush if you're a European player or even a European journalist, you hear the words "Pavin", "Ryder Cup" and "fighter pilot", and you think the U.S. captain is again likening the three-day competition to war. That angle was evident in the line of questioning presented to Pavin and other U.S. players on Wednesday (and in the first news reports to come out as well).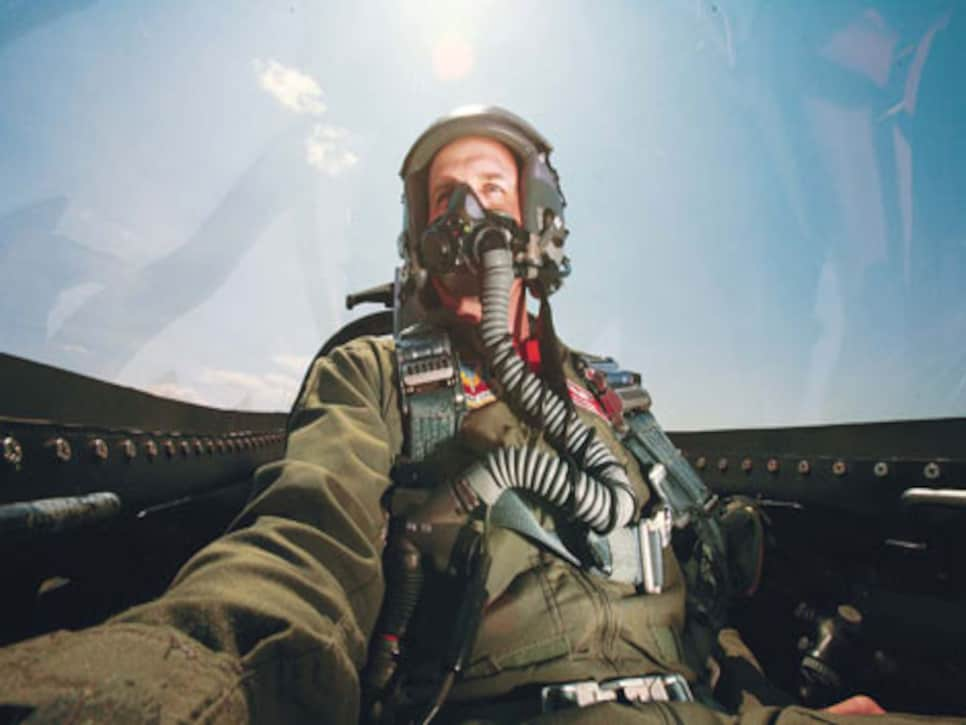 (Photo of Maj. Dan Rooney by Darren Carroll)
To Pavin: "Bearing in mind the severe criticism that you got for your choice of headgear at Kiawah Island, would it perhaps not have been wiser to perhaps distance yourself from military connotations during this captaincy?"
To Phil Mickelson: "Could you explain the Americans' apparent fondness for associating sport with war?"
Perhaps it would be a valid point if not for the fact that the fighter pilot in question is also a PGA professional and the driving force behind Patriot Golf Day, which benefits the families of solders wounded or killed in war. As Rooney, a veteran of two tours of duty in Iraq, told Dave Kindred in a 2007 Golf Digest profile, he conceived the charitable endeavor when riding a commercial airliner with the remains of a fallen soldier, Corporal Brock Bucklin, on board. As a former mini-tour player, he thought about how golf could make a difference, and eventually came up a day that has raised $5.4 million in its first three years.
"We want everyone to play golf one day, give one dollar, and remember men like Brock Bucklin," Rooney told Kindred.
So as tempting as it might be to think Rooney was brought in by Pavin to school the U.S. players in hand-to-hand combat, he was actually just a fellow American with a noble cause and an inspiring story to tell. That might not be how the rest of the world ends up seeing it, but it still had the right impact on Pavin's intended audience.
"I just looked around the room a few times when he was talking, when I wasn't staring at him and listening," Pavin said. "It was neat to see the guys paying attention and caddies and wives and everybody in there; everybody was pretty riveted.  It was just fun to see the guys interested in something like that."