The Loop
Yep, Rory McIlroy struggled backing up a good first round ... again
ABERDEEN, Scotland -- It is now, by a distance, the burning question in golf: Just what does Rory McIlroy do on Thursday nights?
For seemingly the umpteenth time this year the 25-year-old Ulsterman followed up a blistering opening round (seven-under 64) with one best described as blundering (78). Eight birdies and one bogey one day; one birdie, six bogeys and one double the next. It was a veritable catalog of disaster that could actually have been worse. On each of the last two holes in his second round at this Aberdeen Asset Management Scottish Open, McIlroy bravely got up-and-down from greenside sand to save par -- and break 80.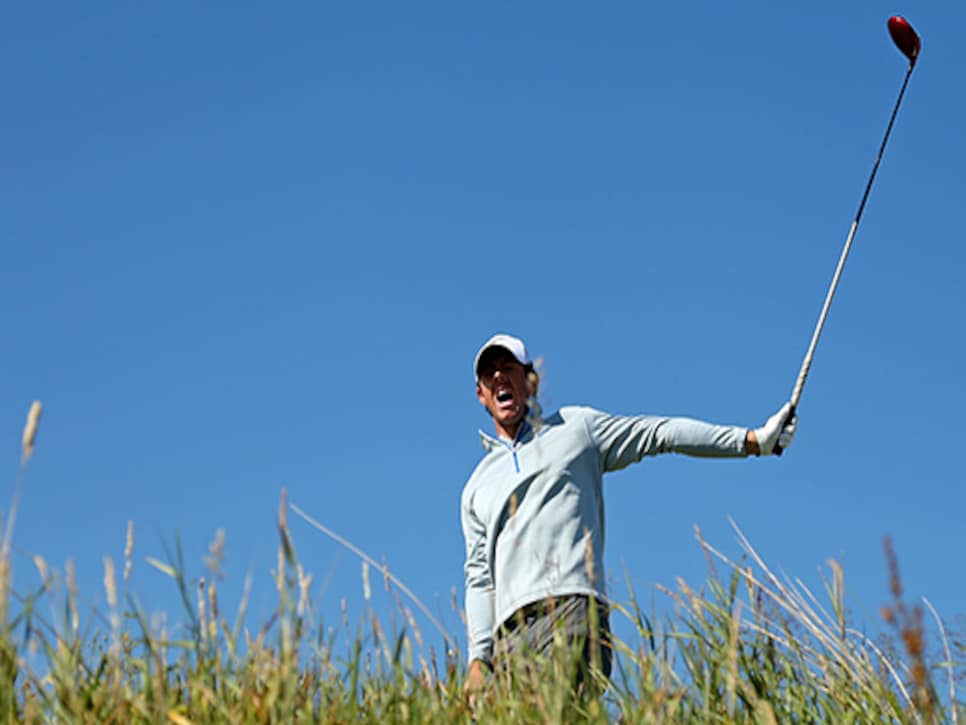 There's more, so much more.
A player good enough to finish T-4 in last month's U.S. Open, Brooks Koepka, had a 10 on one hole. South African Darren Fichardt made a double bogey on the short 12th then made a quadruple on the next hole. England's Tom Lewis raced to the turn downwind in 31 then trudged home in 40. U.S. Amateur champion Matt Fitzpatrick stumbled round in 79, making but one birdie. And Ian Poulter, needing an unlikely birdie at the closing hole to make the cut, instead made a triple bogey.
And here's the bigger news: the wind wasn't that strong. Not by Caledonian standards. If it ever does get up beyond moderate, one can only imagine the carnage that will ensue. Largely raised on a diet of "hit-and-stick" golf, today's up-and-coming band of "superstars" seem generally ill-equipped to cope with anything out of professional golf's increasingly one-dimensional norm. Certainly, on a day when the ball had to be on the ground more than in the air, their shot-making limitations were savagely exposed by not much more than a zephyr.
"We older guys grew up playing more links golf than the youngsters do these days," said Nick Faldo, the 57-year old six-time major champion, after his second successive 73. "My contemporaries knew the value of hitting to the middle of the green and not being too aggressive when it isn't really smart or necessary. To achieve that in conditions like these, the old school had more shots in them.
"Older guys tend to 'see' more shots," Faldo continued. "In today's game, a lot of youngsters play one way. They hit the same shot over and over. Which makes them big checks most weeks. But to make the next step -- to make yourself a major champion -- you've got to have the ability and the trust to vary your attack. At the highest level and especially on a fast-running seaside links, that's what makes the difference."