The Loop
Yep, another amateur golfer was penalized for an improper bathroom break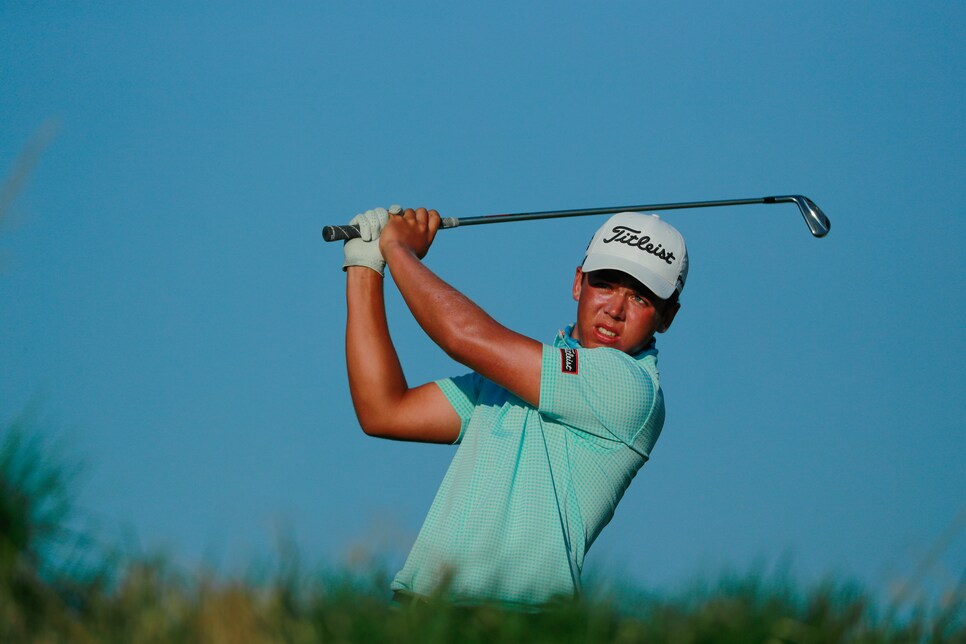 Copyright USGA/Jeff Haynes
Let's start by saying it's a silly local rule that doesn't allow players to ride in a golf cart during a tournament for the express purpose of going to the bathroom. What's the harm in getting relief when needing to take relief? But it is a rule at many tournaments—this week's U.S. Junior Amateur being one of them—so let this be a public-service announcement: please, please, PLEASE don't ride a cart when nature is calling.
Unfortunately, Garrick Higgo of South Africa had to learn the hard way in his Friday semifinal match against Matthew Wolff at Flint Hills National G.C. in Andover, Kan. The match was all square through 11 holes when Higgo, 17, accepted a cart ride to a bathroom on the 12th tee. That breached the championship rule in place that stated no player or caddie could receive transportation in any form during a stipulated round. The penalty resulted in loss of hole for Higgo.
Wolff then proceeded to win the 13th after hitting his approach to eight feet and making the birdie. He eventually closed things out on the 17th for a 3-and-1 victory that advanced him to Saturday's 36-hole championship match against Noah Goodwin.
"As soon as he rolled up on that cart, I kind of knew that something was a little wrong," Wolff said. "I felt like that was a little turning point in the match where out of nowhere I just went 1 up."
This isn't the first time this year that there's been a bathroom penalty dished out at a significant amateur event. During the NCAA Women's Championship in May, Northwestern's Sarah Cho and Kent State's Kelly Nielsen each received two-stroke penalties during the stroke-play portion of the event at Rich Harvest Farms outside Chicago for the same infraction.