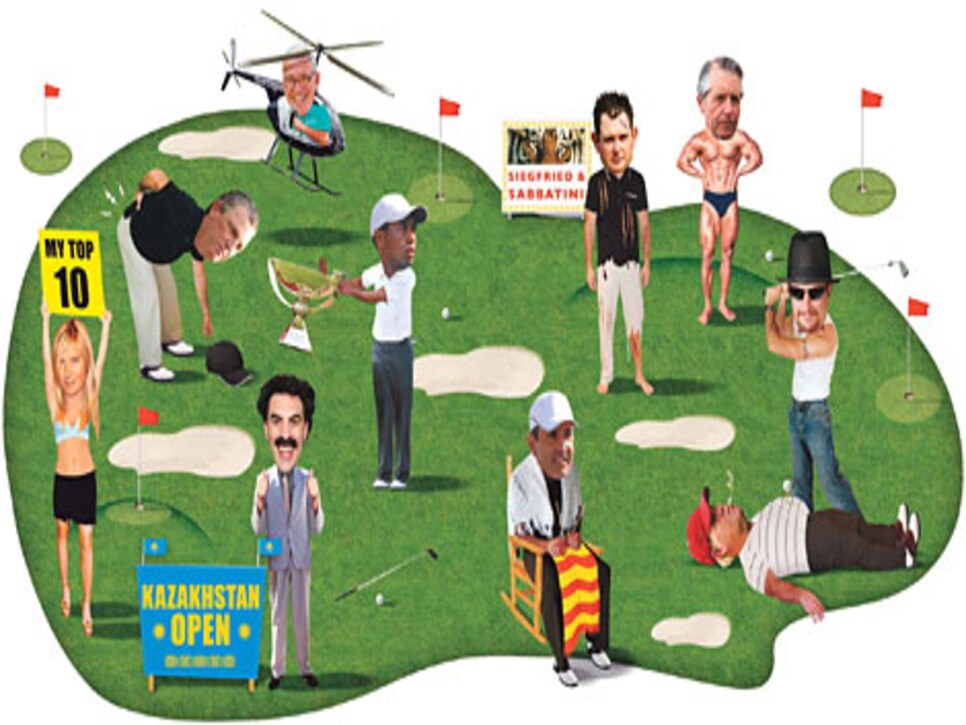 WHO SAYS GOLFERS AREN'T ATHLETES?
Mark Calcavecchia, who earlier in the year hurt his back throwing his hat to the ground, comparing himself to Tiger Woods: "He could run from here to downtown. I couldn't run out of a burning house."
YOU MIGHT WANT TO PASS ON DINNER AT THE GLOVERS'
Lucas Glover, on being in contention at the British Open: "This is the icing on the gravy."
John Daly, addressing fans at a clinic: "I know I look buff, but you'll never see me in a gym. They don't let me bring my beer and my smokes."
PHIL FINDS A WAY TO BEAT TIGER AT SOMETHING ELSE
News report: Phil Mickelson takes a group of caddies and their families to dinner after a round of the Players, picking up the check for $5,400 and adding a $2,000 tip.
SOME GUYS ONLY HAVE TO WORRY ABOUT OVERSLEEPING
During the Stanford St. Jude Championship, John Daly says his fourth wife, Sherrie, tried to stab him with a steak knife while he was sleeping.
FOUR MONTHS LATER, SERGIO COUGHS UP A MAJOR AT CARNOUSTIE
Sergio Garcia spits into the cup after three-putting at Doral.
WHO KNEW HARRY CONNICK JR. HAS STAGE FRIGHT?
Jazz crooner Harry Connick Jr., on keeping other people from watching him play golf: "I don't care how much it costs . . . I'll book five tee times before me and five after me."
AND, ODDLY ENOUGH, RAP LOOKS LIKE ONE OF THOSE SORTS OF THINGS YOU CAN JUST DO
Rapper 50 Cent: "I was actually at a charity golf event, and golf looked like one of those sorts of things you can just do. I was there for about an hour before I could move the ball."
YOU CALL IT MENIAL LABOR; I CALL IT A GOLD MINE
Tiger Woods' caddie, Steve Williams, donates almost $1 million to a children's hospital in New Zealand.
Announcer Ian Baker-Finch, who once achieved the near-impossible by hitting a tee shot O.B. left on the first hole of the Old Course, is beaned by a wild shot at Westchester.
ON THE BITTER SCALE, THIS IS AN 11
Longtime tour pro/teacher Mac O'Grady, in The Detroit News: "When Nicklaus and Palmer played, when Hogan played and Sam Snead played, on a scale of zero to 10, they were a 9-plus. Tiger Woods is not even a 1-plus."
Former Olympic skier Andy Mill, after his marriage with Chris Evert broke up and she began seeing Greg Norman: "Greg Norman at one time was my best friend, and a year and a half ago I would have taken a bullet for this guy. But I didn't realize he was the one who was going to pull the trigger."
THE THING IS, HE'D BEEN WEARING HIS GOOD-LUCK PAIR SINCE THE '95 OPEN
Caddie Eric Schwarz, when asked if Corey Pavin had changed anything before the start of the 2007 season: "Just his underwear."
FAILED STORY PITCH: JOHN DALY HITTING FLOP SHOTS IN FISHNETS
Photographs of boxing champion Oscar De La Hoya purportedly wearing fishnet stockings appear on the Internet shortly after he announces his purchase of The Ring magazine by saying, "We want to make it a sexier magazine, a magazine you want to pick up. I read Golf Digest and look at that as the perfect blueprint. It gives you all the information on golf. They have golf superstars doing columns. . . . I think, Why can't The Ring be like that?"
EVEN MICHAEL VICK WAS OFFENDED
Golf Channel analyst Dottie Pepper, unaware that her microphone was still on after a break to commercial, refers to U.S. Solheim Cup players as "chokin' freakin' dogs."
SEPARATED BY A COMMON LANGUAGE
Richie Ramsay, the 2006 U.S. Amateur champion, gets an invitation to play at Bay Hill and travels to Orlando from Scotland but doesn't get to play because he didn't realize he had to enter.
LET'S SEE, THAT'S NINE PARS, SIX BOGEYS, TWO DOUBLES . . . AND ONE STATE BIRD
During a Champions Tour pro-am in West Des Moines, Iowa, a shot by actor Rob Lowe kills a goldfinch, the state bird.
THIS JUST IN: DONALD TRUMP HIRES ROB LOWE
Donald Trump's plan for a major golf development in Scotland faces environmental questions because the coastline is home to some of the country's rarest birds.
1 / Rich Beem, when asked if kids will want to win the FedEx Cup as much as the Masters or U.S. Open: "I sure hope not."
2 / Boo Weekley: "I don't know nothin' about the FedEx Cup. I never was good at math."
3 / Geoff Ogilvy, deadpanning after being told that he earned 2,835 FedEx Cup points despite losing the final of the World Match Play: "That's exciting."
4 / Fred Couples: "I figure if I'm 40th on the money list or 80th on the money list or 144th on the money list, I get to play in the first FedEx Cup. Whoop-di-doo."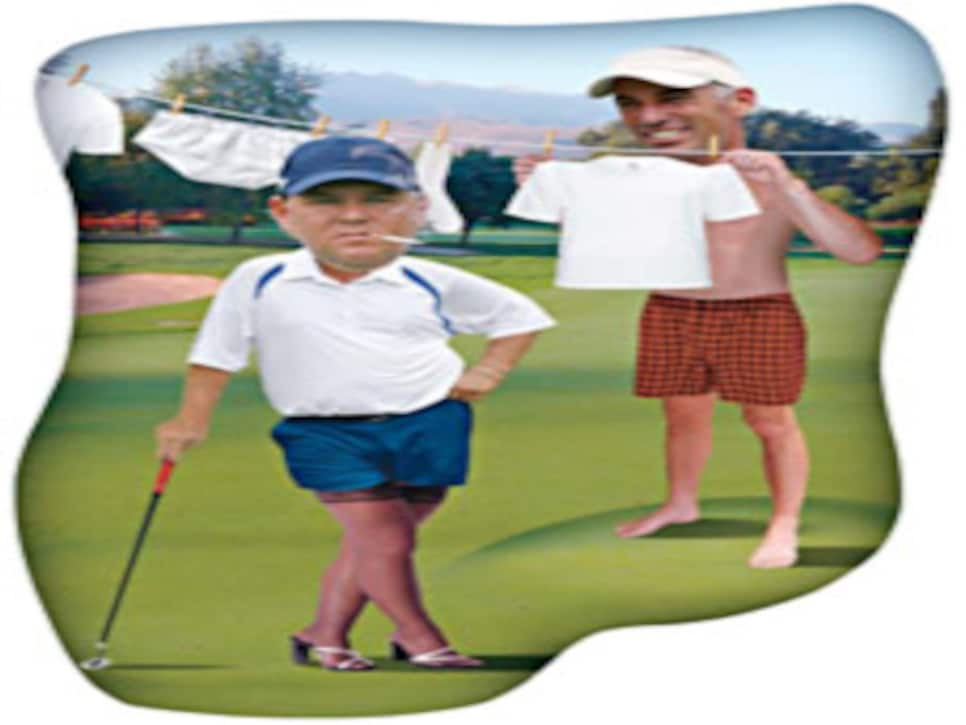 WHAT DID THEY LURE MONTY WITH, CUSTARD-CREAM PIE?
Nick Faldo, captain of the Great Britain & Ireland team at the Seve Trophy matches, criticizing one of his players, Colin Montgomerie: "He came to only two of the five team meetings, so that was disappointing. Then he had to be teased out to the 18th green to support his team."
IF THIS GETS BACK TO JOHN DALY . . .
Nationwide Tour player Roland Thatcher wears a logo for a brewing company on his shirt and is paid in beer.
WHILE YOU'RE AT IT, BRING ME A BURGER
Colin Montgomerie, to the scoreboard carrier when he was 4 down on the 11th hole in a 6-and-5 loss to Ernie Els in the HSBC World Match Play Championship: "I know what the score is, so you can put that down."
EITHER SHOE IS FINE WITH US, REALLY
In a Men's Health survey, Tiger Woods finishes second behind George Clooney in "Shoes the average guy wishes he could step into."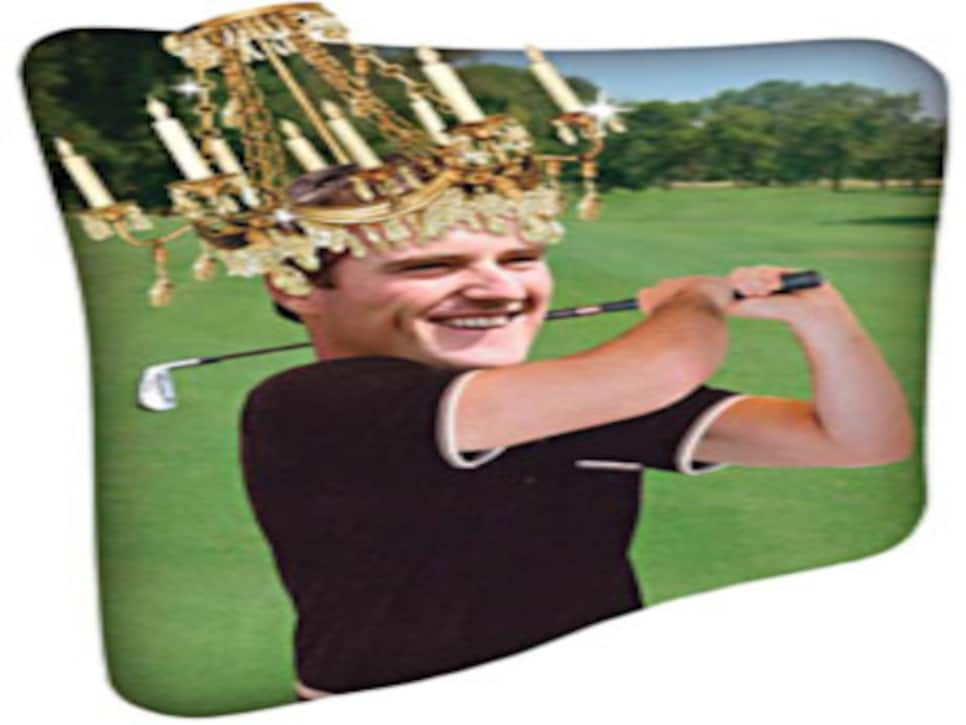 PLEASE PROMISE US THIS WILL NOT END UP ON YOUTUBE.COM
News report: John Daly has a jam session at Kid Rock's place while bunking there during the Buick Open in Grand Blanc, Mich.
AND AS A BONUS, KID ROCK THREW IN SOME PAM ANDERSON HAND-ME-DOWNS!
After six sets of golf clubs are stolen from a high school team in Milan, Mich., Kid Rock offers replacements.
HIS ODDS WERE BETTER AT GETTING TIGER TO PUCKER UP TO PHIL
Tim Finchem urges Tiger Woods to give the FedEx trophy its first kiss. Tiger declines.
Accuracy-challenged Seve Ballesteros retires from golf and says he wants to compete in the Paris-Dakar Rally: "Maybe we end up in Kenya instead of Senegal."
I MEANT UNBEATABLE! UNBEATABLE! Rory Sabbatini loses to Tiger Woods after saying Woods is "more beatable than ever."
I'M MORE BEATABLE THAN EVER!
Rory Sabbatini, after finishing 21 over par at the U.S. Open at Oakmont: "The next time they have the Open here, I might go fishing."
After Tiger Woods purchases 12 beachfront acres in Florida for $44.5 million and plans to raze an existing home, lightning hits and starts a fire that destroys the building, saving on demolition costs.
Borat! The European tour announces it will play a Kazakhstan Open in 2008.
MISCLUBBED BY HIS CADDIE AGAIN
Marc Warren, the 2006 European tour rookie of the year, needs stitches after smashing a chandelier while practicing in his hotel room. "I was using a 5-iron," Warren says. "It should have been a 6 . . . I would have missed it."
ISN'T STANFORD, LIKE, YOU KNOW, TOUGH ACADEMICALLY?
Michelle Wie, before starting classes at Stanford: "You have to go to high school. I have to wake up at 7:30. But college, you know, you can make your own schedule. You can learn whatever you want."
David Leadbetter, on the spectators before Wie's first round in the McDonald's LPGA Championship: "I hope they aren't NASCAR fans coming for a crash."
AND IN LATE SCORES, THE PLOUGHING CHAMPIONSHIP BEAT GOLF, 80,000-450
An estimated 80,000 agriculture fans attend Ireland's National Ploughing Championship while just down the road, an estimated 450 people gather around the 18th green during the Seve Trophy matches.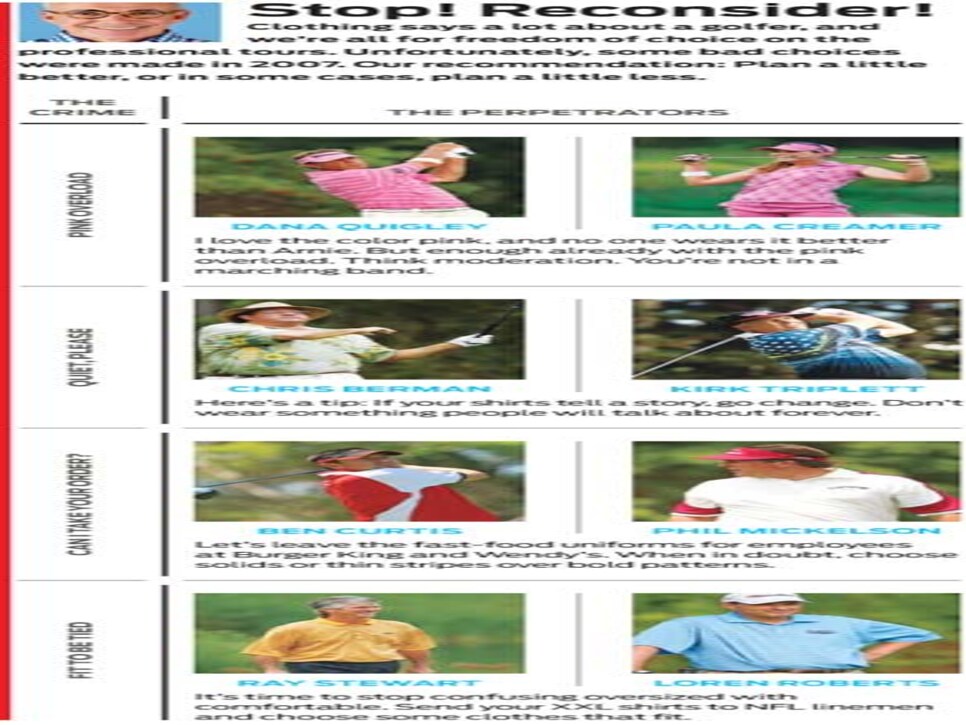 TELL GARY PLAYER TO MAINLINE ALL THE 'ROIDS HE WANTS
After Gary Player says he knows of golfers using steroids, European tour chief executive director George O'Grady, on Tiger Woods volunteering to be the first in line when golfers are tested: "If Tiger Woods' test comes back negative, what does it matter what the rest of them are on?"
Charles Howell III, on being the target of U.S. Presidents Cup captain Jack Nicklaus' legendary needle: "He went around and said, 'Zach [Johnson], great job winning the Masters, green jacket, that's fantastic, that's awesome. David [Toms], another solid season; you're another steady, steady player. Hunter [Mahan], you've really come along here lately; this is fantastic.' " Then Nicklaus looked over at Howell, who had not finished in the top 10 since March. "Charles, you need a lesson."
The executive assistant to the editor of The Telegraph, after Jack Nicklaus stopped by the offices in London during the British Open: "I know he's a big star and all that, but what's Jack Nicholson doing with the sports desk?"
YOU'RE THE GREATEST! No, YOU ARE!
With the tennis and golf tours both in South Florida, world No. 1 Roger Federer has dinner aboard the Privacy--the yacht of world No. 1 Tiger Woods--and Woods goes to see Federer play after a round at Doral.
TIGER, I'M afraid AFTER THAT 43 YOU OWE ARNOLD $20 FOR THE SHOOTOUT
Tiger Woods makes two double bogeys and a triple bogey to shoot 43 on the back nine of the final round at Bay Hill.
THE NEXT STEP: A LOCAL RULE FOR THE HOMEBOY
Canadian Mike Weir shows up at Royal Montreal in a mock-neck shirt before the Presidents Cup matches and is forced to change before playing.
John Daly shoots a 67 in the first round of the PGA Championship after skipping practice rounds to spend time at a casino.
VLADIMIR PUTIN? JOHN McENROE? YOU CANNOT BE SERIOUS!
Tennis star Maria Sharapova, listing "my top-10 dream mixed-doubles partners" on her website, makes Adam Scott No. 6, with the notation, "Night match, please?" Sharapova's top three: John McEnroe, James Bond and Russian President Vladimir Putin. Says Scott: "I'm not sure about her taste in men."
FOR $500, YOU CAN GET A DRIVER THAT HITS YOU IN THE HEAD
Gerald Ford's old golf equipment goes up for auction.
Bill Harmon, kidding his brother Butch as the family receives the Richardson Award for outstanding contributions to golf: "What we can't understand is how he keeps getting voted the best teacher in the world when he's the worst teacher in his family."
DEPRIVING US OF SCENE 1: RICKY BOBBY STREAKS AT AUGUSTA
Comedian Will Ferrell tours Augusta National and says that despite doing stock-car and figure-skating spoofs, he has no plans to make a golf movie.
AFTER THAT, MAYBE HE CAN GET THEM OFF THE GOLF COURSE
Presidential candidate Mitt Romney, during a campaign stop in Florida: "There's nothing as fuel-efficient as a golf cart. If I could just get every American to drive to work in a golf cart."
Photos above: Quigley, Creamer, Curtis, Roberts: Charles Laberge; Berman, Triplett: J.D. Cuban; Mickelson: Darren Carroll;Stewart: Patrick Hagerty