The Loop
Yankees third baseman Miguel Andujar saved a New England furniture company $100 million on Friday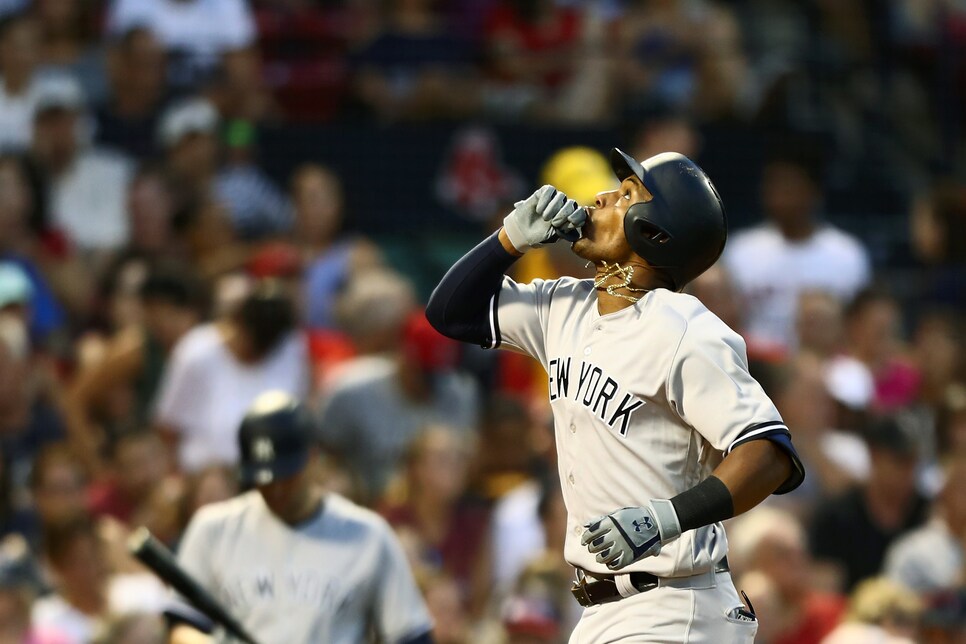 On Friday night, following a 15-7 drubbing of the New York Yankees in the first game of the series, the Boston Red Sox continued to embarrass the Bronx Bombers, with pitcher Rick Porcello throwing an 86-pitch one-hitter. The 4-1 victory extended Boston's lead to 7.5 games over the Yanks, which isn't insurmountable, but it certainly is beginning to feel like the AL East race is over.
While Sox fans have nothing to complain about, they probably would have loved a no-no from Porcello, which would have really added insult to injury for Yankee fans. But New York third baseman Miguel Andujar, who DH'd on Friday night, saved them from the extra shame, blasting a home run over the green monster for what would end up being the team's only hit:
Believe it or not, a certain group of Sox fans may have been secretly celebrating Andujar's shot after the game. Why? Well, according to The Score's Michael Bradburn, a Porcello no-hitter would have cost Jordan's Furniture, a New England furniture and mattress retailer, $100 million. Safe to say they dodged QUITE a bullet.
Prior to the season, Jordan's launched a promotion that promised its customers full refunds on purchases made between March 28 and May 20 if a Red Sox hurler threw a regular-season no-hitter anytime after July 17. Combined no-hitters were also included. Can you make up a more random promotion than that? Maybe that's the point, saving themselves from it actually happening.
Yet it almost did, although Andujar's homer came early enough in the game for Jordan's not to have to sweat it out. And it would have been some sweating. According to Steve Burton, a sports reporter for WBZ-TV in Boston, a Jordan's furniture representative told him Porcello nearly cost them nine figures:
This isn't the first time a baseball promotion has cost or nearly cost a company a nice chunk of change. Last year, a window company in Cleveland offered a $1.7 million customer rebate if the Indians won 15-games in a row, which they did and then some. Not exactly $100 million, but the point remains.
We're assuming the folks at Jordan's are Sox fans considering they are in New England, so loving a member of the New York Yankees is unfathomable. But it's safe to say they all just became Miguel Andujar fans for life.