News
Yani Tseng wins the Kraft Nabisco Championship
RANCHO MIRAGE, CALIF.-  Suzann Pettersen tried her darnest until the very end, but she wasn't able to catch her friend Yani Tseng. The Norwegian couldn't buy a putt on the back nine; she missed great birdie opportunities on 13, 14 and 15 until she managed to roll one in on 16 to get within two, but her ensuing hopes were short-lived. She missed the green on the par-3 17th and had to scramble hard to save par. On 18, she had a chip for eagle that would have tied her with Tseng, but it came up a few inches short.
In the end, Tseng outplayed the entire field, shot a four-under-par 68 for a total 13-under 275 and was a worthy champion.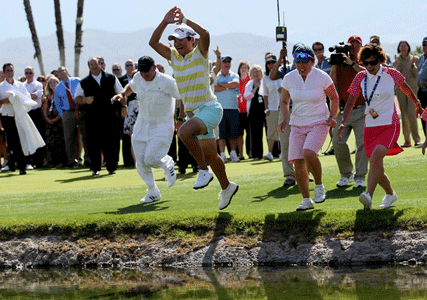 *"Yani got off to a flying start," Pettersen said after the round. "She played great today, and she deserved to win." As for her own struggle on the greens, Pettersen didn't want to blame her putter. "I gave myself a lot of good chances, and it wasn't really that I hit a lot of bad putts. The one on 15 we probably misread a little bit, but the other ones were as close as you can possibly get them, and then it finally dropped on 16."
Pettersen knows that people will look at this as "yet another" second-place finish at Mission Hills for the long-hitting blonde. "I'll just collect them up. It's starting to feel like [this place] owes me one very soon. I think this is my third second in four years or something, and I had a fifth last year." But she vows to learn from the experience. "It's hard to describe, but it feels like I'm maturing every time I play, and every time I'm coming down the stretch, I feel more comfortable. I think that's what I'm going to take from this. I hit a lot of great tee balls. I'm feeling pretty good, and for me just to come back from last week where I didn't feel great at all and hadn't really played much, that shows that what we did this winter was very solid."