News
Yani Tseng, "Never touching the trophy again"
RANCHO MIRAGE, Calif. -- The best explanation for Yani Tseng's dominance might have been her own, issued unwittingly last month in Singapore: She is not playing the same golf courses that others are. "The fairway is wider...the green is bigger," she said.
Aren't they always for the best of the best, of which Tseng, at 23, is now a part? It is an exclusive club of those talented and confident enough that they set out not hoping to win, but expecting to win. Tseng was discussing the improvement in her game, but was describing the confidence that enabled it. She might have added that the hole is bigger, too. The expectation of winning has been heightened by 12 victories in 2011 (seven on the LPGA) and from winning three of her last four starts, including the last two, in 2012. At 23, Tseng already has 15 career victories, five in major championships, and is rapidly closing on the LPGA Hall of Fame qualification, sans the requisite 10 years (she won't officially be eligible until 2017).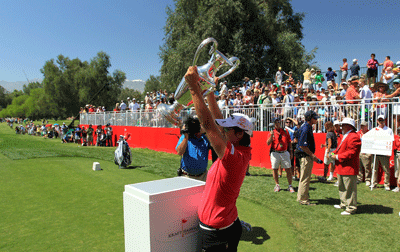 On Thursday, Tseng will resume her historical journey in the Kraft Nabisco Championship, the LPGA's first major, on the Dinah Shore Tournament Course at Mission Hills Country Club. A victory would move her into the top 10 on the all-time list of most majors. Though she requires no additional motivation in a major championship, she has some nonetheless. A year ago here, Tseng, before hitting a single shot, infamously (if figuratively) squandered the two-stroke lead she was taking into the final round of the Kraft Nabisco. She did so by hoisting the trophy on the first tee. Tempting fate in this game seldom turns out well and it did not in this case, either. Tseng wound up losing to Stacy Lewis by three strokes, a defeat that still stings a year later. "My emotional control wasn't very good," she said. "I had been very stressful, hitting a bad shot, hitting a bad putt, and I wasn't being as patient as I am right now, so I'm learning from that week. But it took me a couple weeks to go through that because I was crying after the round, even after a couple days when I think about it."
Meanwhile, the Kraft Nabisco trophy she has at her Lake Nona home near Orlando for having won the tournament in 2010 has a stuffed Angry Bird (from the popular Angry Birds game) in it, a seething reminder of what she lost a year ago. Incidentally, Tseng has vowed not to touch the trophy that is typically displayed at the first tee on Sunday, has vowed not even to look at it. "After that I won't touch a trophy again," she said. "I will never see it again. Even when I see it I would just pretend I'm not seeing anything. Like Wegmans on number one, the trophy was there, but I just tried to not look at it and just tried to ignore the trophy and focus on the tee shot."