News
Rivals Who Aren't Afraid To Share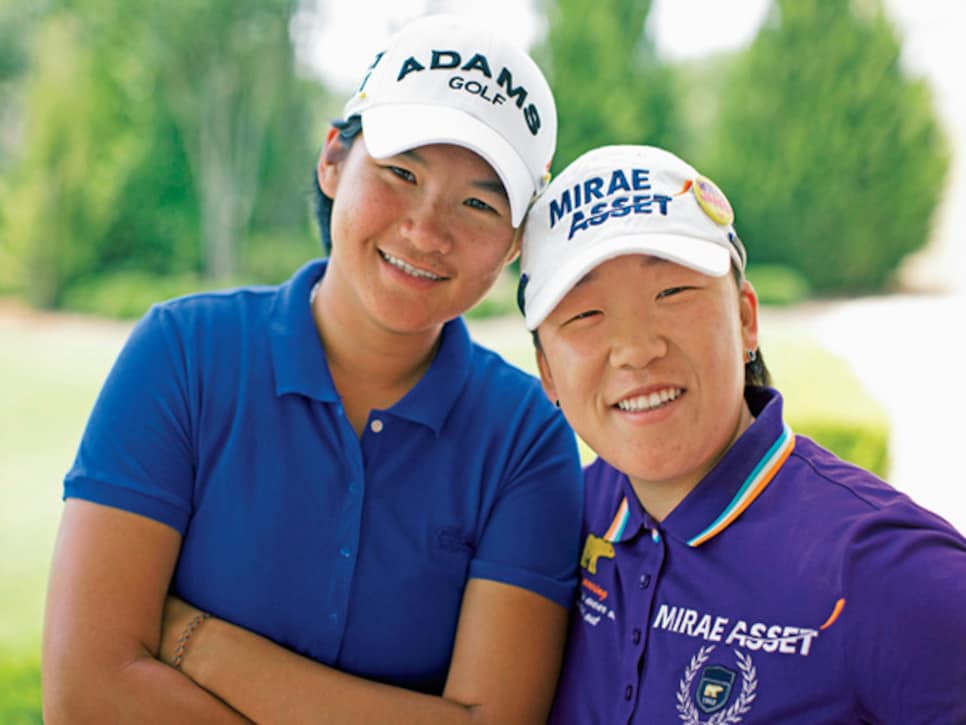 Yani Tseng (left) and Jiyai Shin have the confidence to share their golf secrets.
World no. 1 Yani Tseng has just made her fifth front-nine birdie at Lake Nona when her guest, Jiyai Shin, then ranked No. 2, is asked what she would most like to borrow from her host's game.
Rather than refer to the prodigious power that prompted Cristie Kerr to say Tseng "hits it kind of like a guy," Shin, whose poise has earned her the nickname Final-Round Queen, skips the obvious for the metaphysical. "When I see Yani's eyes, they smile," Shin says. "So I like how she has the confidence."
Tseng, listening in, is genuinely surprised. "Oh, c'mon, Jiyai," she says in the accented but rapidly improving English that is their only shared language. "You are much more confident than me."
There is a pause at the incongruity of the moment, followed by giggling at the recognition of the honesty that makes Tseng a very rare No. 1. After all, how many top players through history, man or woman, would feel comfortable inviting a No. 2 to stay in their home for several days, sharing practice sessions and downtime? On the LPGA, Babe Didrikson and Louise Suggs kept their distance, as did Nancy Lopez and Pat Bradley, as well as Tseng mentor Annika Sorenstam and Karrie Webb.
It's even harder to think of a No. 1 who would defer to a rival's level of confidence. But Tseng, who moved to the United States full-time from her native Taiwan four years ago, doesn't see a problem. At 22 she is seemingly without guile, and her friendship with the 23-year-old South Korean is built on a shared background of hard work, a heavy family obligation to perform, and a corresponding huge desire to excel. "I like that we both have things to learn from each other," Tseng says.
"Jiyai is so mentally strong, in golf and in life. I feel OK saying she has more confidence than me. She inspires me."
Unlike Shin, Tseng plays with an outward emotion that can cause crunch-time problems. At the year's first major, the Kraft Nabisco, Tseng led Stacy Lewis by two going into the last round but lost by three. "Everybody gets nervous," says her swing coach, Gary Gilchrist, "but the mistake Yani made was showing it. It gave Stacy Lewis courage."
At the Wegmans LPGA Championship months later, Tseng was determined to hide her jitters by walking tall and smiling. She doubled her five-stroke 54-hole lead to become the youngest player in history, man or woman, to win four majors. Still, Tseng couldn't help sharing that her hands were shaking when she bogeyed the first hole of the final round.
"Too much information," Gilchrist says with a smile. "But you know, Yani really wants to connect with people in this country. She wants them to know her. Because then they will love her."
Aficionados already do. The 5-6 Tseng's swing is technically sound, but it captivates with raw athleticism. "I think so many of the women believe golf was invented by Korean scientists, when it was actually drunken Scots," Gilchrist says. "Sure we watch for some things in her swing, but Yani has learned that no one plays great golf thinking mechanics."
Tseng has a clear desire to reach a crossover audience. She is a natural ham, painting her face at Orlando Magic games and wearing a Santa Claus hat to graduation from a four-week English course, which she posted on YouTube. She also possesses an endearing sweetness, which she displayed during a session on Lake Nona's basketball court. A former schoolgirl star, Tseng was launching threes and springing hard to the basket when she realized that Shin had never played the game. She patiently helped Shin progress from hitting the underside of the rim to clean bank shots. "That's what I'm talking about," Tseng said with an earnest street inflection that broke her listeners up.
"As much as talent, Yani has personal balance," Gilchrist says. "That's hard to keep for the greatest players. If she doesn't change, I believe she can win more majors than anyone in history. And I think she believes it, too."
It might be precisely what Shin sees behind those smiling eyes.