Hero's return
With golden memories from Tokyo, Xander Schauffele gets right back to work in Memphis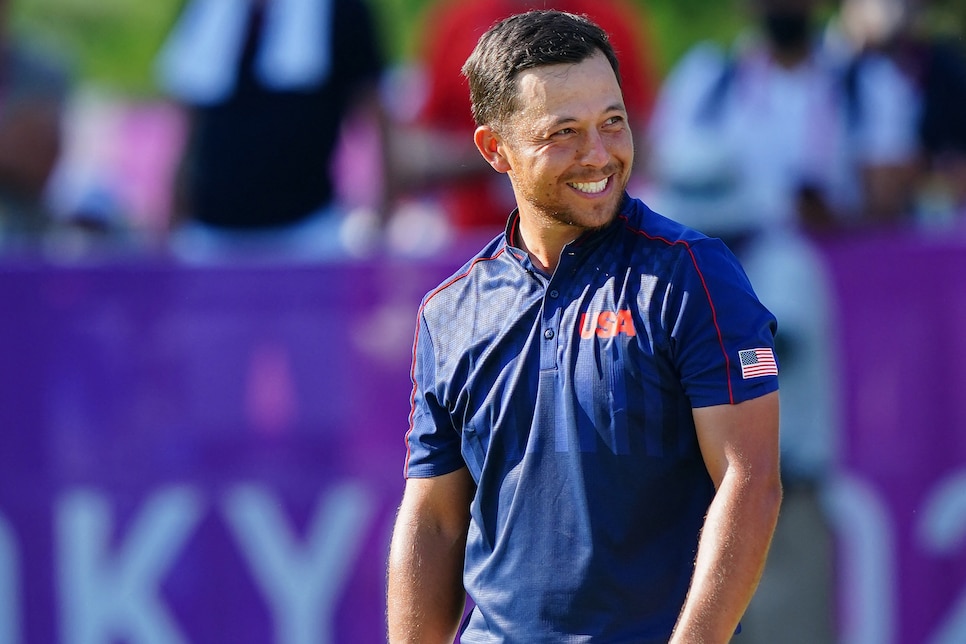 Xander Schauffele celebrates after winning the gold medal in the Olympics.
YOSHI IWAMOTO
MEMPHIS, Tenn.—Sometimes, it takes the perspective of a third party for an accomplishment to settle in, and it probably shouldn't be a surprise that for Xander Schauffele, a professional golfer, the historical significance of winning an Olympic gold medal would take a moment to register. What might be surprising is who opened his eyes: his grandparents.
Schauffele's mother, Chen Ping-Yi, was born in Taiwan to Taiwanese parents, but moved to Japan at age 4 and was raised there. Her parents still live there, in a Tokyo ward called Shibuya, and one of Schauffele's friends managed to get them a hotel room right next to his in Narita. It was the reaction of those grandparents—he calls them "agōng" and "amà," Taiwanese terms of affection, but says he has no idea how to spell their real names—that first made him aware of what he'd done.
"It's pretty hard to impress someone who's almost 90 years old and has been on this planet for a long time," he said Tuesday morning in Memphis, ahead of the WGC-FedEx St. Jude Invitational. "They've seen a lot of things, and to see my grandpa and my grandma's reaction when I pull out this gold medal, it really was surprising, it shocked me ... that's something I would want everyone, kids or my kids' kids down the generational line, to sort of have."
Schauffele laughed when remembering that he briefly considered not even going. When he spoke with his wife Maya Lowe, she reminded him of that hesitation, and said, "Can you imagine that there's a little piece of you that almost didn't show up?"
Once he arrived, Schauffele said it was a matter of "correcting his mindset" about the entire endeavor and focusing on the four-day tournament as he would at any tour stop. The significance of winning a gold medal—something that the world's top athletes have dreamed of for more than one hundred years, but that wouldn't especially have been on the radar of a golfer before 2016—started to resonate when he stood on the podium and listened to The Star-Spangled Banner.
In many ways, Schauffele is a perfect Olympic champion for golf because of his international pedigree. His mom has her Taiwanese-Japanese roots, his father Stefan is half-French and had dreams of competing for Germany in decathlon before an accident cost him vision in one eye. His paternal grandfather played soccer for the Austrian national team, and even Xander's brother was born in Germany. Much has been made of silver medalist Rory Sabbatini's Slovakian citizenship, but Schauffele boasts an equally diverse heritage.
In general, Schauffele was fascinated with the Olympics, and he and Justin Thomas joked about how their workout regimens don't come close to comparing with what they saw on display among some of the other athletes.
"We play golf, which is obviously really hard and it's a mental game," he said, "but if you look at, sort of, how these people physically transform themselves to perform these crazy things, it really is impressive. Honestly, anything coming down the line is super interesting. I caught myself watching ping pong with my jaw on the floor for an hour because I love playing ping pong. I was like, holy smokes, this is what it's like? I don't know if I could score a point on someone."
In terms of his own career, Schauffele is happy to have won with a lead, and he feels that he'll have more freedom in his own mind the next time the situation arises. Winning a major remains a big goal, but in the near-term he has a chance to win his second WGC this week in Memphis, and will be eyeing the FedExCup title, where he currently stands 10th with two events remaining before the playoffs. As it happens, he also has a chance to play for his country again, this time in September at the Ryder Cup. He's sixth in those standings, and with six automatic spots availle, he wants to make sure not to rely on a captain's pick. He was 12th in this situation in 2018, and barely missed the team.
"I remember it," he said. "I got a call from [captain Jim] Furyk in the car ... I was sitting there with my caddie and I put Jim on speaker. My caddie and I were talking about it; I think it was at Aronimink [host of the 2018 BMW Championship] ... Tony [Finau] just outplayed me in the playoffs. It's one of those gut things, deep down you know this phone call was coming and I knew it wasn't going to be a good one. It's one of those things that kind of knocks you down ... like I said, this is sort of why I have this deep ingrained thing in my head, like, 'just qualify for the team so none of this pick stuff is even questioned.'"
His chances look extremely good after his gold medal, whether he maintains his position or not, but Schauffele doesn't want to leave anything to chance. He feels fresh for Memphis, which is remarkable in and of itself, but aside from a few drinks and a toast with some of the U.S. Olympic committee members, most of his gold medal aftermath consisted of seeing his grandparents. He had a small celebration with a few players and caddies on the plane ride back to the states, landed in Memphis Monday morning, and now prepares to finish off what has become, courtesy of the gold medal he showed off on Tuesday, an historical season.