The Loop
Wyoming QB Josh Allen is the only human on earth that wants to play QB for the Cleveland Browns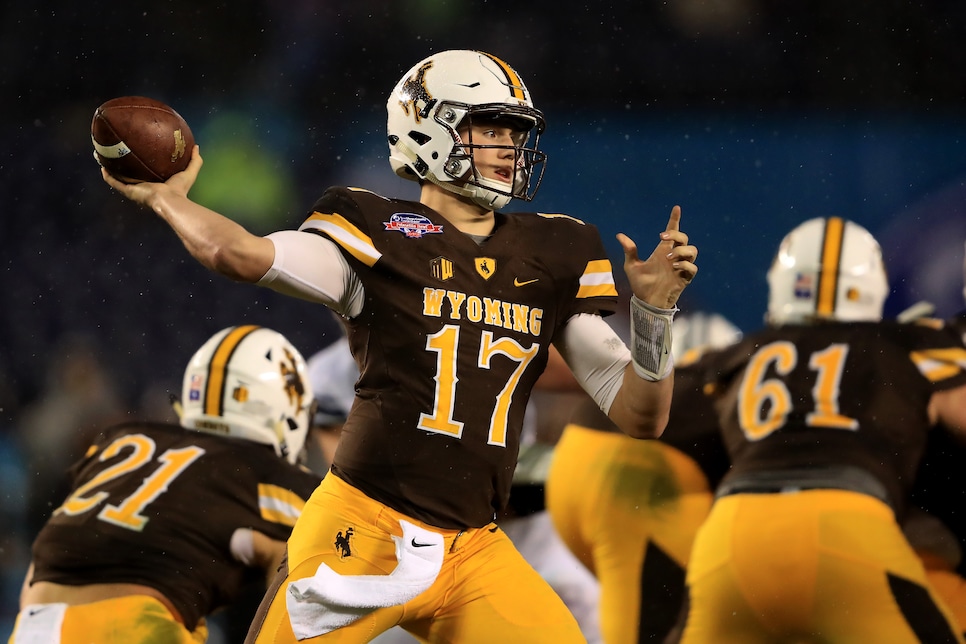 Since 1999, a whopping 28 (TWENTY EIGHT) quarterbacks have started at least one game in a Cleveland Browns jersey. For all the math whizzes out there, that means they've averaged nearly a quarterback and a half per season in that time span, and at this point, a half of a person would have just as much success as Bruce Gradkowski did in his lone start in 2008.
It's likely that the Browns will add a 29th QB to that list the pit of misery at the 2018 NFL Draft, where they have the first overall pick for the second straight year. That quarterback could be Wyoming's Josh Allen, who is generating some buzz in the 516 different mock drafts we're all going to read in the months leading up to the real thing. If Allen's name is called first at AT&T Stadium in late April, he isn't going to shy away from it, in fact, he embraced it on a Cleveland radio show on Monday:
"If I'm fortunate enough to become a Cleveland Brown, you can expect everything from me," Allen told Bull and Fox Monday afternoon on 92.3 The Fan. "I want to be the guy that turns around the Cleveland Browns. The guy that does that is going to be immortalized in Cleveland forever."
"To think about that and to put yourself in that situation and in those shoes, you gotta love that as a quarterback and you gotta love that as a football player and competitor," Allen said. "This is something that can really be set in stone forever, if you're the guy that can help turn this Cleveland Browns team around.
Sure, this could all be lip service, or he may have blacked out on the phone, but it's more than you can say for UCLA's Josh Rosen and USC's Sam Darnold, who each reportedly wanted no part of Cleveland before declaring for the draft. As far as we know, that makes Allen the only human on earth that wants to play QB for the Browns, which makes him insane. Judging by quotes like this, he might be:
Can't say this kid doesn't believe in himself.