cover story
How the U.S. Open champion reversed a path to self-destruction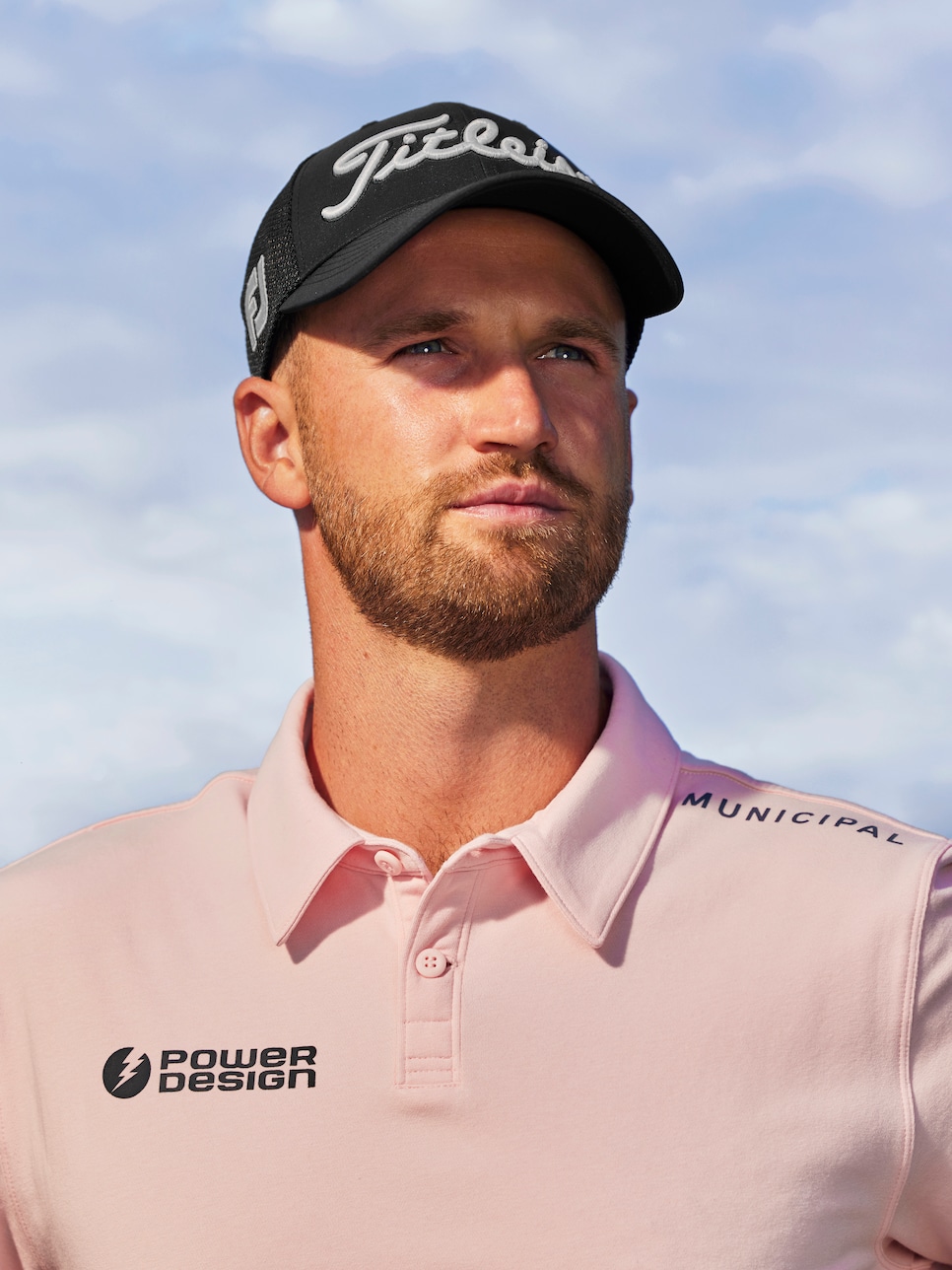 There is a simple explanation for why Wyndham Clark exploded into the elite echelon of professional golf in his fifth season on the PGA Tour. To understand how he won his first tour title and then the U.S. Open in a span of six weeks and needed only six months to move from outside the top 150 in the World Ranking to inside the top 10, recall the final 20 minutes of Clark's third round at Los Angeles Country Club.
One shot back of Rickie Fowler and playing his second shot at the 17th, Clark flared his approach right. It bounded into a penalty area, among rocks and fescue well below the putting surface. Instead of attempting the risky shot, he took a drop, chipped it to six feet and rolled in the bogey putt to fall two back of Fowler.
A hole later on the 18th fairway, with darkness approaching, Clark struck his second shot and delivered one of the most forceful club twirls in recent history. The ball finished six feet from the cup, and after curling in the left-to-right slider for birdie, Clark secured his place in the final pairing on Sunday, when he would overtake Fowler and hold off Rory McIlroy to win his first major championship.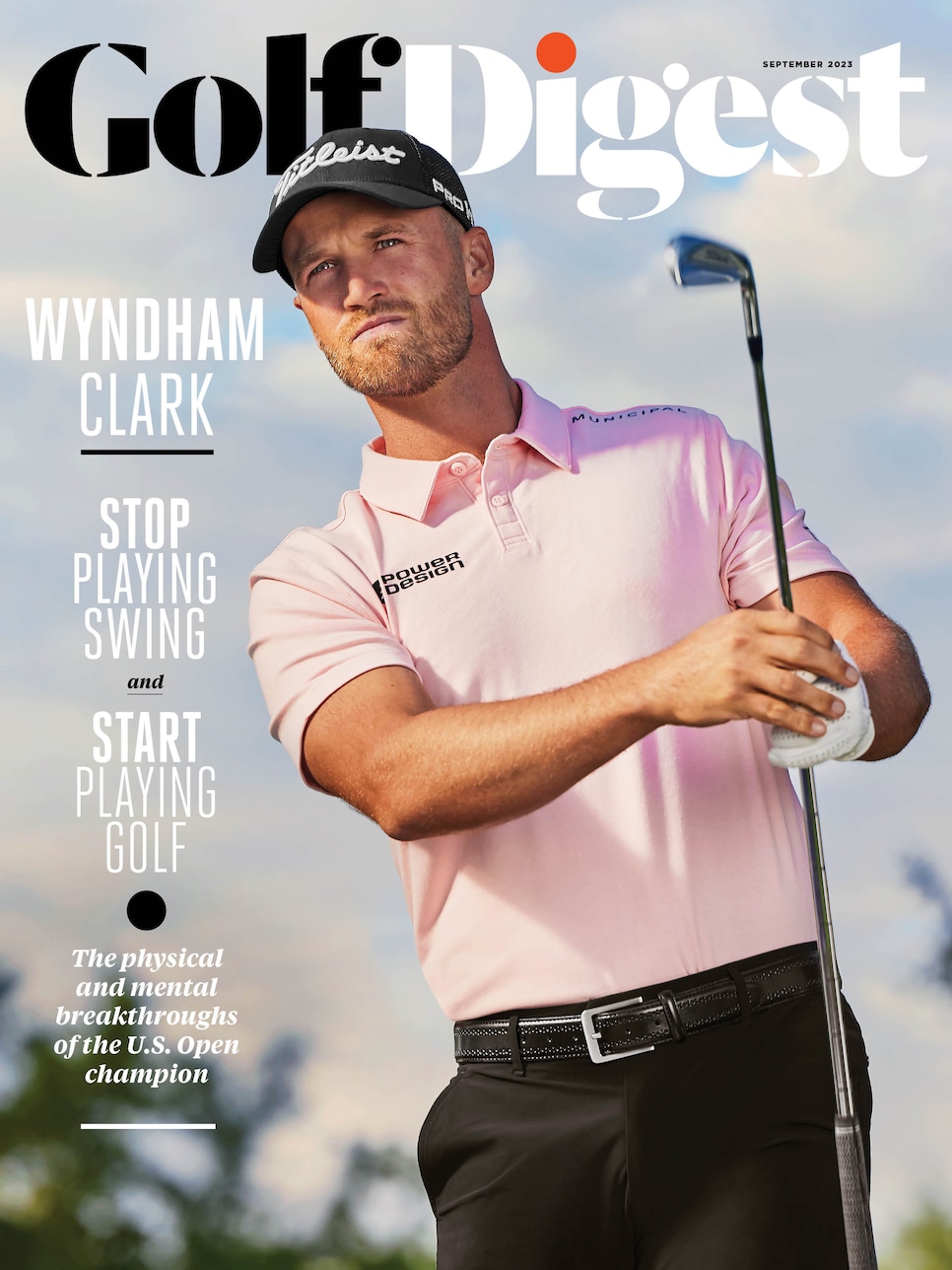 In those 20 minutes, the 29-year-old Denver native demonstrated the composure and self-control that have been the final puzzle pieces for a player who has long had the physical skills to be one of the world's best. That explanation, however, hardly tells the entire story.
Both of Clark's parents, Lise and Randall, were athletes. Randall played tennis at the University of Arizona and had a brief professional career before a series of knee injuries ended his dream. Lise could throw a football with a perfect spiral and often beat her two sons, Wyndham and his younger brother, Brendan, in heated ping-pong matches.
"I would get so mad sometimes because I'd come home to find new dents in the table where they're slamming the paddles or breaking paddles," Randall says with a laugh. "She was super competitive. She loved trying to compete with Wyndham in whatever it was."
Clearly those athletic genes were passed down to Wyndham. By kindergarten, he was hitting baseballs over the school, throwing footballs farther than anyone and schooling kids on the monkey bars. Golf was no different. Lise brought Wyndham to the range at age 3, and he made his first hole-in-one three years later.
Paired with his natural talent was what one of his high school swing instructors, Erik Billinger, calls a "psycho work ethic." The Clark family joined Cherry Hills Country Club when Wyndham was 11, and he would be at the course from sunrise until dinner. "It was a full-blown addiction," Clark says. "My parents sometimes wouldn't be up early enough to take me, so I would ride my bike. We probably lived five to eight miles away, so not too far. I'd take the back roads, and I'd get there before anyone at 6 or 6:30 a.m. and start practicing."
Wyndham also possessed an intense competitive fire. Dad wasn't much of a golfer, so instead of teaching his son the technical side of the game, he focused on developing these qualities. "I would always remind him, when you're not working, there's someone in the world that is, and he wants to kick your butt," says Randall, who is an investor in a private equity firm. "You've got to decide how hard you are willing to work."
Sometimes that competitive fire burned a little too hot. At 13 while playing in an American Junior Golf Association tournament in Aspen, Colo., Wyndham had an outburst mid-round. He was a perfectionist and like many junior golfers, struggled to handle poor shots.
"He completely lost it," says Randall, who took Wyndham to most of his junior golf events. "I walked up and said, 'Shake hands with your playing partners and pick up your bag. We're walking in.' " Randall made Wyndham apologize to the tournament director and took his clubs away for a few weeks.
Lise was a national sales director for the cosmetic company Mary Kay. Juggling work responsibilities with raising three kids—daughter Kaitlin is the couple's eldest—Lise maintained an admirable work-life balance, often taking the kids to their sports practices and making family dinner almost every night. Her barbecue ribs and brisket, slow cooked in maple beer for eight hours, were the boys' favorite.
She was also a cheerleader for her kids, constantly showering them with positive affirmations, often in notes left in lunchboxes, backpacks or, as the kids got older, on the steering wheel. To Wyndham, Lise's message was often just two words: "Play big," meaning to always play for something bigger than yourself. The reminders of love and support resonated with Wyndham, a self-admitted mama's boy. "When my mom had time for us, it was 100 percent attention on us, and we had a close bond just because I was the first boy," Clark says. "We would watch movies together. I'd stay up late and hang out with her. When things weren't going good in golf, she was there to give me support and tell me, 'Hey, it's not everything.' "
Despite occasional outbursts on the course, Wyndham was laid back and outgoing off the course, says close friend Mike Schoolcraft, who grew up near Clark and was a top junior golfer as well. At Valor Christian High School, Clark had a close relationship with his sophomore English teacher, Brian Kettler, who has since become one of Clark's closest friends. "He was an old soul, even at 15. He was a thoughtful young man who wanted to process life at a substantive level," Kettler says.
Clark won the 2009 Colorado Junior Stroke Play title and a year later at 16 beat future PGA Tour player Jim Knous in a playoff to win the Colorado Amateur, becoming the youngest winner since 1971. Billinger says that even though Clark "flushed it" on full shots, his short game stood out. As practice, Clark would purposely miss every green in regulation. During one round at Cherry Hills, host of three U.S. Opens, Clark shot even par from the tips missing every green aside from the par 5s. Clark's success continued at Valor Christian, where he won two state individual championships, but his perfectionism continued to cause on-course frustrations. "He used to blow up mentally—throw clubs, break clubs and get really frustrated," Schoolcraft says.
Billinger taught Chauncey Billups, a five-time NBA All-Star and the head coach of the Portland Trail Blazers, how to play golf and connected him with Wyndham to chat about the game's mental side. Billups advised Clark that he did not need to be so emotionally invested in every shot. "[Billups] told me, regardless of a good or a bad day, wash it off in the shower," Clark says. "Once you get in that shower, visualize any of the good or the bad and wash it off. Now you go back to being your normal self. I still do that to this day."
Mike McGraw, then the head men's golf coach at Oklahoma State, saw Clark play at age 16 at a junior tournament in Tulsa. "The first time I laid eyes on him, I said, I've got to get this kid," McGraw says. "He looked like a defensive back playing golf. He was aggressive, confident and had an air about him that you just thought, This kid can play."
As one of the best juniors in the country, Clark was recruited by many top programs and opted to play for McGraw and the Cowboys. After arriving in Stillwater, Okla., for his freshman season in 2012, Clark won team qualifying for the first event at Olympia Fields Country Club. McGraw walked all 54 holes with Clark in his first college tournament. Even though "his game was spot on," McGraw realized something wasn't right.
Near the top of the leader board midway through the second round, Clark drove it into a divot in the middle of the fairway on the ninth, and McGraw says, "It was five or six holes before I could get control of him to where I talked him off the ledge." Clark shot 77, and despite closing with a 68 to finish 17th, McGraw was concerned. At the next tournament at Muirfield Village Golf Club, Clark had a similar meltdown.
"It was such a dichotomy from what I saw on the golf course and what I saw off the course," McGraw says, noting that away from the course, Clark was a great teammate and easy to get along with. Figuring it was in Clark's best interest to step away from competition, McGraw told Clark that he would be sitting out the rest of the fall.
Clark was home for Christmas break and gearing up to return to action for the Cowboys in the spring of 2013 when tragedy struck. Lise's breast cancer had returned. She was diagnosed in 1997 but had been cancer-free for nearly 15 years. Back in Stillwater for the spring semester, Clark's on-course outbursts derailed his chances to qualify for events. "I'd hit one bad shot, and it was as if I hadn't hit a good one for weeks," Clark says. "Everything was heightened, and [McGraw] saw that the pressures of golf and being at Oklahoma State were a trigger in making things worse for me."
Frustrated on the course and struggling to cope with his mom's sickness, Clark considered transferring. McGraw urged him to focus on healing first, saying in an email to Wyndham, "Your injury is internal and cannot be treated with a cast." McGraw decided Clark would take a medical redshirt the rest of the year and take the time to meet with a Christian counselor and focus on his academics. "I'm so thankful to Mike McGraw that he had me redshirt because I was able to spend more time with my mom," Clark says.
The summer of 2013 hit Clark hard. In June, Oklahoma State let McGraw go, a testament to the monumental expectations of a program that had recently won the NCAA Championship in 2006 and was runner up in 2010. Two months later, on Aug. 2, Lise Clark passed away at 55. Despite the pain of his mother's death, Wyndham initially played inspired golf. The redshirt freshman was named the Big 12 Player of the Year, recording eight top 10s and going 3-0 in match play at the 2014 NCAA Championship to lead the Cowboys to the finals. "It was so weird. I had a year where I was just kind of numb and didn't think about it," Clark says. "I was almost emotionless, and I was playing good golf."
Yet after the terrific season, Clark fell into a deep slump, having just two top 10s during the next two seasons. "When I started playing bad golf, that's when the shit hit the fan," Clark says. "I was so lost. I hated golf. I was doing things I didn't want to be doing on and off the golf course. I had a temper. I was not a good teammate. I was mean to people. I had so much anger that I had lost my mom and that my family was in such disarray." He needed a change.
"It's not Oklahoma State's fault. It's no one's fault. It's just what happened," Clark says. "I ended up transferring to Oregon simply because I wanted a new beginning."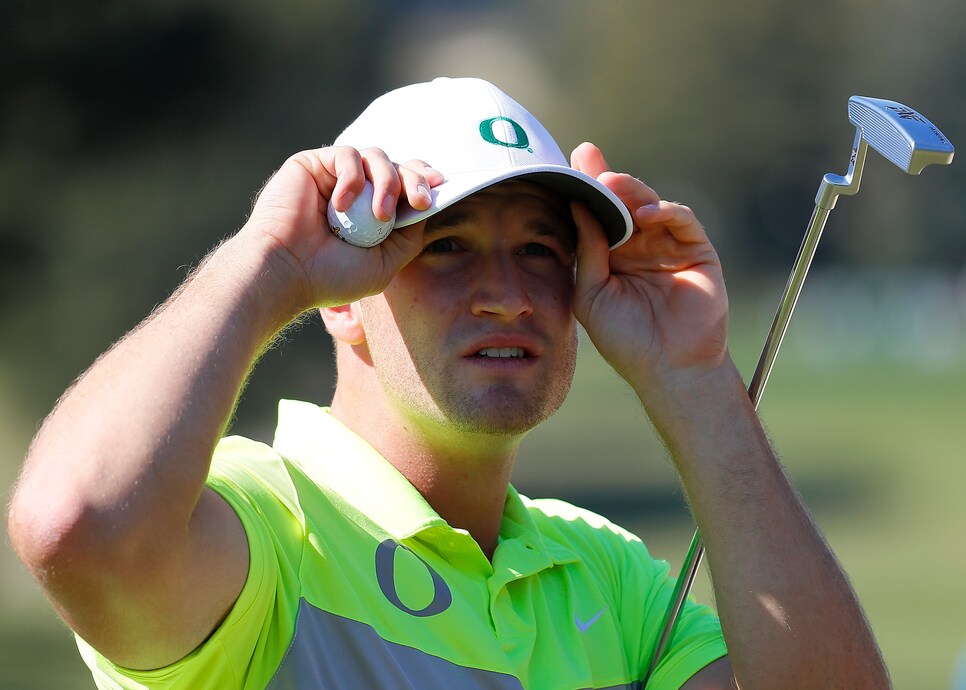 Casey Martin, the head men's golf coach at the University of Oregon, had recruited Clark as a junior golfer and knew of his talent but also of his tendency to run hot on the course. "He was reeling emotionally and mentally on the golf course," says Martin, who famously played on the PGA Tour despite an ailing right leg, which was amputated in 2021. "All the stuff of his life, it would come out on the course. It wouldn't come out socially. He was the best ever. All that trauma and pressure manifested on the course. You're realizing, OK, this is not a golf issue.
"He just needed a lot of love and support. He needed direction, and he just needed some comfort," Martin says.
The first step was reuniting Clark with a familiar family. When he was 13, Wyndham stayed with Jeff and Jamie Gaskill—an athletic couple then in their early 30s—for a week while playing in an elite junior tournament in Eugene. "It was so easy because we already loved this kid," says Jamie, who along with Jeff signed up to host a junior player that week. "We were so impressed with how well-mannered he was and how driven and excited he was about golf."
Even after choosing Oklahoma State, Clark stayed in contact with the Gaskills. When he decided to transfer, Jeff offered Clark a place to stay. Clark figured he would stay with the Gaskills and their two young girls only for a few weeks before moving into the dorms. Realizing a space of unconditional love was what he needed, a few weeks turned into 11 months. "Our house was a circus, and I would come in, and Jeff and Wyndham would be in the fifth round of a gin rummy game," recalls Jamie, who was pregnant with their third daughter at the time. "The girls would give him makeovers. He'd have blue eye shadow and pink nail polish everywhere. It was a home that he could get a fresh start in and a new perspective."
"It was such a great atmosphere because away from golf, I had a family," says Clark, explaining that his siblings were on their own, and his dad had moved out of their childhood home. "It brought back the dynamic that I kind of lost when my mom passed."
Also giving Clark a new perspective was first-year assistant coach John Ellis, a former all-conference player at Oregon who played on various mini-tours and qualified for the U.S. Open in 2008 and 2011. Like Clark, Ellis battled a fiery streak on the course, admitting that when he started working with Clark, "I was trying to preach the things that I didn't do."
Though Martin doesn't recall Clark acting out in competition while at Oregon, he struggled with pre-tournament anxiety. In one instance, Clark shot 61 at Eugene Country Club on Monday, setting the course record just days before the team was leaving for a tournament on Thursday. On Wednesday night, he was on the range complaining that his swing was broken.
To get Clark to loosen up, Ellis teased him. In team meetings when Martin would assign Ellis to walk with Clark the next day, Ellis would sigh and joke about how he couldn't take it anymore and how he needed a Ph.D. in psychology to deal with Clark's on-course personality. The team would laugh. Clark would laugh. "The great thing about John is he understands all the things he did that sabotaged his career," says Clark, who notes that Ellis, who now caddies for Clark on the PGA Tour, is considered one of the best players to have never earned a tour card. "When he sees me going down some of those routes of negative self-talk, treating myself poorly, getting too serious and treating the game too much like a job, he gets in my face. What John does so well on the golf course is he keeps it light."
With the new light-hearted atmosphere, Clark's game came back. He finished second in his first tournament as a Duck and got his first win of the season at the Arizona Intercollegiate. When he returned home to the Gaskills at 3 a.m., hung on the garage door was a message from the girls: "Congratulations, Wyndham."
"Probably spelled wrong because the girls did it," Jamie says with a laugh. No one can replace a mother's love, but in those moments, Clark had cheerleaders again.
Clark won two more times in the spring of 2017, including the Pac-12 Individual Championship, and was named the Pac-12 Player of the Year. "I don't think I would be out here on tour playing professionally if I didn't make that move," he says of transferring to Oregon. "I would've fizzled out and probably ended up quitting golf after my time at Oklahoma State just because of how much frustration and anger I had."
After turning professional, Clark won at second stage of Korn Ferry Tour Q school at the end of 2017 and earned status on the developmental circuit. Though he didn't win on the tour in 2018, he finished inside the top 25 on the points list to earn his PGA Tour card. Then Wyndham called Ellis' wife, Heather, to ask permission to have her husband caddie for him, and after receiving the green light, "I was all for it," John says.
'REMEMBER, THE NEXT SHOT CAN BE GREAT. IT STOPS THE NEGATIVE SPIRAL.'
At the end of 2020 at the Bermuda Championship, Clark had a 10-foot putt on the final hole to win his first tour event. It sped by the right edge, and he lost in a playoff to Brian Gay. "This game really magnifies winning. If you don't win, you're kind of neglected," says Clark, who now lives in Scottsdale. "Because I didn't win, people didn't talk about me. It was frustrating to me because one, I knew I was good enough to win, and two, it's hard to keep your card every year. It was hard seeing peers have success, and I wasn't."
Boyd Summerhays, Tony Finau's long-time swing instructor, was coaching Clark at the time and believes that Clark's self-belief was good and bad. "His self-belief is why he won the U.S. Open," he says, "but it also created frustration at the start when he didn't play to his expectations."
Ellis, whose young son was using binkies at home, got creative. "I carried the binky in the bag and said, 'When you're acting like a baby, I'm going to give you this thing, and we're not getting rid of it until you start changing,' " Ellis says. Nevertheless, the frustration of two more winless seasons continued to affect Clark's play through the CJ Cup in South Carolina at the end of 2022. "It was some of the best golf he played all year, and he finished 29th. It had nothing to do with his golf shots," says Ellis, who has helped Clark with his swing after he left all coaches in March 2022.
Clark's agent, Rob Mougey, urged him to speak with a sport psychologist, and in January 2023, he started working with Julie Elion. "We had kind of a rocky start," says Elion, who also works with Max Homa and has helped Phil Mickelson and Jimmy Walker. "[Clark] basically said, 'Oh, I've worked with all you guys.' " Soon, however, Wyndham began to buy in to Elion's interactive approach. The two now talk weekly, and the night before each round, Clark sends Elion specific goals for the next day.
"One of the main things we worked on is expecting good things to happen," Elion says. "If he hits a crummy shot, the next shot could be a great one. It stops the negative spiral. He's starting to realize it can turn around in a second."
"All the confidence and belief I had growing up, every year that I didn't do well, it was dwindling a little bit," Clark says. "When I started bringing positive self-talk in, my belief got so much better, and I started seeing results."
Away from the course, Clark meditates regularly and reads motivational and spiritual books. Also helping Clark's positive mind-set is his girlfriend, Alicia Bogdanski, whom he met through mutual friends at the end of 2021. Bogdanski, who fittingly has a degree in psychology from Arizona State University, often shares with Clark all the positive comments she hears from the gallery. "If I see him overthinking something, I try to pull him back down, get him grounded and make him see things in perspective," she says.
After a top-10 finish in an elevated event at the WM Phoenix Open, Clark was in contention at the Valspar Championship, Corales Puntacana Championship and the Zurich Classic of New Orleans, recording top-six finishes in all three tournaments. Though disappointed to not win, Clark felt he was building momentum. The momentum reached a crescendo in May at the Wells Fargo Championship at Quail Hollow, where Clark stormed into the lead with a third-round 63. On Sunday, he made four back-nine birdies to hold off Xander Schauffele and win his first PGA Tour event. "That was almost more important than my U.S. Open win," says Clark, who when asked if he could have won the U.S. Open if he had not won at Wells Fargo, responded, "I really don't think so. I believed I could always do it, but I didn't. Wells really gave me that belief so that on Saturday and Sunday of the U.S. Open, I could lean back on that Saturday and Sunday at Wells and think to myself, Hey, I've done this. I don't have to be perfect."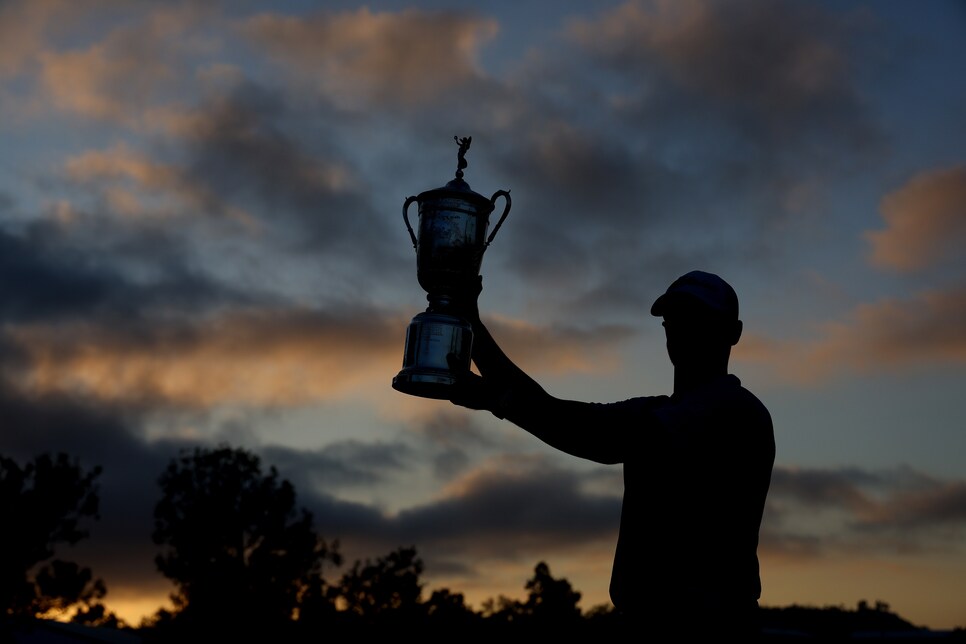 Clark came to Los Angeles Country Club with purpose. After playing a practice round the week before the championship, he texted Ellis, saying the course fit his game and concluding, "We're going to win the U.S. Open."
A week later, on the Tuesday of U.S. Open week, Clark hosted a dinner for his brother, Brendan, and some of his business clients. When talk of the championship came up, Wyndham reiterated that he was going to win. Any player can try to spark great play by repeating positive mantras, whether they truly believe them or not. With Wyndham, though, there was conviction. "He was different and had this confidence to him that I've never seen before in my brother," Brendan says.
Clark eagled the first hole on Thursday. He added seven more birdies to open with 64, trailing only Fowler and Schauffele, who both shot 62, the lowest score in U.S. Open history. After a second-round 67, Clark pulled to within one of Fowler. The two former OSU Cowboys were paired together in the final group on Saturday.
Recall the simple explanation for Clark's breakout season: The final 20 minutes in the third round. Remaining composed after finding trouble on the 17th, Clark twirled the club on his final approach and bounced back with a birdie. The championship was not over, but in that moment, Randall saw his son complete a 25-year journey: "All that fire is being channeled in the right way now," he says.
When Clark tapped in the final putt to win the U.S. Open by one over McIlroy, his yell was visceral. He achieved what he had always expected of himself, and out came all the pain, frustration and doubt that had long kept him from that moment. Ellis was the first embrace, followed by Brendan and sister Kaitlin. Alicia was after them, soon followed by Jeff Gaskill, Mougey and Elion.
"My team is built around keeping me on the right track," he says. "They're the bumpers that keep me going toward the direction I want to go."