Takeaways
As storms hit Wyndham, playoff hopes hang in the balance amid a crowded leaderboard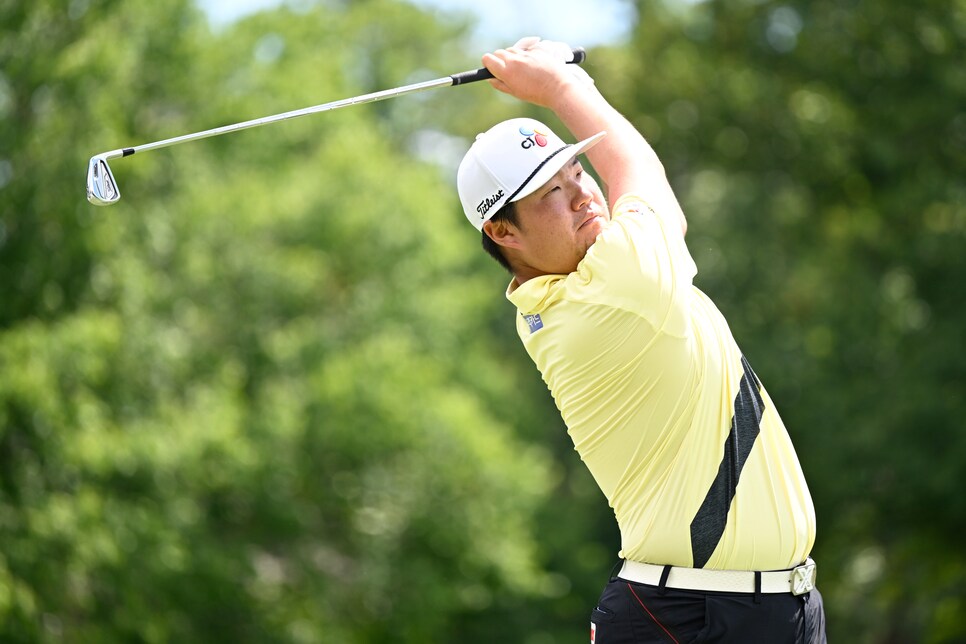 Sungjae Im hits a shot during the third round of the Wyndham Championship.
Eakin Howard
When play came to a halftime on Saturday at the Wyndham Championship, it was unclear what was thicker: the humid air, which had just given way to the thunderstorms that loomed for most of the afternoon, or the congestion at the top of the leaderboard. Or is it, as always, the drama? At the final event of the regular season, 10 players now stand two shots or closer to the lead heading into what promises to be a wild Sunday. The forecast is relatively clear, thank you very much, and as usual when the PGA Tour comes to Greensboro, N.C., various fates hang in the balance in various ways up and down the leaderboard.
Sungjae Im and Brandon Wu (both through 11 holes when play was suspended for the day) share the lead at 12 under, and while Im is on the verge of completing another of his standard exceptional seasons—this time with less of an insane schedule, featuring "only" 22 events played—Wu has shot up 54 spots in the projected Fed ExCup standings, from 78th all the way to 24th. Considering that the top 30 make the lucrative Tour Championship, his performance at the Wyndham could be a game-changer. The key word in all that standings talk, though, is "projected." It's not official until the tournament is over, and if Wu can't hold it together in his last 25 holes on Sunday, he could watch all that potential evaporate into thick air.
With a few more moments like the one he experienced on 11, though, just before the weather horn blew, he'll be cruising into Atlanta:
And comparatively, you could even say Wu has it easy—he's at least clinched his spot inside the top 125, which means he's guaranteed to make the trip to Memphis for the first leg of the playoffs next week. Brian Stuard started the Wyndham in 137th place but has surged up to 120th by virtue of a 65-68 start that sees him at 10 under with 11 holes completed in his third round. If things ended now, he'd retain his full tour status and make the playoffs with a chance to do some damage.
You absolutely do have to love Kiradech Aphibarnrat, the big man who comes and goes out of the American golf consciousness, but who looms large when he's relevant. It's been tough going for him outside of Thailand in recent years, and we haven't even seen him at a major since 2019. But with a shocking 63 on Saturday, he's suddenly very much in the mix at the Wyndham, trailing the leaders by two.
To put in context how unlikely this is, Aphibarnrat is currently ranked 359th in the world, and in 18 tournaments this year between the DP World Tour and the PGA Tour, he's missed 10 cuts and peaked with a T-28 at the Puerto Rico Open. Saturday's 63 was his best-ever round on the PGA Tour, and he's been laid up with everything from COVID to a knee injury in the last two years. He regained his tour card last September at the Korn Ferry Tour Championship, but the struggles have continued. Now, it appears as though he'll need a solo second-place finish at the Wyndham to keep his card and make the playoffs. It always looked unlikely, but after his scintillating Saturday, a Greensboro Hail Mary is officially in play.
Runnin' Max McGreevy captures our hearts and minds
There are rare situations, I guess, in which running to mark your ball could save it from camping out for a bit before betraying you wholly and rolling down a slope. There are not, however, many such scenarios that can be envisioned in which the ball would stay put for an entire jog from tee to green on a 224-yard par 3.
None of that stopped Max McGreevy from taking a 55-second run on the 12th to make sure his ball wouldn't go rogue at the minute mark.
This earned rave reviews from Jim Nantz and especially Nick Faldo, and it wasn't long before the comparisons to Sam Snead started flying. Check it out:
Ryder Cup captains cannot be stopped
We'll start in Europe with Luke Donald, who pulled off this gem to prove that he's more than just "management":
An understated, sad, and heartwarming story from Helen Ross at PGATour.com feels like a good way to close things out on Wyndham Saturday. Alex Smalley, who is very much in the mix at eight under, joined Sedgefield Country Club (the Wyndham venue) in 2020 and played with a man named Jeff Womack several times over the course of the last two years. About two weeks ago, he heard sirens while practicing on the putting green, and the news was awful—Womack, 50, had collapsed and died on the course. He was a lumber salesman and a father of two, and this week, Smalley decided to wear the initials JW to honor a fellow member, a man he knew and liked, and who meant a lot to the club.
"I had a couple good breaks yesterday and I kind of thought, just kind of said, thanks Womack," Smalley told Ross in reference to his first round. "I feel like whenever you can play for something more than yourself you kind of forget about golf."
It's possible to overstate the import of these things—initials on a hat can only do so much to mitigate a much larger strategy—but there's something moving about the fact that Smalley took it on himself to acknowledge the life and presence of someone the golf world might otherwise never know. You can't go wrong pulling for Smalley on Sunday.