The Loop
Wyatt Worthington II is the first African-American club pro in 25 years to play in PGA Championship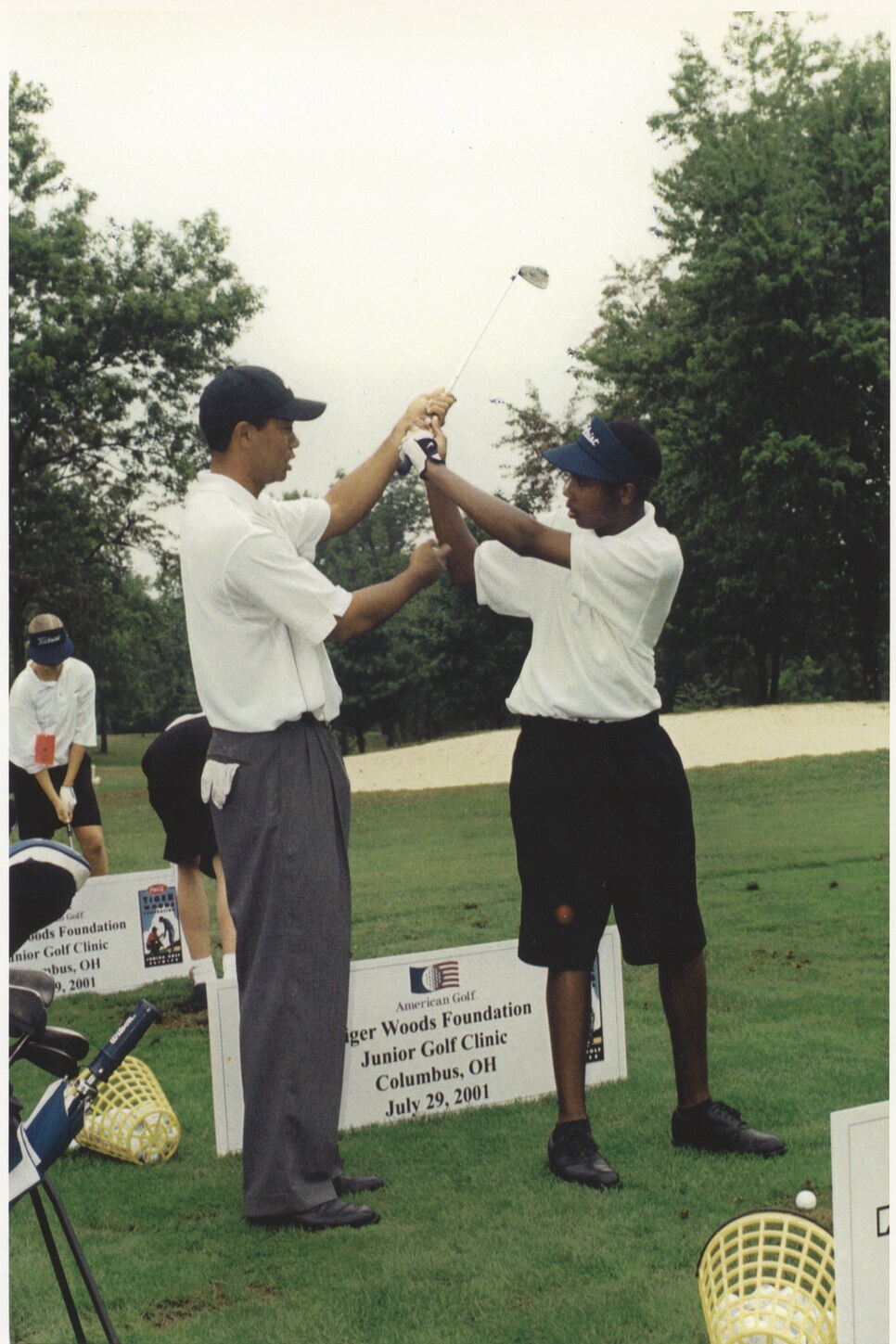 Listening to Wyatt Worthington II recall his brief lesson from Tiger Woods, it's immediately clear how impactful those moments were for the-then-13 year-old.
Worthington remembers exact conversations and other true details of when he says "time stood still," as the legendary golfer offered a couple of encouraging words as he stopped on the range at his foundation's junior clinic in Columbus, Ohio.
"It really changed my life," Worthington says.
That moment with Tiger will be 15 years ago to the day when Worthington tees it up at the PGA Championship this week, making his appearance at Baltusrol significant for multiple reasons. Now 29 years old and a teaching professional at The Golf Depot at Central Park in Gahanna, Ohio, Worthington is the first African-American club professional to qualify for the season's last major since 1991, 25 years after Tom Woodard did it.
Worthington finished sixth at the PGA Club Professional Championship at Turning Stone Resort to earn his first spot in this week's PGA, his first-ever appearance in a PGA Tour event. The Methodist University graduate, who has been taught by The Golf Depot head instructor Jerry Hammond since he was 13, has a chance to do something special this week.
"It's like I'm trapped between a dream and a reality this week," Worthington said. "To be playing in a major and seeing my dream come true, it's breathtaking, actually."
Hammond isn't surprised to be standing on the range at Baltusrol watching his long-time student hitting balls next to the stars of the game. On a regular basis, Hammond and Worthington discuss the significance and the potential impact of Worthington finding success in the pro ranks. Now, that moment is here.
"I've told him, 'This is much bigger than just you," Hammond said. "He's a humble kid, but he knows. I tell him, 'I don't care how you look at it. You've gone through what you had to go through for a reason. You are who you are for a reason. Your name, your skin color and where you are, it's big.' And I keep saying that so he remembers."
An absence of African-American golfers on the PGA Tour has been surprising given Woods' run of 14 majors and dominance in golf for almost 20 years. Woods' absence from the PGA makes it the first time since 1994 he'll miss all four majors of the year.
Harold Varner III is a regular on the PGA Tour and qualified for the PGA, so there are two African-American participants in the field. There are still a noticeable lack of black golfers on tour -- Tim O'Neal played in the U.S. Open at Chambers Bay and Joseph Bramlett played in the 2010 U.S. Open, but has struggled of late.
"Hopefully I can be that familiar face for kids in a younger generation," Worthington said, "to give them someone they can relate to and see themselves in, kind of like a super hero if you will."
Woodard, who was the first black club pro to qualify for the PGA Championship when he played at the 1991 PGA at Crooked Stick, is traveling to Baltusrol to meet Worthington this week. A group of Baltusrol members hosted Worthington and his family on Monday night, in the hopes of encouraging Worthington to feel at home and play his best this week.
It's obvious many are pushing for him.
"This is something that can excite a lot of other people around the world just to see him in this light," Hammond said.
Hammond has been with Worthington along the way. Driving from event to event, if there was a baseball diamond on the road, the two might stop so Worthington could practice sand shots. Or an open field? An opportunity to bust a couple practice shots and stay loose.
Worthington would stay late on weekends at Hammond's facility, doing anything he could to work on his game, like trying to hit a hanging light fixture from the ceiling at the facility.
"We didn't have a lot of the things other kids had in golf," Hammond said.
Support from folks around Columbus, such as the Schottenstein Family, the owner of The Golf Depot, and other friends and family has allowed Worthington the opportunity to focus on making it professionally.
That's the hope for that kid who stood on the range with Tiger 15 years ago. He's looking to make memories and impressions for a new generation of kids this week.