Courses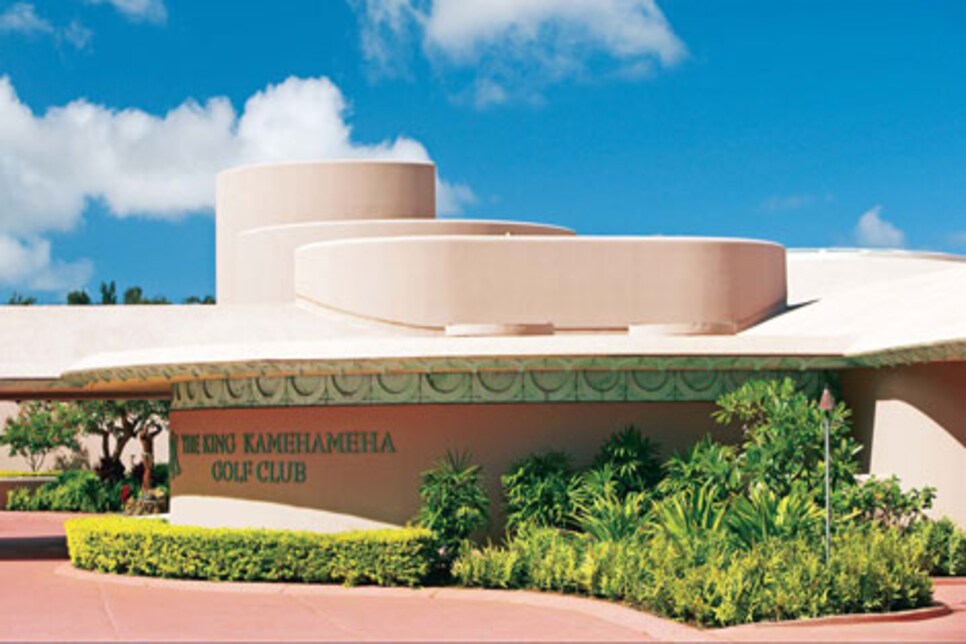 Frank Lloyd Wright was the greatest American architect, most recognized for the Guggenheim Museum in New York City. He wasn't a golfer, but he is responsible for what is perhaps the most awe-inspiring clubhouse in the country today. The design, which he drew up more than 50 years ago, was originally intended to be a house for Marilyn Monroe.
If you fly into Maui, drive west to Ka'anapali or Kapalua. Fifteen minutes into your trip, look to your right and try to pick out King Kamehameha Golf Club. The clubhouse looks like a space station or a cluster of clams, but without a keen eye, you'll drive right by it. Wright's philosophy was that architecture should be inspired by the natural habitat.
"We very carefully made the rose colors consistent with the tone of the West Maui Mountains," says John Rattenbury, 79, who worked for Wright for nine years in the 1950s and still works and lives at Wright's foundation at Taliesin West in Scottsdale. "The golf course has bunkers, rolling greens and fairways. All of those soft curves blend in with the dome roof of the clubhouse -- not to mention the curves of Marilyn Monroe."
After Monroe married playwright Arthur Miller, the newlyweds met Wright in New York City in 1957 and hired him to design a house they wanted to build in Roxbury, Conn. Wright offered them a set of unused plans he had designed for a wealthy couple in Texas, later to be a property in Acapulco for a Mexican government official. Monroe and Miller purchased the plans but asked Wright to add servants' quarters, a bigger closet, a pool and a theater. The design doubled in size, to 14,000 square feet. But Wright died in 1959, at 91, and Monroe and Miller divorced in 1961, and the house was never built. The plans sat in a vault in Scottsdale for the next three decades.
In 1988, a group of Japanese investors traveled to Taliesin West to buy a Frank Lloyd Wright plan for a clubhouse they wanted to build in Maui. "They weren't happy to find out there were no specific clubhouse designs available," says Rattenbury. "But I told them I had a design that Mr. Wright did for Marilyn Monroe. That really got their interest."
For $27 million, the group, led by Takeshi Sekiguchi, built the clubhouse. "I kept asking them what their budget was," says Rattenbury. "They kept telling me to quit worrying about the budget and worry about the quality."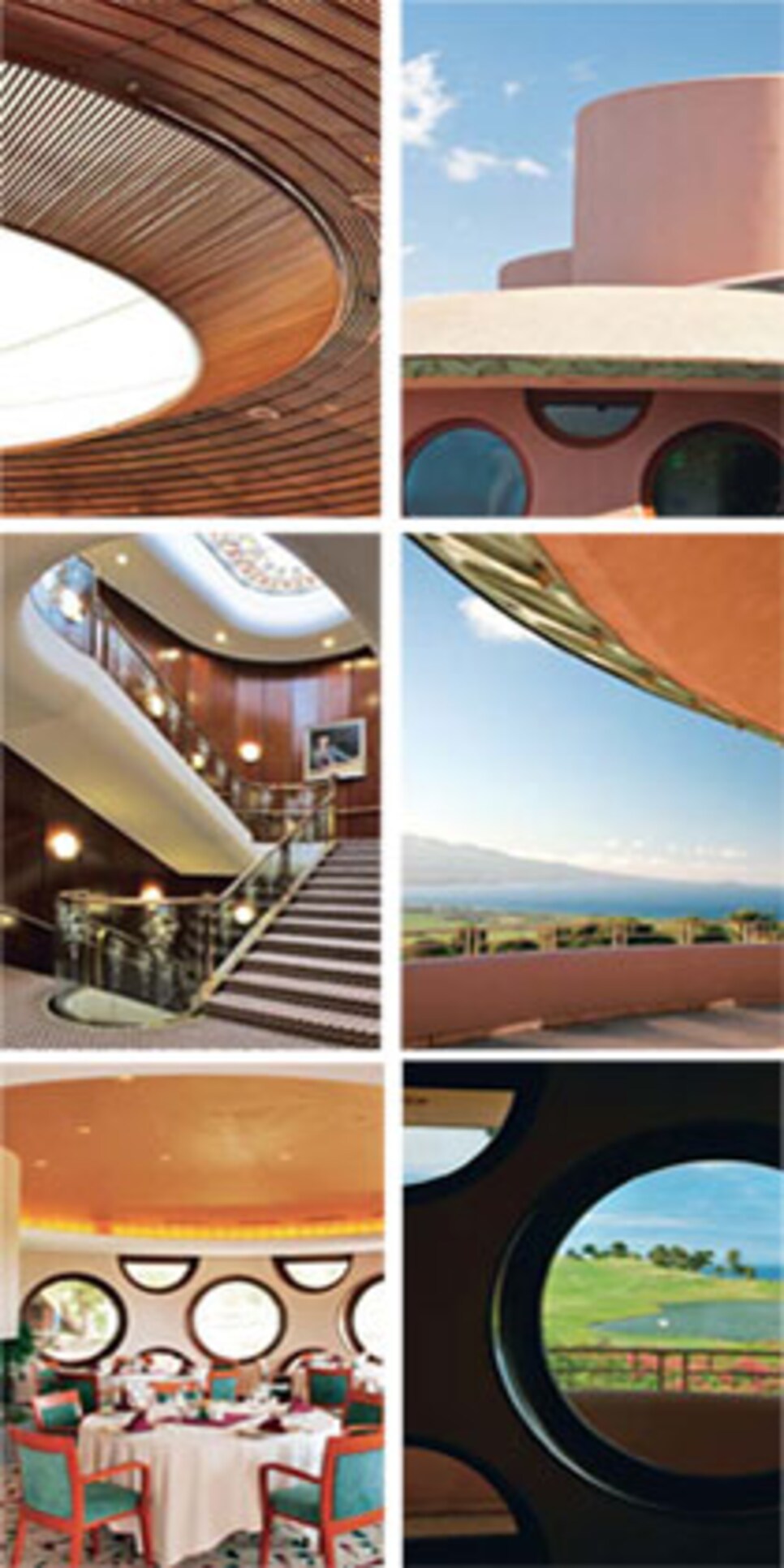 Rattenbury preserved the integrity and the look of the original Wright design by putting two-thirds of the clubhouse underground. He added two levels, men's and women's locker rooms, a cart barn and golf shop. One of the memorable design elements is the 4,300-square-foot dining room with a 270-degree bicoastal view. On a clear day, the elevation -- 773 feet -- gives you a spectacular vantage point for the dormant volcano Mt. Haleakala, Ho'okipa Bay to the left and the Ma'alaea Bay to the right. (There's a similar story to the Wright-designed clubhouse at Nakoma Golf Resort in California.)
Before it became the King Kamehameha Golf Club, it was the Waikapu Valley Country Club and then briefly the Grand Waikapu Golf Resort and Spa. But the Japanese economy collapsed, and the club closed in 1999. Another Japanese tycoon, Makoto Kaneko, used to fly into Maui over the dormant club. He's a golfer and wanted to leave a legacy to a game and an island he loved. He purchased the club in 2004 for $12.5 million, and it reopened in May 2006 after an additional $40 million in renovations. Ted Robinson Sr. designed the original golf course; before it reopened, changes were made by his son, Ted Robinson Jr. The wind can be a serious factor. The par-5 18th hole offers the best look at Wright's clubhouse. The club has 160 members, the most famous of whom is Clint Eastwood.
"We're a pure golf experience in Maui," says Rick Castillo, director of golf. "For now we're the only 18-hole private club here, we have a Frank Lloyd Wright clubhouse and we honor the Hawaiian tradition, history and culture."
Honoring Hawaiian tradition is an understatement. Kaneko eased some tension with those opposed to using the name of a Hawaiian ancestor for a private golf club with a predominantly white and Japanese membership. He gave every room in the clubhouse a Hawaiian name and hired famous Hawaiian artists, or artists with an appreciation for the Hawaiian culture, to decorate it. It's as much a museum as it is a clubhouse. The only two pieces of art that aren't dedicated to Hawaii are a portrait of Wright that hangs on the stairwell and a rare photograph of Monroe working out, displayed in the women's locker room.
"At one point Mr. Wright interviewed with Marilyn when she came to Scottsdale," says Rattenbury. "She was shorter than I thought she'd be, but she was beautiful. When she arrived, Mr. Wright sent everybody away. None of us know what took place that hour or two that they were together. Obviously nothing happened, but it makes an interesting perk to the story."